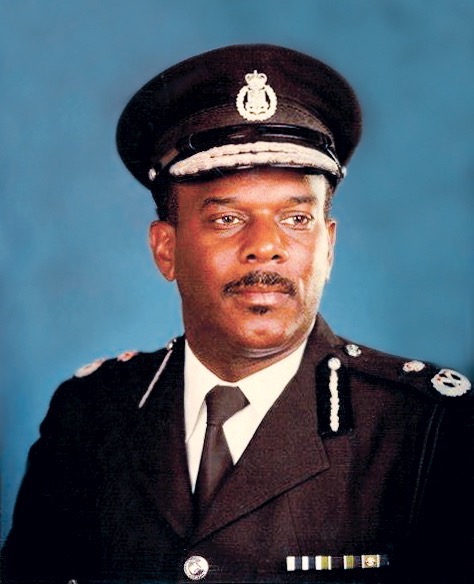 Commissioner of Police 1981 - 1992
Frederick Colborn Bernard "Penny" Bean OBE
Articles featured in our Hall of Fame are usually compiled and written after the subject is no longer with us, but this article is an exception. These reminiscences were obtained during a series of interviews with retired Commissioner of Police Frederick "Penny" Bean over a 3 month period in late 2018 at his home in Somerset. We were due to meet again in mid-December for a final interview after Fred and his wife, Romaine, returned from an overseas visit to South Africa. However, shortly after returning to Bermuda, Penny" had a fall at home sustaining injuries requiring his admittance to KEMH. Tragically, he died in hospital a few days later, on 8th December 2018.
An area we had not yet covered in detail was the personal side of Fred's life, and in particular his lifelong involvement in numerous community and social activities, from being Past President of Hamilton Lions; a long serving and very senior member of the Abercorn Masonic Lodge #123 GRI where he rose to the position of Provincial Grand Master; an active member of St. James Church where he served for many years on the Church Vestry and the Fund-Raising committee; a board member of the Packwood Home; a member of the Amenities Committee at the Lorraine Rest Home, along with a host of activities in which he quietly strived to assist others.
During our interviews "Penny" made it clear that he deeply loved his family and cherished his relationship with his two daughters, Rochelle and Gina, and their husbands, children and grandchildren - and his first great-grandson, Eli born in June 2018 just 5 months before his passing. He also cherished the family of his second wife Romaine with her two sons and three grandchildren.
I'm sure that everyone who served in the Bermuda Police with "Penny" Bean would have their own opinions about the man who would rise through the ranks from Constable to Commissioner to become the first Bermuda born, and the first black Commissioner of Police in Bermuda's history. "Penny" had great strength of character and was in many ways a strict disciplinarian who was exceptionally proud of the Police Service. He always strove to maintain the highest standards among the men and women who served with him.
Perhaps not so well known about "Penny" was his deep concern about the welfare of the men and women under his command, and how he would go out of his way to make sure that those officers who were having social and personal problems could have access to professional advice and assistance. Here is Penny's story in his own words:-
----------------------------------------------------

I was born on 29th July 1936 in Sandys Parish and I've lived here in Sandys all my life. After leaving school I worked as an apprentice mechanic at Ford Motors (now Bermuda Motors) from 1952-1956.
One of the main reasons for first thinking about a career in the Police Force was my neighbor, P.C. Milton Cholmondley, who had joined the Police Force a few years earlier and he expressed to me the benefits of giving service to the community. I was already thinking about joining a disciplinary organization such as the Regiment.
I was also influenced by a couple of the young men who had travelled to the UK as Dockyard apprentices and after they returned they joined the Police Force. Hilton "Jellybean" Wingood and Alan "Harry" Lister were a little older than me and we played football in the same team, West End Rovers, at Somerset Cricket Club. They both told me they were enjoying serving in the Force. They both encouraged me to apply.
Editors note - Both Hilton and Harry made their careers in the Bermuda Police Force, with both rising to the rank of Chief Inspector.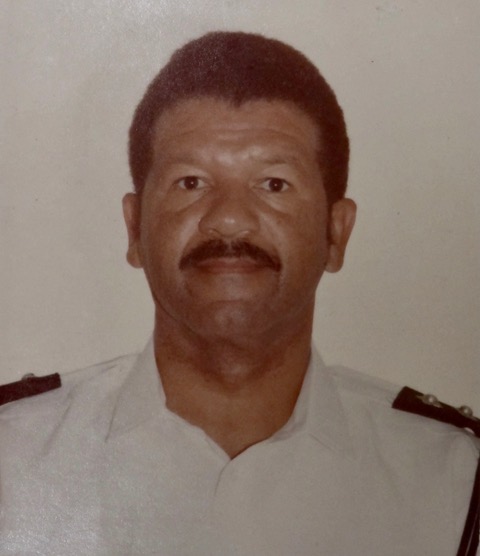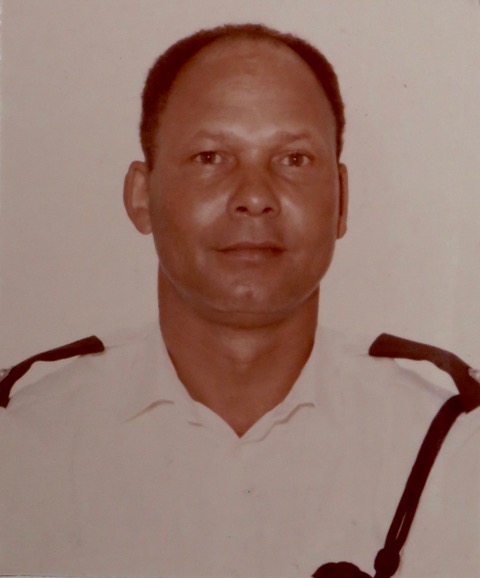 Chief Inspector Alan "Harry" Lister Chief Inspector Hilton "Jellybean" Wingood
JOINING THE BERMUDA POLICE
I made an appointment with Inspector (Jack) "Tug" Wilson who worked out of Hamilton Police Station and he was most helpful. I passed the entrance examination and he gave me some law manuals to read. He took me under his wing and always had time to give me good advice.
At that time there was no special training for local recruits hired in Bermuda, but the recruits hired from the UK would attend a 3 month basic training course at the Police Training School at Mill Meese in Staffordshire.
I joined the Bermuda Police in June 1956. After spending my first week at Hamilton Police Station under the direction of Inspector Wilson, I was posted to a Watch in Central Division. In those days local recruits were assigned to 3,4 and 5 beats which covered Reid Street East, Court Street and the "Back of Town". The Police Station itself was on Parliament Street where the Government Administration Building is now located, and the adjoining building was Hamilton Prison, on the site where the General Post Office now stands. Sometimes on 4pm-12midnight shift we would even do a security detail for the Prison.
My first Sergeant was Joseph Blackwell, and the Force was led then by Commissioner Henderson and DCOP Max Parker who also worked out of the Police Station. Police Headquarters didn't move up to Prospect until a few years later when the British Army Garrison was closed.
Our summer uniform then was khaki shorts and shirt, blue socks and caps, while our winter uniform was blue serge. Mid-season uniform was blue serge trousers, white long-sleeved shirts, and ties.
Most of the time I was assigned to 3,4 and 5 beats, especially on the Reid Street East area which was the most troublesome part of Hamilton with its bars and street people.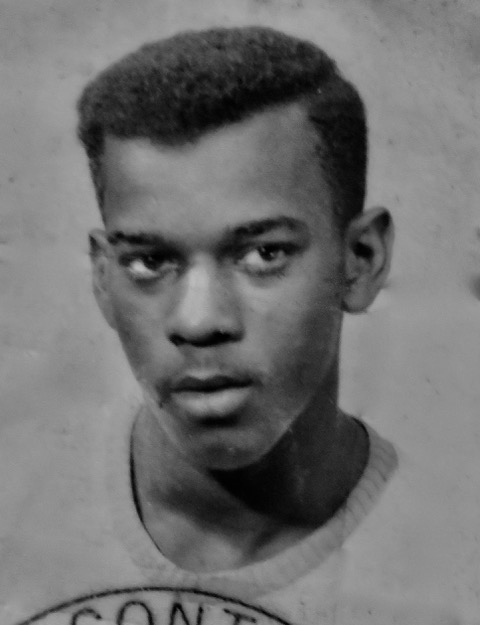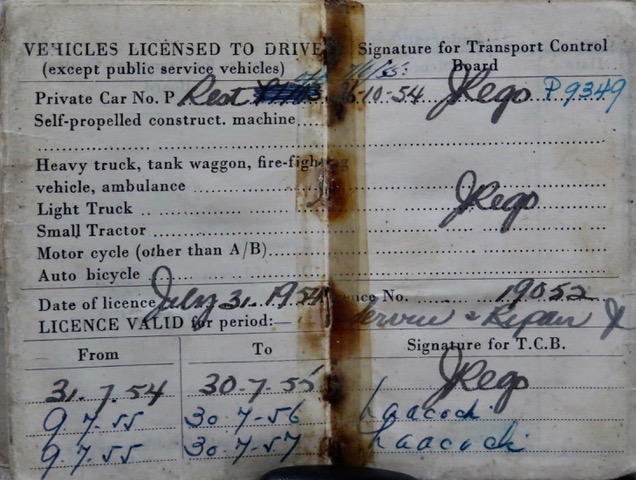 Young Fred Bean's driving licence issued July 31st 1954
Fortunately for me, I already owned a car so I had a driver's licence, and after about 9 months on the beat I was made duty driver. I was keen to transfer to Traffic and applied several times but had no luck at that time even though I was an experienced driver.
I spent about 18 months in uniform then 3 months as an aide to CID. When I first started working in CID Colonel Newing was in charge of Special Branch and CID. I worked under Inspector "Bo" Swainson and later under Chief Inspector Oliver Trott.
TRANSFER TO TRAFFIC
In March 1957, I was transferred to Traffic as a driver and motor cycle patrol officer. Inspector John Marshall was OIC Traffic, 'Nobby' Clark was a Sergeant in Traffic and I worked for a while with P.C. Kenny Roberts. At that time we drove Sunbeam Talbots and we also rode Triumph 500cc motor bikes. We worked in teams of two, with one of us on the bike and one in the car during daytime, and after dark we paired up in the car. We covered three areas then - East, West, and Central.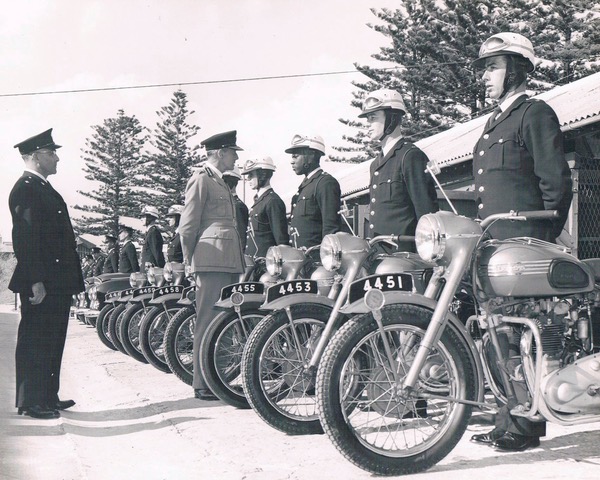 H.M. Inspector inspects traffic officers in the Police Traffic Department at Prospect
The Inspector stops to chat with young P.C. Fred "Penny" Bean (3rd officer from the right)
Watching is Inspector John Marshall O.I.C. of Traffic
TIME IN C.I.D.
After a spell in Traffic I was posted to Central CID as a detective constable in 1959. I had the distinct pleasure of working on a team under the command of Milton Murray Marsh, along with Sinclair Bean, Leon Bean and John Joe Sheehy.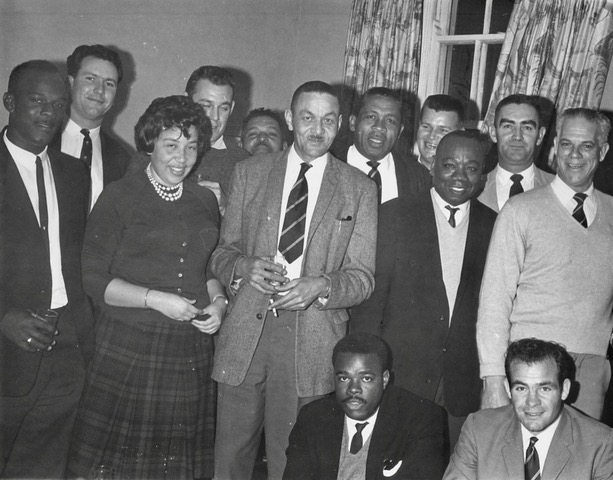 CID Christmas Party (l-r) Fred Bean, Dave Lunn, Carole Royer, Michael Leng, 'Mike' Cann, Oliver Trott,
Sinclair Bean, Joe Colton, Milton Murray Marsh, Leroy "Nobby" Clark,
"Happy" Duerden, (seated) Lenny Edwards, Bryn Jones.
1959 is also the year I married my first wife, Elaine Darrell, from St. George's, and we had two daughters, Rochelle and Gina.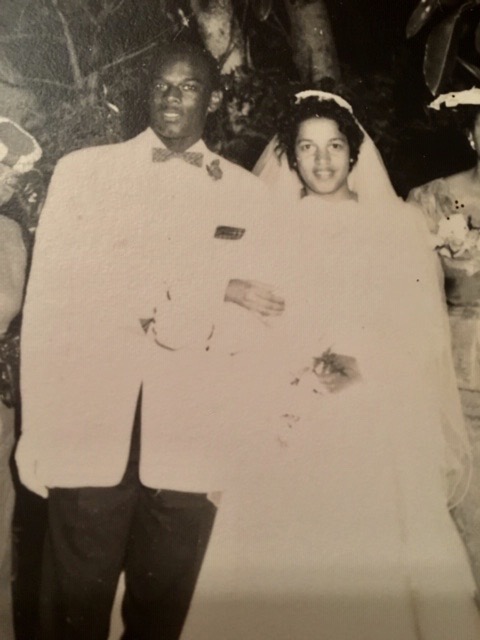 Fred and Elaine on their wedding day - 1959
In 1962 I attended a 3 month Detective Training Course at Peel Training College in Chelsea, London. This was a first class course where we received training in many aspects of criminal investigations, including dealing with rape and sexual assaults, violent crime, fingerprinting and identification parades. Immediately after the CID course I spent two weeks training at New Scotland Yard. This provided practical exposure in dealing with investigations and scenes of crimes. As a result of these courses I made lasting friendships with fellow UK police officers that lasted for 50 years or more, and I was "adopted" by a family so my time in the UK was a very positive experience.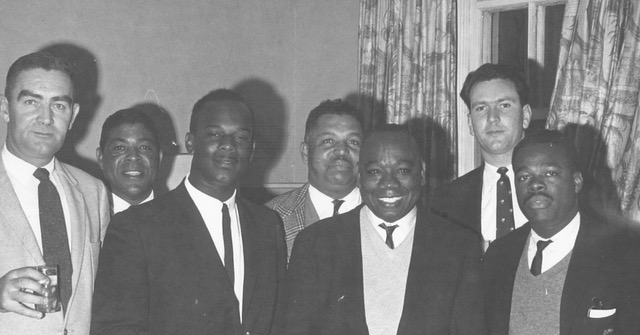 Members of Western Division during the time Detective Sergeant Fred Bean was serving in Western CID
L.M. "Nobby" Clark, Westmore Bean, Fred "Penny" Bean, George Herman Ransom "Mike" Cann,
Milton Murray Marsh, David Lunn, along with Lennett "Lenny" Edwards.
(Lenny is the only officer who was not in Western C.I.D. at that time)
On returning from the UK I was promoted to Detective Sergeant and was transferred to Western Division, my home territory, where Milton Murray Marsh was the D/I. We had a great team there including Inspector Marsh, Earl "Spike" Hazel, Mike Cann, and Dave Lunn. "Nobby" Clark was OIC Western Division. Someone who greatly impressed me during my time in Western CID was D/I Milton Murray Marsh who was excellent to work with. He was a most professional and thorough investigator, and he was a wonderful mentor.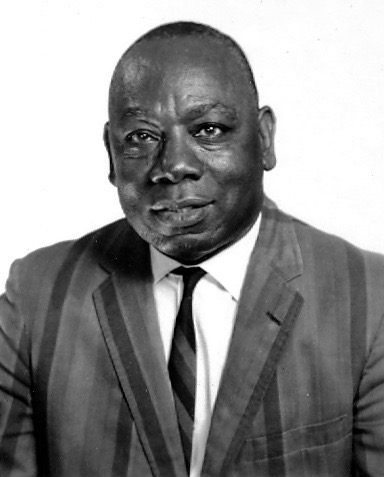 Detective Inspector Milton Murray Marsh
Editors note - D/Inspector Milton Murray Marsh was a remarkable man who lived to the age of almost 102, and could still remember stories from his years in the Bermuda Police even after passing his "century". His reminiscences can be viewed in our Hall of Fame column at http://expobermuda.com/index.php/tan/36-mmmarsh
BUSY TIMES IN NARCOTICS
While In Western CID I dealt with numerous narcotics cases making arrests, and while I was working there I recall receiving a phone call from then Commissioner George Robins who commented on the number of drug cases I had handled. He told me he was impressed by my efforts and invited me to visit his office on a Friday morning.
Much to my surprise he not only repeated his comments when I went to see him, he invited me to consider taking on the duties as OIC Narcotics which at that time had just two officers.
I gave it serious thought and on the Saturday I informed the Commissoner that I would like to accept his offer. I took over the next Monday and within a short time he asked me to select my own team to work with. I selected Arthur Bean, Neville Darrell and St. Clair "Brinky" Tucker to add to the team. This was at a time when marijuana was becoming a major problem in Bermuda.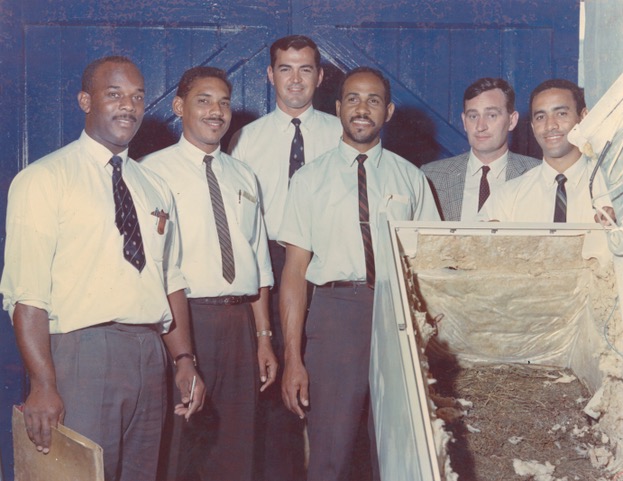 Narcotics Team
(l-r) Fred "Penny" Bean, St. Clair "Brinky" Tucker, Harold Moniz,
Neville "Maverick" Darrell, Ian Morrison (Special Branch), and Arthur Bean
While in charge of Narcotics I attended a couple of Narcotics Courses in the U.S. one of which was at the Federal Bureau of Narcotics in Washington D.C. There were officers from all around the world on this course which was first class. I also attended a Narcotics Officers Convention in Louisville where I was asked to speak on a panel and provide input from the perspective of drug problems in a tourist destination, and where illegal drugs were coming from.
During those days Bermuda was having major problems with the importation of illegal drugs - mainly marijuana - and our efforts centred on interdiction and getting to the dealers and the people who were financing drugs deals. A major focus for us were direct flights coming up from Jamaica and stopping in Bermuda prior to heading over to the UK. We had Jamaican nationals and locals concealing drugs on their persons or in their luggage, but it was more complicated than that. They would sometimes secrete drugs on the aircraft for removal by ground crew, and their hiding places were very sophisticated.
We had the same sort of problems with cruise ships and freighters arriving at our ports, with both crew and passengers involved in importation. Drug shipments would also be dropped overboard by ships as they travelled through Bermuda waters and these would be picked up by local contacts. Some would be out there pretending they were "fishing", while others would use fast speed boats in their efforts to avoid the Police.
We had "mother ships" making deliveries of large quantities of cannabis. We knew many of the dealers, and the loan sharks who could make exhorbitant returns for financing drug importation, and the risk factor for prosecuting the loan sharks was virtually nil for lack of direct evidence.
This was at a time when the drug importers were using every means possible to try to bring in their drugs. Drugs would be smuggled in by parcel post, sometimes to people who had no idea their names and addresses were being used. The drugs would be intercepted before they reached the destination listed on the parcel.
We also had major problems with drugs being concealed in household furniture or appliances, and in shipments of goods destined for commercial premises some of which would be opened on the docks after dark.
There was a time when we were monitoring the B.A. flights from Jamaica and we would ask H.M. Customs officers for permission to enter the sterile area to check on suspects, but our requests were denied. Even so, we were having tremendous success in interdicting drugs at the airport because we would stop suspects as soon as they entered the public area.
The Government of the day decided to change the rules so that we had the same powers and access as customs officers. We were then able to work more closely with H.M. Customs and we eventually formed the Joint Drug Importation Squad.
I was promoted to Inspector in March 1967, and I was later transferred from Narcotics to Special Branch "E" Department. Again, this was a very challenging job. Much of our work was related to internal security, any potential terrorism threats, subversion and general security of the Island. During the next 4 years I attended two Special Branch Courses in the UK and specialist courses in Canada and the U.S.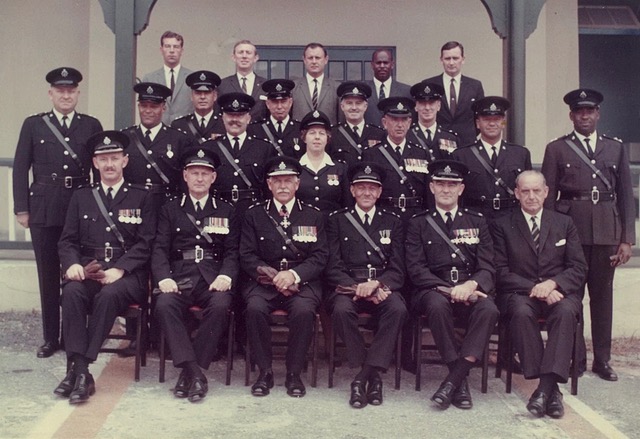 Senior Officers of the Bermuda Police Force -
Back Row (l-r) D/Insp Peter Stubbs, D/Insp Les Waddell,
D/Insp John Joe Sheehy, D/Insp Fred Bean, and D/Insp Ian Morrison
Middle Row - Insp Tommy Doyle, Insp Maurice "Syke" Smith, Insp Derek Taylor,
Insp Dave Parsons, Insp James McMaster, Insp Isobel Lee, Insp. John Mullan,
Chief Insp Robert Ball, Insp Alan "Harry" Lister, Insp Leon Bean.
Front Row - Supt Joseph Nixon, Assistant COP Frank B. Williams, COP George Robins,
Chief Supt Oliver Trott, Supt L.M. "Nobby" Clarke, and D/Supt Frank Hammond
I was promoted to Chief Inspector in 1971 as 2 I/C Special Branch where I remained for the next 3 years, and I was then promoted to Superintendent in May 1973.
My next move was to uniform as 2nd in command of "D" Department Uniform in May 1974, assisting then Superintendent Jim McMaster. We worked well together as a team. One of our major concerns was in trying to encourage supervisory officers to become more responsible and accountable for their actions and for the welfare of personnel. There were some issues regarding abuse of overtime and poor punctuality in dealing with incidents and submitting reports. There were some personnel whose attitude I could best describe as, "Draw your breath and Draw your pay!"
DEALING WITH WELFARE ISSUES
While working as Superintendent in Uniform I realized that although we had a Force Welfare Officer who would be trying to deal with welfare issues along with his regular duties in "A" Department, there were increasing issues with personnel experiencing problems in their social and home environments. These could include all manner of issues which could affect their performance and efficiency. The seriousness of these welfare problems was highlighted when two of our serving officers, Merv Willey and David "Bones" Fraser both took their own lives.
For these reasons I initially sought the additional assistance of Reverend George Buchanan of Christchurch in Warwick. I had great admiration for Rev. Buchanan who had provided me with excellent advice on several such matters and who kindly offered his assistance going forward. Rev. Buchanan kindly accepted the position of Police Chaplain, our first Police Chaplain, and he made himself available where necessary.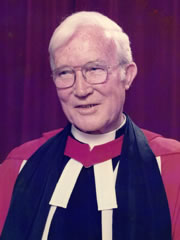 Rev George Buchanan
This system worked well for a while but because of increasing demands for his service, which was purely voluntary, we held discussions about how to manage so many welfare issues. Government was advised of our concerns and the extent of our problems. At about that time the Employee Assistance Prgramme, (EAP) headed by Mr. Vaughan Mosher, was set up to deal with the sort of problems we were encountering, and Government made the decision that the services of the EAP should be made available to all Government employees.
The system was such that any of our personnel who needed counselling or assistance could attend the EAP on a strictly confidential basis. If, for example the Police Doctor was dealing with one of our personnel with problems requiring professional counselling, the doctor could refer the patient directly to the EAP. Another example would be if an officer or the spouse of an officer came to me, or if I heard of someone with a concern, then I could refer the matter directly to the EAP. This was all done in the strictest confidence.
A TESTING TIME IN THE TURKS AND CAICOS ISLANDS
One of the most unusual assignments I ever had was being seconded to the Turks and Caicos Islands on a short term basis in March 1975 as the Acting Commissioner of Police after their English Commissioner of Police resigned.
Turks and Caicos had been under the administration of the Governor of Jamaica until Jamaican independence in 1962. Turks and Caicos then became a Crown colony and by 1965 the Governor of the Bahamas was also governor of Turks and Caicos until 1973 when the Bahamas gained independence, after which they had their own Governor.
A problem arose when the Turks and Caicos Commissioner of Police suddenly resigned. The UK was in a quandary because they couldn't find a replacement Commissioner at very short notice, so the Bermuda Government was asked to find a temporary replacement until a permanent Commissioner could be hired.
Myself and Chief Inspector Peter Stubbs were asked to take over the running of the Turks and Caicos Police Force, and we arrived on Island to be met at the airport by the COP. We agreed to meet with him the following morning at Police Headquarters for a briefing and handing over. However, when we arrived at Police Headquarters the next morning at the appointed time we discovered that he was not there, and we never saw him again. He had left the Islands without saying a word to anyone.
We were duly sworn in at Government House by the Governor.
I think it would be fair to say that the Islands and the Police Force were in a state of turmoil. We were not warmly welcomed by some of their senior officers so we soldiered on, never losing sight of the objective of having them work with us in a caretaking capacity until a suitable replacement could be found. I should add that while in Turks and Caicos I was not only tasked with being Acting Commissioner of Police, but I was also Acting Commissioner of the Prison Service, the Fire Service and Customs and Immigration.
There were major challenges for us and we had to discipline some of their personnel who were suspected of corruption.
We had received reliable information from the D.E.A. in the U.S. that small planes carrying contraband drugs were stopping off to refuel at the only airport in Turks and Caicos under cover of darkness when it was supposed to be closed. We posted a constable at the airport for the sole purpose of obtaining identification numbers of all planes touching down after dark.
On checking his books we saw that the constable had made no entries of any activity even though the owner/operator of the airport fuel supply complained that the fuel hoses were being cut, and thousands of gallons of aviation fuel was missing.
While there we had reason to arrest a prominent Innkeeper on suspicion of being involved in drug smuggling . When we arrived to search his premises it was obvious he had been tipped off about our impending arrival because he was waiting to greet us and he openly told us we would not find any drugs on his premises. Following his arrest I received all sorts of threats from him and his associates when he was brought to the police station. Although we did not find any drugs we did find some very useful information about criminal activity during the search of his premises but I would prefer not to go into any further explanation in that regard.
Fortunately, a replacement Commissioner was recruited quite quickly and Peter and I returned to Bermuda about 6 weeks later.
Editors Note - Superintendent Bean subsequently received a Commendation from the Governor of the Turks and Caicos Islands for assistance rendered to the Police Service of Turks and Caicos Islands while on secondment there between 10th March and 22nd April 1975 as Acting Commissioner of Police.
In 1976, I attended the Overseas Command Course at Bramshill which was designed for senior officers who were being groomed for the role of Commissioner. We had officers from around the World, mostly from Commonwealth countries such as Australia, New Zealand, Hong Kong, and countries in Africa, the Caribbean, and the Middle East, along with regional forces in the UK.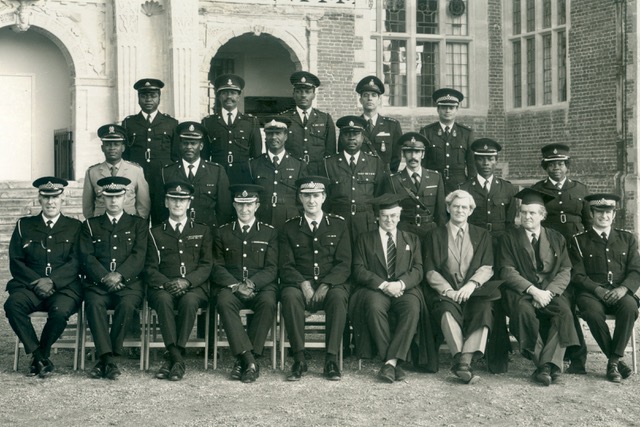 Overseas Command Course No. 21 at Hendon 1976
Front row (l-r) Supt C.F. Abraham, Greater Manchester, Supt L Hudson, Humberside,
H.C. Gay, Esq., CPM, Director Overseas Police Studies, JCJ Maskell, Esq., Deputy
Commandant,
T.G. Lamford Esq., LL.B Commandant, I.A. Watt Esq., M.A. Dean of Academic Studies,
G. Picton Davies Esq., BA, PhD,
APM Walker Esq., DSO, MA, FRPSEL, Chief Insp. A.J. Castree, Humberside.
Centre row - Senior Supt N.S. Molefe, Botswana, Supt F.C. Bean, Bermuda, Insp GU Rock CPM St Lucia,
Asst Supt. A.F. Barnes, Jamaica; Major S.A. Sadeghi, Iran; Supt W. Sam-Awortwi, Ghana; Supt G Akoto, Ghana;
Back row - Asst Supt. G.M. Ngulube, Malawi; Supt S.J. Magagula, Swaziland;
Deputy Supt.R.G. Hamilton, Jamaica; Captain Y. Noori, Iran; Lt. Col. AH Al-Jarmoozi, Yemen
Members of my group were mainly from the Caribbean, Africa, and the Middle East including Kuwait, Saudi Arabla and Iran. We studied all aspects of leadership in modern police forces. This was a 3 month course, and it provided us with excellent leadership training which I found to be invaluable throughout the rest of my career.
In addition to our studies we also enjoyed social activities and I was chosen to be captain of our indoor soccer team and cricket team.
Immediately following the course I served an attachment to the Sussex Police in Southend-on-Sea to provide exposure to current police methods being used in the UK such as community policing.
Police training in general was changing around the world as it needed to adapt to modern problems. There were growing concerns about kidnapping for political and financial gain by rebel groups and the taking of hostages. One in particular was the kidnapping of Patty Hearst by the Symbionese Liberation Army in the U.S.
In 1978 I attended an IACP Hostage Taking Course Conference in Ottowa, Canada, run by the RCMP and designed to train police officers in negotiating techniques. There were police personnel there from across Canada and we took part in a series of mock exercises where we played the parts of hostages and as negotiators on how to respond to the demands of kidnappers. I recall that one of the subjects we studied was the Stockholm syndrome where hostages sometimes identified with and sympathized with their captors.
Although I never found myself in a situation where I had to negotiate in a hostage situation we have had incidents here in Bermuda where individuals have been held hostage, usually in domestic cases, which have to be handled with great care.
PROMOTION TO COMMISSIONER OF POLICE
In 1979 I was appointed ACOP Crime. In 1980 I was promoted to DCOP, and in 1981 I was appointed Commissioner of Police – taking over command from COP L.M. "Nobby" Clark. I held the post of Commissioner for 9 years until my retirement after a total of 35 years in the Bermuda Police.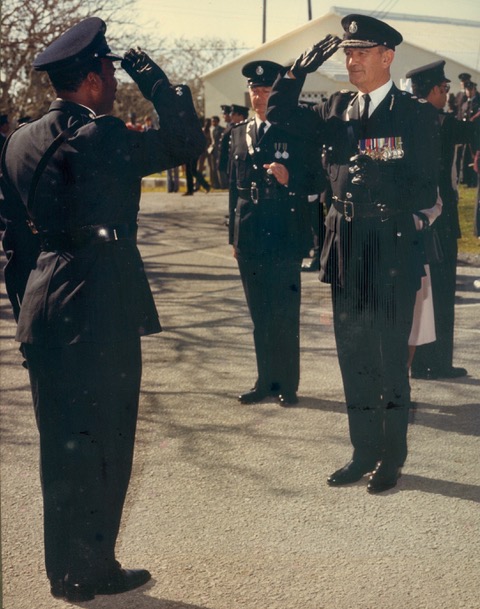 Retiring COP Leroy "Nobby" Clark (right)
hands over to C.O.P. Fred "Penny" Bean (left
Just a few weeks after I was appointed Commissioner in 1981, Bermuda went through major industrial disputes. I believe it started with the BIU withdrawing labour from the hospital and it escalated to include the hotels causing the departure of many visitors to the Island. Tragically, this occurred at what was probably the high point of tourism in Bermuda and we have never really recovered from that time. It was a tough introduction to life as the Commissioner of Police.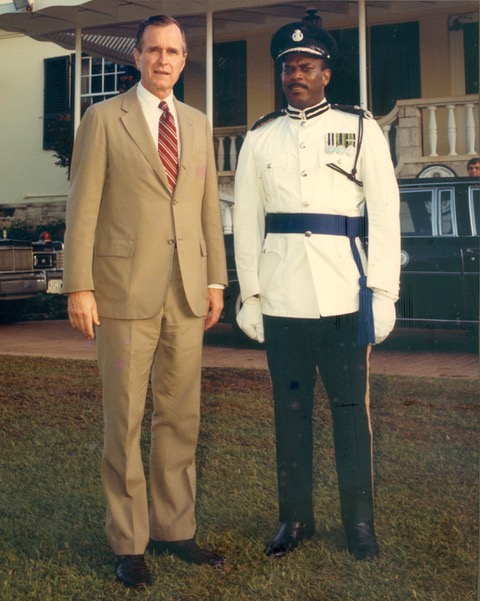 President G.W. Bush with COP Fred "Penny" Bean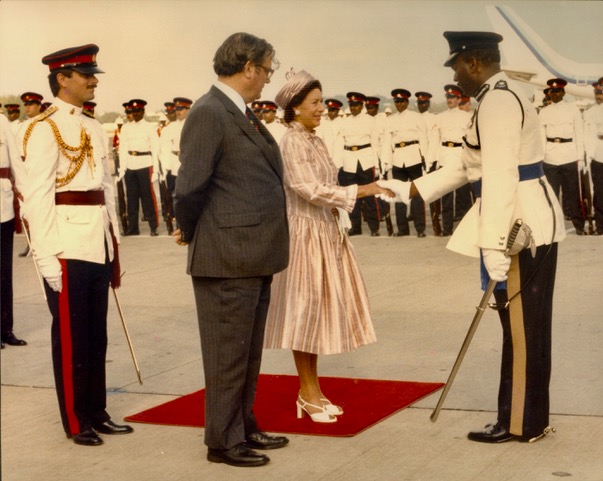 Commissioner Fred "Penny" Bean shakes hand
with H.R.H. Princess Margaret at the Airport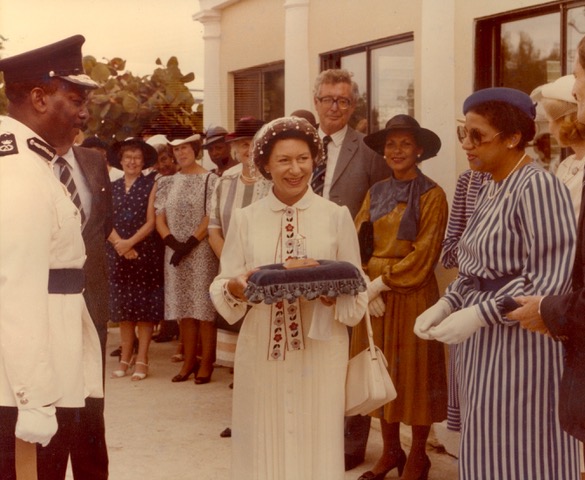 H.R.H. Princess Margaret is presented with a silver model of
a Bermuda constable in the birdcage by Mrs Elaine Bean (right)
as her husband COP Fred "Penny Bean (left) looks on.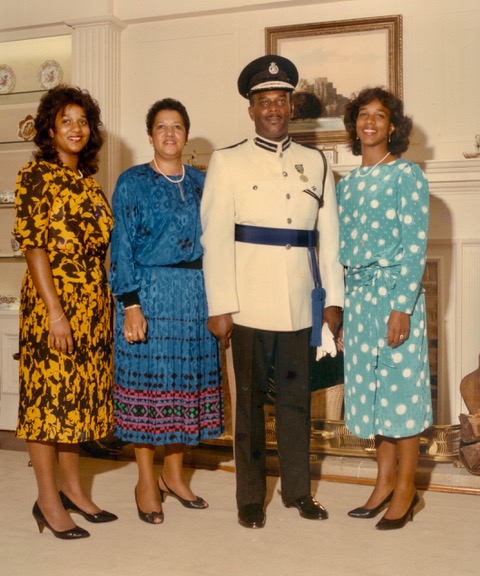 COP Frederick "Penny" Bean receives his Long Service Medal
(30 year clasp) at Government House in 1988
COP Bean with his wife Elaine and daughters Gina (left) and Rochelle (right)
One of my greatest concerns while serving as Commissioner was Health and Welfare. There were concerns about the possibility of cancer-causing agents at the single men's quarters, possibly due to asbestos in the roofing. Similarly, we also had health related problems at Hamilton Police Station. The Station was then located near the bottom of Parliament Street in an old building vacated by HM Customs and we were advised that it would be on a very temporary basis. Despite some renovations the building was never suitable as a Police Station.
I can recall promises of a new police station dating back for something like 50 years so the new Hamilton Police Station was a long time coming, but I must say it is most impressive. I thoroughly enjoyed my visit there in July 2011 at the invitation of Commissioner Michael DeSilva who invited myself and three other retired Commissioners, Clive Donald, Jonathan Smith and George Jackson shortly after it opened.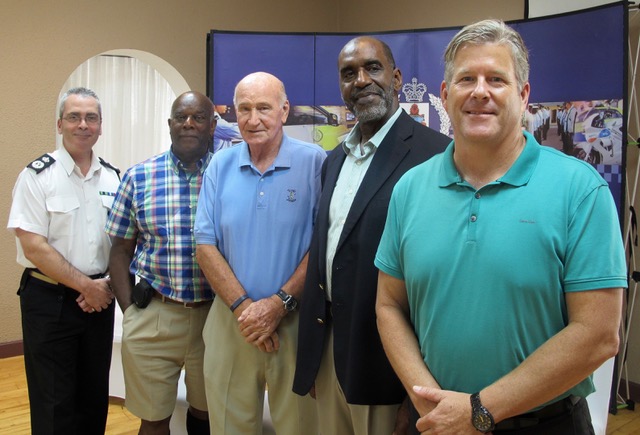 Commissioner Michael DeSilva proudly shows off the new Hamilton
Police Station to our retired Commissioners
(l-r) COP Michael DeSilva, Retired Commissioners Fred "Penny" Bean,
Clive Donald, George Jackson and Jonathan Smith
SPORTS AND SOCIAL ACTIVITIES
During my younger days I played cricket in the Police Cricket Team, and I also enjoyed playing tennis and squash as recreational sports.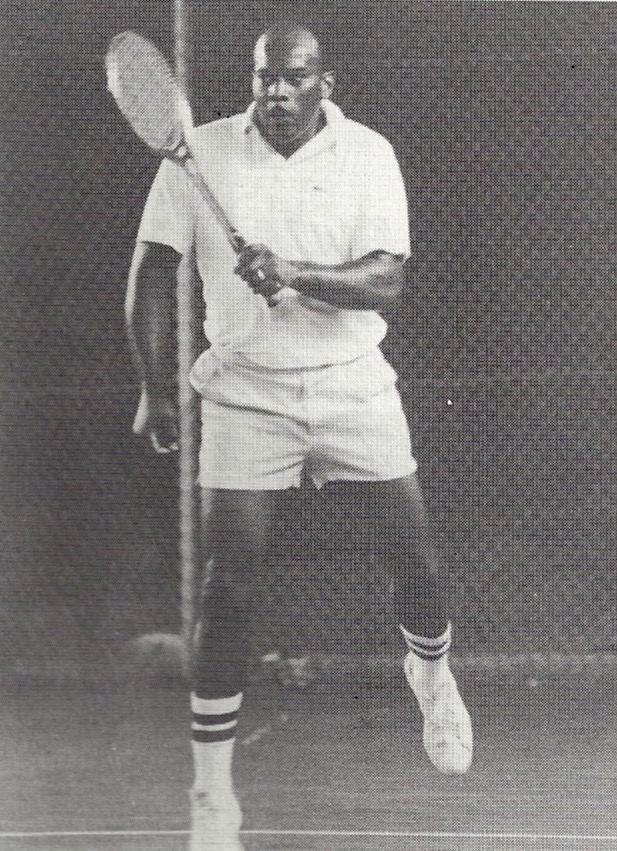 Penny in action on the squash court at Prospect
I think one of my greatest pleasures was to be a founding member of the Bermuda Police Choir. The choir was formed by chance, in Somerset in 1963. The officer in charge of Western Division at that time was L.M. "Nobby" Clark who invited a group of us to his house to celebrate Christmas. We certainly got into the "spirit" of Christmas and sang carols and anything else we knew. I have to say we sounded pretty good right from the start. We then decided to meet on Boxing Day at Westmore Bean's house and we moved on from there, making merry, and singing our hearts out. The choir went from strength to strength and we stayed together for the next 30 years until 1993.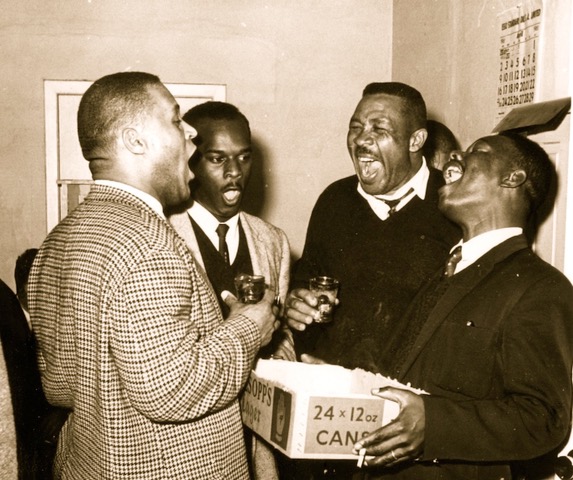 Members of C.I.D. celebrating in fine voice
(l-r) "Syke" Smith, Fred "Penny" Bean, Sinclair Bean, and Hubert Simmons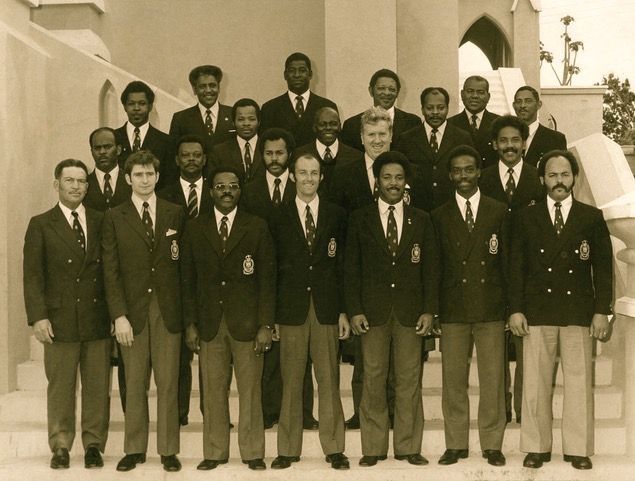 Bermuda Police Choir
(l-r) Back Row - Lynn Hall, Leon Bean, Charles Williams, Westmore Bean
3rd Row - Calvin Christopher, Norrell Hull, Milton Cholmondley, Fred Beach, Howard Dill
2nd Row - Fred Bean, Hubert Simmons, Ed Bailey, Andrew Maule, St. Clair "Brinky" Tucker
Front Row - Sony Roberts, Lynden Lewis, Lennet "Lenny: Edwards, Dai James,
Reese Bartley, Wilhelm Bourne, John Harvey.
Following the 1968 riots there weren't many tourists coming to Bermuda. By that time our Police Choir had performed throughout the Island and we had established an excellent reputation. We were approached by Government and they agreed to have the Department of Tourism arrange a series of concerts for us to perform along the Eastern seaboard as a way to promote more visitors. We even appeared on live TV and our tour was very successful.
We also participated in command performances at the Rosebank Theatre, and performed at such prestigious events as the Speaker's Dinner, at Government House including official visits by HRH Prince Phillip, the Duke of Edinburgh, President Jomo Kenyatta of Kenya, and the Governor General of Ontario. We also visited Ottowa and Toronto on choir tours and we hosted the Ottowa Police Male Choir and the Toronto Police Choral Group.
DEALING WITH THE UNUSUAL!
As a police officer one certainly has to deal with some strange and unusual incidents. As a young detective I can recall investigating a series of prowling incidents on White Sandys Road in Paget. One night I was on 10pm – 6am shift when we were called to a prowling and started interviewing a female complainant who described how she had seen a man outside her window who appeared to have on only a white headdress of some kind – maybe a towel.
We were inside her house conducting the interview when she looked across the room and said, "there he is again, outside the window". He couldn't see us so we asked the lady to keep on talking while we asked her to tell us which was the quickest exit point. We quickly opened the door and ran outside. The prowler turned and ran as fast as he could, and I think one of us shouted, "Halt or I shoot"! It must have confused him because he turned round to see what we were doing and ran straight into the bow of a tree which caused him to bounce off it straight into my arms. Believe it or not he was completely naked apart from the white towel around his head. I still remember who he was and his punishment. He received 6 months imprisonment.
While I was I/C Narcotics I can recall a couple of incidents at the airport when we searched suspected drug importers. We'd seen one particular guy departing on a trip and when he left he was short and skinny – about 120 lbs. When he returned 2 weeks later he'd put on a huge amount of weight – all below the waist! So, we decided to search him. We discovered he was wearing a ladies girdle along with a pair of men's briefs, and in between the two he had packed cannabis. It was fortunate that we'd seen him leaving and knew he was skinny. When we searched him the cannabis was loose and was oozing out of his underwear. Once we arrested him he begged us not to let out the fact that he was caught wearing ladies underwear! He pleaded guilty to importing the cannabis.
I also recall a women arriving at the airport from Jamaica with a large hairpiece in a cardboard box and attached to a styro-foam mannequin. It was literally bursting with cannabis that was falling out of the stitching. When we confronted her about the cannabis she expressed her innocence and said, "Lawd man, who could do a thing like this to me!"
Editors note - Commissioner Bean served with distinction as Commissioner of Police from 1981 until 1992 at which time he retired and handed over to the Deputy Commissioner Clive Donald. I had one more interview scheduled with Mr. Bean upon his return from his trip to South Africa at which I planned to ask him more about his highlights as Commissioner of Police in addition to his family life and his continued involvement in community activities. Tragically, this was not to be.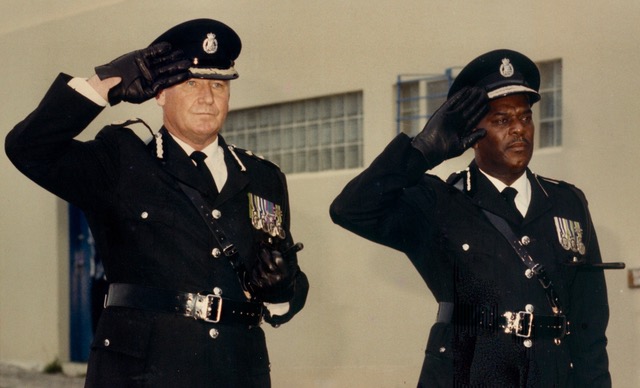 Two Commissioners take the salute at the handing over ceremony at Prospect
(l-r) Incoming Commissioner Clive Donald and Retiring Commissioner Fred "Penny" Bean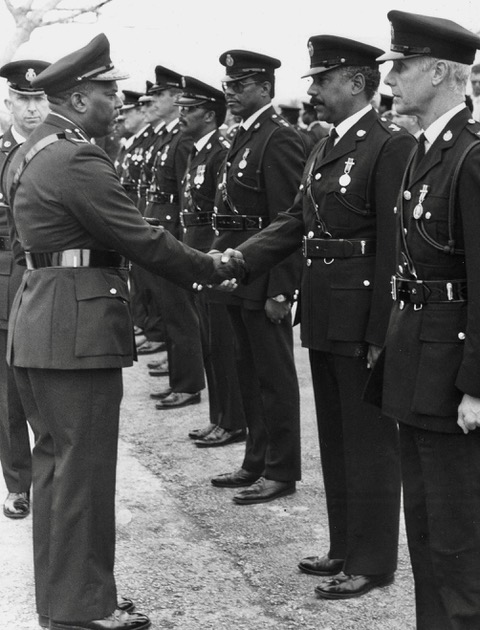 Retiring COP Fred "Penny" Bean says farewell to members of the Police Service,
(l-r) Insp. Brian Flook, COP Bean, Supt Alex Forbes, Insp. George Rose,
Insp. Dennis Brookes, Insp. Larry Smith, Insp. John McConnie,
Insp. St.Clair "Brinky" Tucker (shaking hands with COP) and Insp. Roger Sherratt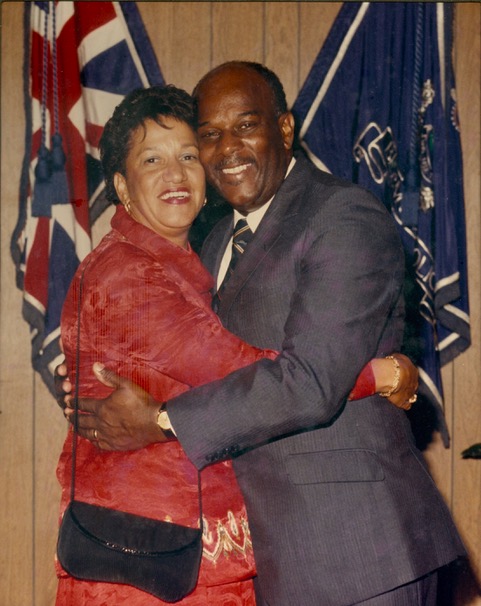 Mr. and Mrs Fred and Elaine Bean at retiring COP's Farewell Banquet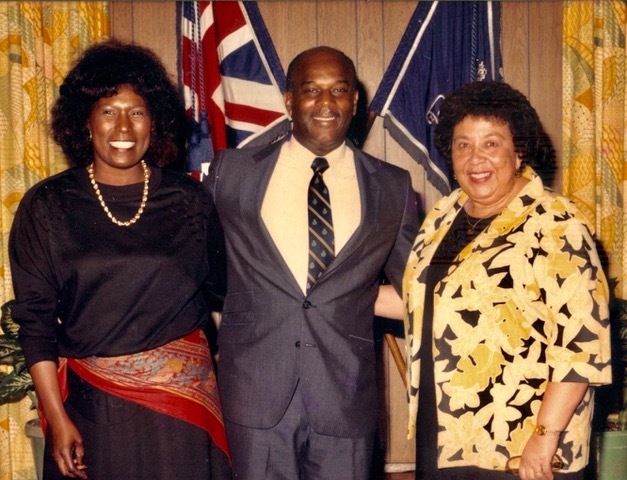 Mr. Bean with two civilian stalwarts of the Bermuda Police Service,
Lyn Place who was secretary to 8 COP's and Carole Royer our first
ever civilian clerk who had worked with the Police since 1959
Editors note - Lyn Place was secretary to no less than 8 of our Police Commissioners and had a unique insight regarding all of them. She told us that she thoroughly enjoyed working with Mr. Bean who she describes as being a discplinarian but he was also very generous and caring.
Being a police officer for 35 years certainly had its moments, some very serious and difficult to deal with, and some most amusing. I met people from all walks of life from Presidents to Princesses, along with politicians some of whom were supportive and some who were not, police officers who were totally dedicated to their job, and some who were not, members of the public who it was a privilege to assist, and common criminals who it was my duty to bring to justice.
RETIREMENT
Although I'm now retired I still stay active doing community service, working with senior citizens and with the sick and shut in.
I am also very lucky to have two lovely daughters who are both happily married. Rochelle is married to Cole Simons and they have two daughters, Morgan Simons (aged 28) and Erin Stovell (aged 27), who is married to Joshun Stovell.
My other daughter, Gina, is married to Dr. Burton Butterfield and they have two daughters, Kayleb (aged 20) and Carmel (aged 18).
Having had two daughters, and four granddaughters it appeared that my family would only produce girls, but a few months ago we were blessed with our first great-grandson, Eli Stovell, who was born in June 2018.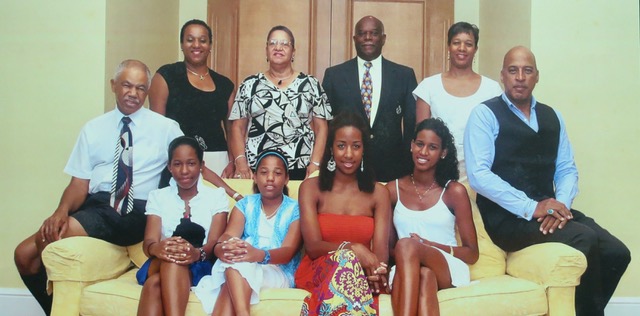 Fred and Elaine with their family
Standing (l-r) Gina Butterfield, Elaine, Fred, Rochelle Simons
Seated - Dr. Burton Butterfield, Kayleb and Carmel Butterfield, Morgan and Erin Simons, and Cole Simons
Following Fred and Elaine's divorce, Fred married his second wife, Romaine (nee) Bascome in 2001, and the two lived at the Bean family home in Somerset since then.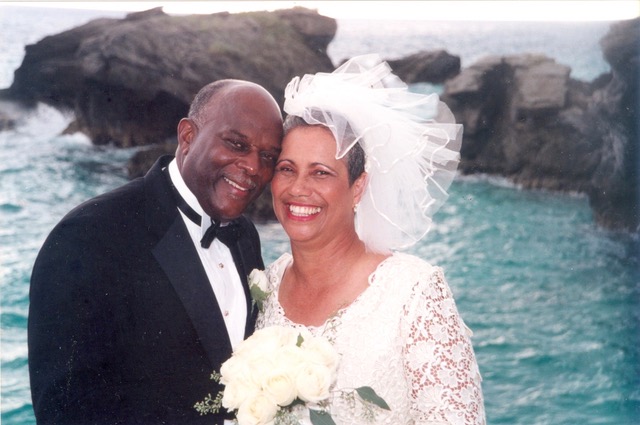 Fred and Romaine on their wedding day - 25th October 2001
Their marriage resulted in Fred gaining an extended family with Romaine's two sons, Richard and Ian Bascome, and their children, Zoe (Richard's daughter), and Ianzi and India (Ian's son and daughter).
Fred has retained close contact with the Bermuda Police Service since the day of his retirement. He and Romaine have attended many of our ExPo functions and our members were delighted to attend Fred's 80th birthday party at the Police Recreation Club hosted by then Commissioner Michael DeSilva.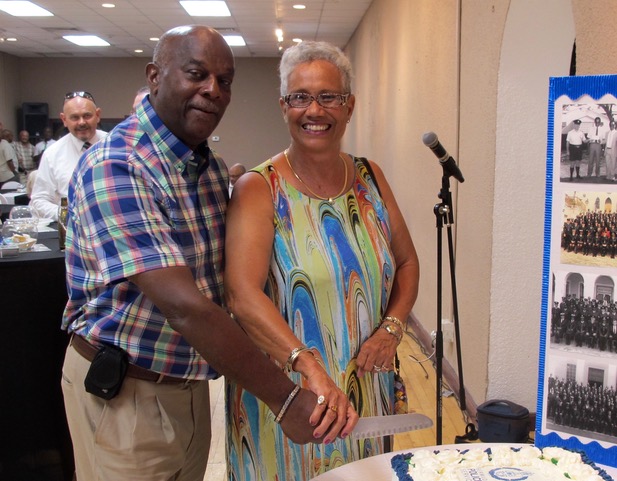 Penny and Romaine cut the cake at Penny's
80th birthday party held at the Police Recreation Club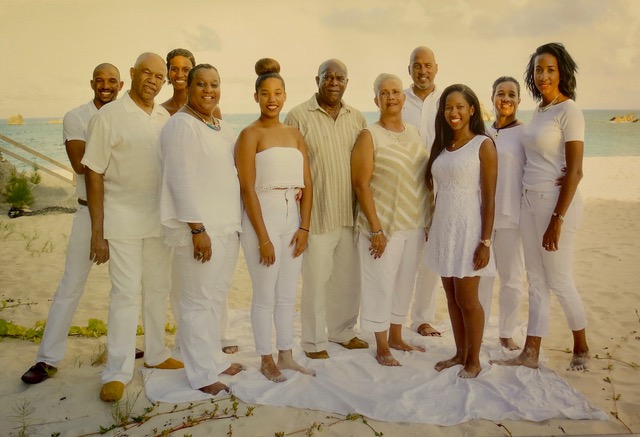 Fred and Romaine with the Bean family on the occasion of his 80th Birthday
(l-r) Joshun Stovell, Dr. Burton Butterfield, Erin Stovell, Gina Butterfield, Carmel Butterfield,
Fred Bean, Romaine Bean, Cole Simons, Kayleb Butterfield, Rochelle Simons and Morgan Simons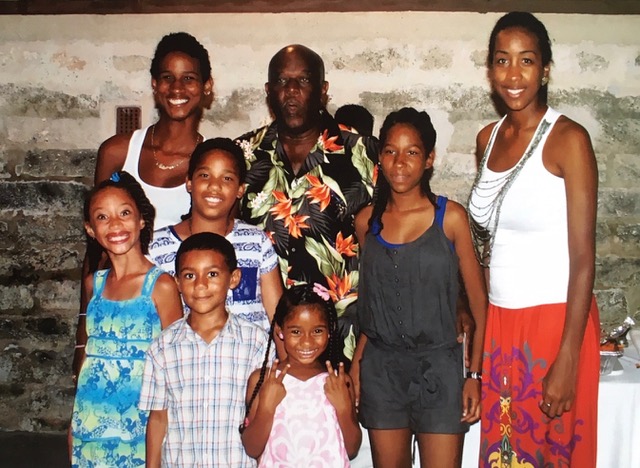 Fred Bean with his grandchildren
Erin standing next to Fred, Cayleb and Morgan
Zoe, Carmel immediately behind Ianzi, and little India.
Editors note - My interviews with Fred were conducted at Fred and Romaine's home in Somerset, and I would like to sincerely thank Romaine for her hospitality and her assistance in helping me to obtain and collate photos and information needed to complete this article.
During our last interview Penny was bursting with pride about the birth of his first great-grandchild, Eli, who was also the first boy in the family following two daughters and four granddaughters. We had arranged to meet for a final interview on his return from South Africa, and I had asked him to promise to make sure and have his photograph taken with his new great-grandson for inclusion in his lifestory. Very sadly, fate prevented our final interview, but Penny kept his promise! When I met Romaine after Fred's passing she kindly handed me the photo below of Fred and his great-grandson taken just before they left on their trip to South Africa.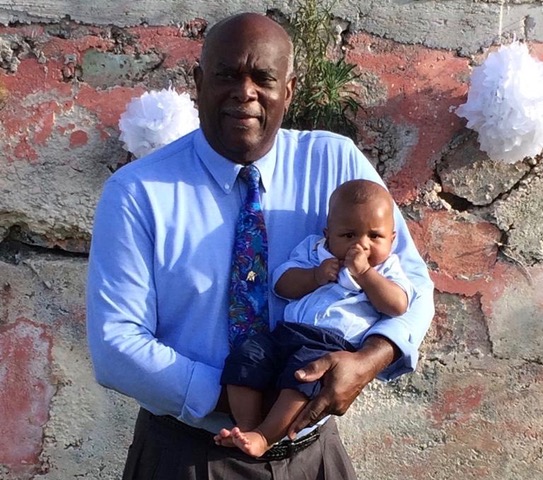 A very proud Fred with his great grandson, Eli Stovell_
____________________________________
During his police career Mr. Bean was awarded 6 Commissioner's commendations; one from the Supreme Court; the Long Service and Good Conduct medal, the Colonial Police Medal for Meritorious Service, the Queen's Police Medal, and in 1991 he was awarded the OBE.
Commendations awarded
11th May 1959
Commended and awarded £3 for zeal and devotion to duty in apprehending a person for dangerous driving
2nd November 1959
Commended and awarded £5 for zeal and arresting a person convicted for larceny from a vehicle.
30th May 1960
Commended and awarded £5 in affecting the arrest of a man who was convicted of burglary
29th January 1965
For persistent and thorough investigation resulting in a person being convicted of rape on his own plea and sentenced to 20 years imprisonment
29th January 1965
Congratulated by the Chief Justice and commended for disarming a robber, with disregard for his own safety
16th July 1965
Commended for persistent and excellent investigation in cases of 5 major shop break-ins
25th March 1966
Commended for excellent investigation resulting in conviction for importation of Indian Hemp. One person sentenced to 5 years and the other person to a fine of £500 or 9 months imprisonment.
________________________________________
FUNERAL FOR THE LATE FREDERICK COLBORN
BERNARD 'PENNY' BEAN, OBE, QPM
Following his tragic passing on 8th December 2018, Mr. Bean was given a Recognition Funeral at The Cathedral of the Most Holy Trinity in Hamilton with full Police Honours on Monday 17th December 2018, led by Bishop The Rt. Revd. Nicholas B.B. Dill. The cathedral was packed to capacity and attendees included H.E. The Governor, Mr. John Rankin, Speaker of the House of Assembly, The Hon Dennis Lister, Minister of National Security, The Hon Wayne Caines, Senior Government Ministers, Members of the Opposition, President of the Senate, Mrs John Wright-Dillas, Senior Representatives from the DPP, the Bermuda Fire and Rescue Services, and H.M. Prisons, along with members of all ranks of the Bermuda Police Service and BPS retirees including retired COP's Clive Donald and Jonathan Smith, retired DCOP Roseanda Young, retired ACOP's Wayne Perinchief and Carlton Adams, many retired officers of all ranks, numerous members of the business community and organisations in which Mr. Bean had served, and members of his family and friends.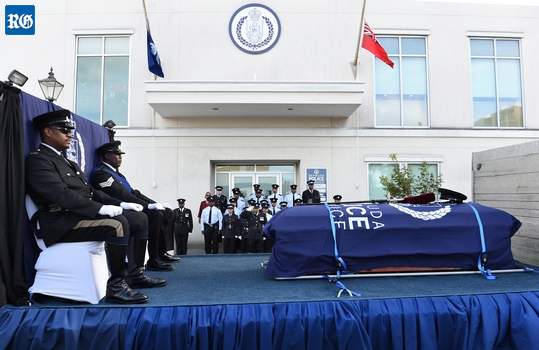 Memorial procession passes Hamilton Police Station as a sign of respect
en route from Holy Trinity Cathedral to St.James Church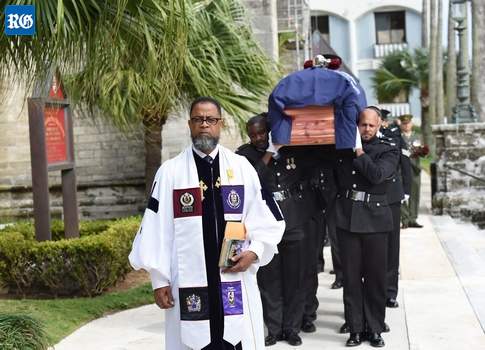 Funeral cortage with coffin draped in Bermuda Police colours is led into
Holy Trinity Cathedral by Police Chaplain Dr. Kevin Santucci
(Photos courtesy the Royal Gazette - photographer Akil Simmons)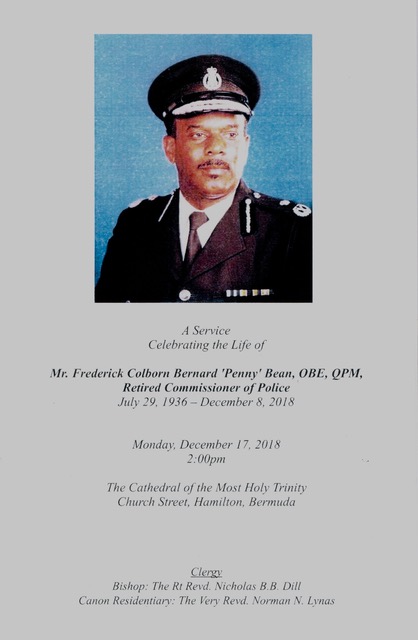 Order of Service programme cover
The Old Testament Reading: Isiah 43: 2-9 was read by Chief Inspector Tracy D. Adams. The New Testament Reading: John 14:1-6 and 27 was read by Reverend Howard H.L Dill, Presiding Elder, African Methodist Episcopal Church, Bermuda.
The Following tributes were read by:-
Commissioner of Police: Mr. Stephen Corbishley
The Bermuda Police Service mourns the loss of former Police Commissioner, Mr. Frederick Colborn "Penny" Bean.
After receiving the call last week on the passing of our late Commissioner, I have taken the time to reflect on all of the powerful sentiments that have been expressed to me about the character of Commissioner Bean by serving and former officers. What is evidenced by all of the positive comments was the profound impact he had on the development of officers and his love and unwavering support of the Bermuda Police Service.
On February 21, 1981, Commissioner Bean made history when he became the first Bermudian born officer to rise from the rank of Constable to Commissioner. It should be noted that he started in the then Bermuda Police Force in June 1956 at just 19 years of age.
In 1959, he started as a CID Constable and in 1962, Commissioner Bean attended a detective training course at New Scotland Yard in London. Upon his return from the U.K. he was promoted to Detective Sergeant and was transferred to the Western Division. In 1965, he was transferred to the newly formed Narcotics Department as the officer in charge.
Commissioner Bean rapidly moved through the ranks and was promoted to Chief Inspector in 1971, and just two short years later he was promoted to the rank of Superintendent and transferred to the Special Branch. Over the proceeding 10 years Commissioner Bean assisted in the delivery of many advances for the BPS which we take for granted today including radio communications and the first use of computers.
There are many memories that colleagues have shared with me about Commissioner Bean and, given the sort time I have to speak (and indeed the suitability of some stories to say in a place of worship), I can only share a couple with you now.
"Firm but fair" is how many remember him. "A quiet man but with a big stick" is another. Commissioner Bean ran the BPS with discipline and integrity, an essential part of any police service, but with recognition to those that worked hard.
A memory from PC Mark Norman recalls Superintendent George Garrod, at the time in charge of our police training school, being firmly told that Commissioner Bean wanted all training officers in the classroom for 2 pm that day without fail. Struck with terror at the impeding telling off George feared was coming his way he interviewed each training officer one by one including his training Inspector, Alan Bissell, to spill the beans and come clean to what they had done that warranted the Commissioner visiting. Unfortunately there were no takers and just before 2pm George stood there shaking as the Commissioner arrived.
As the hour struck two the Commissioner entered the classroom and marched sternly towards Inspector Bissell. The tension was both terrifying and electric. 'Congratulations Chief Inspector Bissell, you are promoted!' the Commissioner boomed as George's jaw hit the ground and everyone broke into laughter.
Indeed Commissioner Bean promoted many people on the spot in his time as Commissioner. I am also told he sacked many people on the spot too!
Another memory is shared by Detective Sergeant Adrian Cook back in 1988 when a burglary had taken place at the home of Commissioner Bean's daughter. Despite finishing his shift DS Cook attended the home of the victim only to be met by Commissioner Bean who was already there.
'You're not exactly in uniform there, Constable' he boomed as Adrian explained that he had literally just knocked off and made his way there as he lived around the corner. The Commissioner responded, "OK you're with me."
The two blazed around several areas in Flatts and Devils Hole looking for the offender, the last place going into being Flatts Victoria Club. Commissioner Bean pounded up the steps, and like a scene out of a western movie, banged open the swinging doors so hard they smashed into the walls, making the assembled dozen or so guys in there pretty much levitate off their stools and chairs, probably a few drinks spilling.
He stood there looking like thunder, and growled at them in his low but clear voice 'Do you know who I am?' They all nodded, but nobody spoke. "My daughter's house just got broken into up the road. Who was the last person in here?" One guy slowly and shakily put up his hand. Commissioner Bean asked the bartender "How long ago?" "Like an hour ago sir". "Well if anybody knows anything I better not find out you guys knew something. Right?" "Yes sir no sir sorry sir" they all chorused.
As Commissioner Bean's so-called back-up DS Cook admits he was more terrified then the patrons inside the bar and as they exited he asked "Sir, did you know those guys?" Commissioner Bean smiled and said, "No, but the important thing was they knew me'. He then growled 'We'll hear something soon."
Commissioner Bean was known for his early morning walks with his dog past the Somerset Police Station that kept most offices on their P's and Q's. However two officers of the Whiskey 3 patrol unit ( Pc's Dean and Wolfe ) had decided to watch the sun rise from Somerset Long Bay during the morning dawn. Unfortunately they both fell asleep. What a horror was it for them when Commissioner Bean opened the police car door and demanded they be in his office at 9:00 am later that morning. The officers were sure they were on the losing end of the job having heard stories/rumours of anyone being paraded in his office often having a short career. However the telling off they received was extended to the Sergeant and the Division that remained on high alert for months to come.
There are many tales like this of Commissioner Bean, respected by his colleagues and equally respected in his community.
During his illustrious 35 year policing career, he received repeated Police Commendations and this culminated with him proudly receiving the Queen's Police Medal, the Overseas Police Territories medal and finally and more notably the Order of the British Empire (OBE) in 1991.
There are no new ideas in policing just good ones and bad ones.
One of these good ideas was Commissioner Bean's commitment to community policing and his introduction of the parish constable scheme. Locally placed officers who knew their community but more importantly their community knew them.
I spoke with Commissioner Bean a few months ago at length and gained great support and advice for what the BPS does now. His leadership is as relevant now as it was then and I reflect on the comforting irony of our return to the parish constable scheme in the early part of the New Year.
It's as right to do now as it was to do then and we will see dedicated PC's appointed to each parish. In that regard it may be we consider these PC's not as police constables or indeed parish constables. It may be that in celebration and recognition of Commissioner Bean's contribution to policing and to communities in Bermuda that we think of them as 'Penny's Constables.'
On behalf of the Bermuda Police Service I extend my sincere condolences to the family of Mr. Frederick Colborn "Penny" Bean.
Firm. Fair. And a leader of the Bermuda Police Service.
Mr. Thomas H Simmons, Secretary, Abercorn Lodge 123 IC
"When you become a Freemason, there are three principles which become the foundation of your journey – A belief in a higher being, an obligation to being an exemplary citizen to your country and as an individual to practice Brotherly Love to all. Brother Frederick Bean possessed all of these qualities as he began his Masonic journey.

Brother Bean was a young man (aged 28) when he became a member of Abercorn Lodge 123 IC being initiated on Dec 7, 1964, passed on Jan 18, 1965 and raised on Jun 21, 1965.
Having to balance his obligations with the Police Force that he joined in 1956, Brother Bean conducted his Masonic affairs with diligence and quiet efficiency and in the same manner that he rose through the ranks in the Force also rose through the various offices in his Mother Lodge, becoming Master of the Lodge in 1979.
You will note that three years later as already mentioned, he was appointed as the 1st Black Commissioner of Police in Bermuda in 1981. WB Bean (as he was now addressed ) was constantly and consistently applying the tenants of his Masonic obligations to his country.

On completion of his duty as a Master of the Lodge, while his public obligations prevented any further immediate Masonic growth WB Bean eventually was appointed as Almoner to the Lodge (A position requiring him to attend out those who need aid and comfort in times of need as well as keeping the brethren abreast of Lodge affairs) thus fulfilling another tenant of Free Masonary. From this service WB Bean was later conferred with the title of VWB by the Grand Lodge of Ireland and from that day forward was known as VWB Fredrick Bean.

For all of VWB Bean's public and private commitments, he was still able to find time to become a founding member of the Irish Past Master's Lodge and as well as becoming a member of the Hamilton Royal Arch Chapter 745.

VWB Bean's opinion was highly valued by the senior members, his contemporaries and those who followed behind. His voice was quiet but insightful, his manner calm yet firm, his viewpoint visionary not egotistical. VWB Bean was truly a leader amongst leaders.
Duty and commitment were his standard bearers. Merit - his badge of honour and for that we have been graced to have had the privilege of VWB Bean in our presence.

So Mote It Be
On behalf of the Worshipful Master, Officers and brethren
Abercorn Lodge 123 IC
Thomas H Simmons, Secretary
(The above Tribute was read out in Lodge and recorded within the Lodge minutes as a permanent record for posterity)
Family Tributes - Rochelle Simons and Gina Butterfield
Ro and I are blessed to have been raised by 2 awesome parents. My momma was the wind beneath my daddy's wings, which enabled his career to flourish, while a stable home life was maintained. The individual character strengths that guided each of them throughout their lives are forever embedded in us and for this, we are thankful.
We all know that Penny was a no nonsense man. You knew exactly where he stood on things as he was always very clear with an opinion or position.
Our teenage years were tough as his modus operandi did not end when he left Police HQ. In fact, many days when we saw his car turn into the driveway, we would run to our rooms as we didn't know what mood he would be in and didn't want to find out.
I got a lot of licks in my childhood. When my daddy had to discipline me, it was always prefaced by some of the most perplexing comments: "This is going to hurt me more than it hurts you", or "I am doing this because I love you". But this one was clear, "This is MY house and as long as you are living under MY roof you will do what I say!"
Decades later, he chuckled when I told him I didn't understand it then, but once I became a parent, I totally got it.
Having said all of that, my daddy was also a fun, friendly, kind, compassionate, generous, helpful and playful man. He was affectionately called 'Uncle Penny' by most, or 'Uncle Fred 'by others and there are some wonderful neighbourhood memories. Everybody liked Uncle Penny, even if he put you in your place.
Our family journey had some rocky and winding roads. It took my Mom, Ro and I time to work through the issues and our emotions – but we did. My dad acknowledged his role in the breakdown of our family unit and made amends with the 3 of us. He often told Ro and I that we were all he had, and deep down, despite all this stuff, we wanted a relationship with him. There is something to be said about daddies and daughters.
So, over time, we became one big blended family with Romaine, her sons and grandkids and Penny was intricately involved in our lives and the lives of his grandchildren from Pre-school to university graduations, and every event in between. For birthdays, we knew daddy would be coming to bring a gift so the norm became having a family birthday dinner.
Romaine, he cherished you and your family and you brought much joy and happiness to his life.
Lastly, I knew without a doubt that my daddy was my Protector, Confidant and Advisor. I could go to him with any issue or concern and he would guide me through. His knowledge and experience from the "school of hard knocks" as he called it, provided a plethora of wisdom.
I am comforted that he knew right to the end that he was loved. On Wednesday night in the hallway in the Emergency Dept, despite being in great pain, Ro and I watched him shake hands and thank each of the 3 EMTs for their service. It was an awesome outpouring of mutual respect. Mr. Donald Astwood, Mr. Aguair and the young trainee – thank you so much.
Then on Thursday's visit as Burt and I were en route to the airport, I could see he was in much pain and uncharacteristically anxious. I prayed with him, kissed him on his forehead and reminded him that I loved him.

I thank God for that final and lasting memory. He also knew that Ro and Romaine were by his side throughout Saturday afternoon and evening.

Daddy, you lived a full and accomplished life. Bermuda history books will speak to your professional accomplishments of which we are proud - but we will remember your active involvement in our lives. You wanted the best for us and from us. We have so many stories and memories which will live on in our hearts.
On behalf of Romaine and our entire family, we would like to thank the entire Bermuda Police Service, for the outpouring of love and respect during this time. To those who volunteered to come in on their day off or without pay to be a part of this celebration of our Dad's life, we say thank you. In particular special thanks to Retired Chief Inspector Calvin Smith and Chaplain Dr Kevin Santucci – Police Chaplain - for their unwavering presence and support during this challenging time. Mere words cannot adequately express our gratitude, but thank you from the bottom of our hearts.
Daddy, God knew best.
Well done thy good and faithful servant. May you now rest in peace.
Mr. Elton Richardson gave a most moving rendition of - "If I Can Help Somebody Along the Way"
Words of Comfort were provided by Police Chaplain, Dr. Kevin Santucci.
The Prayers were offered by Canon Residentiary: The Very Revd. Norman N. Lynas
The Commendation and Blessing was given by the Bishop: The Rt Reverend Nicholas B.B. Dill.
Pallbearers in and out of Church were members of the Bermuda Police Service
Interment took place at St. James' Church Cemetery, in Sandys Parish with pallbearers from Abercorn Lodge #123 GRI
The funeral was covered in detail in an article published in the Royal Gazette headlined, "Pioneering Commissioner had Profound Impact" on 18th December 2018, which can be viewed at http://www.royalgazette.com/news/article/20181218/pioneering-commissioner-had-profound-impact
The Royal Gazette also published an excellent article about Mr. Bean on 10th December 2018 which can be viewed at http://www.royalgazette.com/news/article/20181210/frederick-penny-bean-1936-2018
Following interment a reception was held in the main hall of the Police Recreation Club at Prospect with family and friends gathering to share stories and reflect on how their lives had been impacted by a man who was a devoted father, husband, grandfather, great grandfather, fellow police officer, senior police officer and Commissioner, Lodge member and leader, church member, and indeed a "Lion" in his community. As quoted in his Obituary, "Penny" will be missed, but his legacy will live on in the hearts and minds of the people whose lives he impacted during his full and productive life journey.