Served in Bermuda Police 1967 - 1997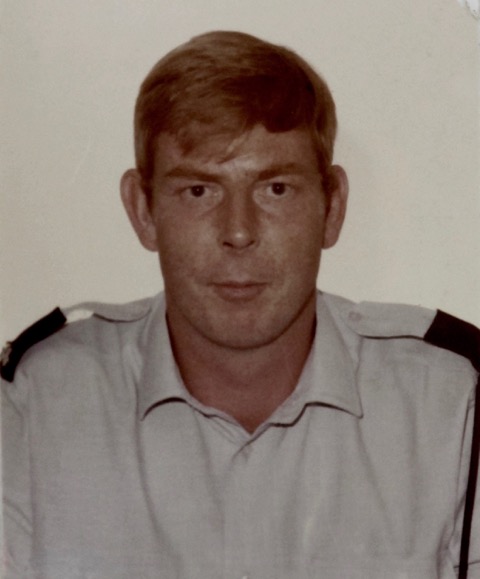 Young P.C. John Van de Weg
We were deeply saddened to report that our good friend and former colleague, Retired Sergeant John Van de Weg passed away at the age of 73 on 23rd February 2016, at King Edward Hospital.
A native of Middlesbrough, in England, John had served in the Royal Air Force in Communications before joining the Bermuda Police on 7th July 1967. He retired in March 1997, after 30 years of service in a variety of departments including Central Division, Prosecutions, Training School, Operations, as OIC Central Parishes, in "A" Department, and later in the newly formed Computer Section. He had been promoted to Sergeant in September 1976 and was an exceptionally popular officer.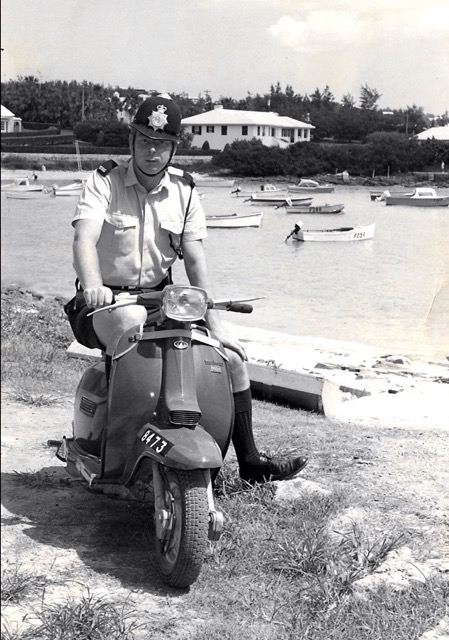 P.C. John Van de Weg on patrol
John was an avid sportsman who played tennis and cricket in our Police Teams, but he really excelled as a great rugby player - a formidable 2nd row forward - who went on to captain our Police Rugby Team at a time when it was second to none on the Island.
By coincidence we had recently published a photo of the Police Rugby Team that won the Nicol Shield back in 1973 with John as Captain. For more information about the team and their victory against Teachers Rugby Club that year go to our "Who, Where and When" column headed "How good was this rugby team? It can be found at http://expobermuda.com/index.php/who-when-where/398-how-good-was-this-rugby-team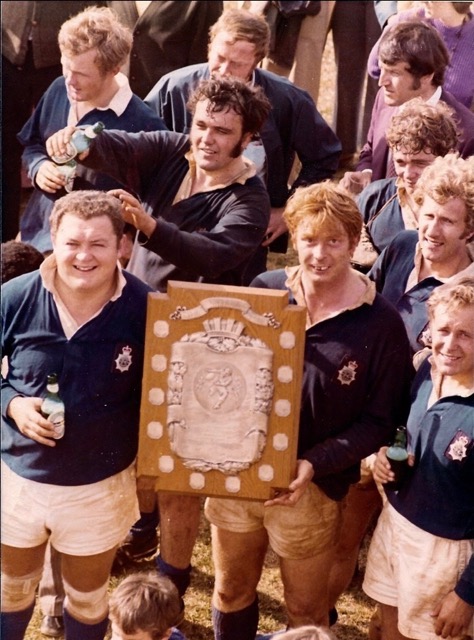 Victorious Captain John Van de Weg proudly holds the
Nicol Shield
in 1973 surrounded by his teammates
In 1976 John was struck down by a severe reaction to a flu vaccination which left him partially paralysed, and from which he never fully recovered despite years of treatment and rehabilitation. For a man who had been so active on the sports field it must have been devastating for John, but his strength of character came to the fore and he never complained about his condition. In fact, just the opposite! Fortunately he had the full support of his lovely wife, Mary who met him very shortly after she arrived in Bermuda in 1968 working as a nanny for a Bermudian family. We understand that their first date was at the PRC.
John and Mary were married in 1970, and they had three children, Simon, Rachel and Nicholas.
John continued his career in the Bermuda Police working for several years in Prosecutions Department and latterly in Operations in the newly formed Computer Section.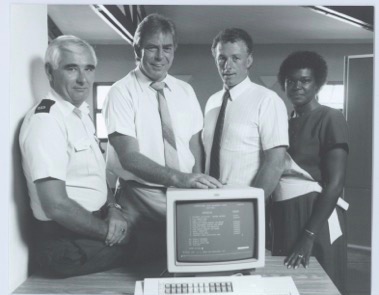 John heads the newly formed Police Computer Section
(l-r) John Skinner, John Van de Weg, Norman Wilson and Esther Trott
John was awarded the Colonial Police Medal for Long Service and Good Conduct in July 1985. He retired from the Bermuda Police Service on 2nd March 1997 after serving for 30 years.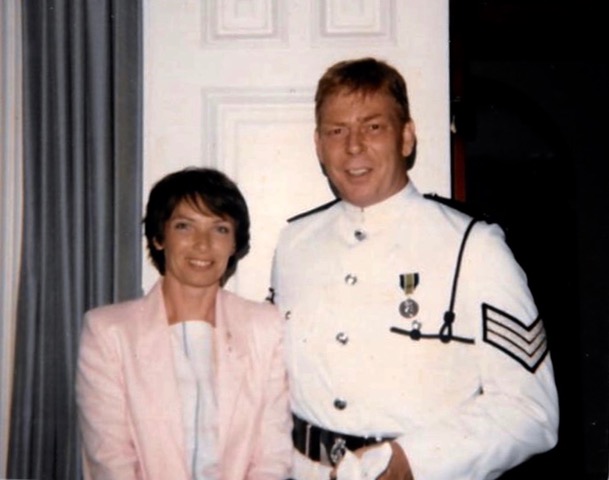 Sergeant John Van de Weg and his wife Mary attend Government House
for the presentation of his Long Service Medal - July 1985
Never one to stand still for a moment, John then embarked on a second career in the Crown Prosecutions Office where he was held in the highest regard by all who worked with him. He finally retired in 2011 at the age of 69.
John had always been a totally devoted father to his three children, supporting them in all of their endeavours and activities, and he was delighted when his son, Simon and wife Sarah had two daughters, Eve and Lily, making him an extremely proud grandfather.
John may not have been able to play sports but he was a great sports fan and loved to keep up with all of his favourite teams. He was, of course, a passionate fan of England's rugby team but was also a great fan of Gareth Edwards and had great admiration for the way Wales played rugby. He also loved to watch England's cricket team in action and being a "Tyke" through and through John would enjoy their matches even more if the ever present Yorkshire contingent were shining. He always followed the Yorkshire cricket team and would wax eloquent about the days when Len Hutton, Johnny Wardle, Brian Close and Fred Truman were in their prime. More recently he followed the rapidly rising career of Joe Root who has already been compared to the great Sir Len Hutton. Fellow "Tyke", Dave Garland, and John watched just about every sports film they could lay their hands on.
John maintained very close contacts with many of his Police colleagues and fellow sportsmen, both here in Bermuda and abroad. He and Mary would also often attend our Ex-Police Association functions.
Following John's passing, Mary and his family held a remembrance reception at the Royal Hamilton Amateur Dinghy Club that was packed as tightly as a rugby scrummage. Rex Osborne acting as MC and read out tributes to John sent from his family and friends around the world.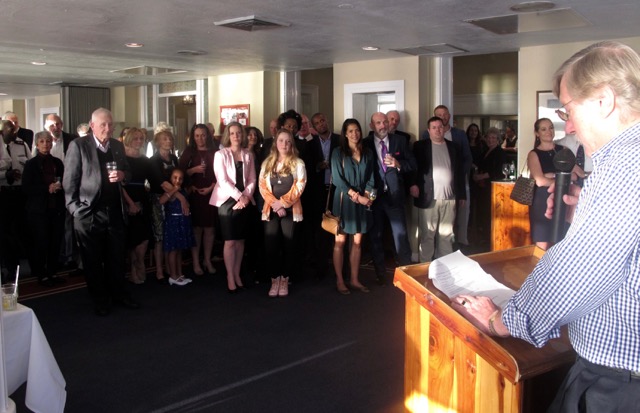 Rex Osborne acted as Master of Ceremonies at
the reception held at RHADC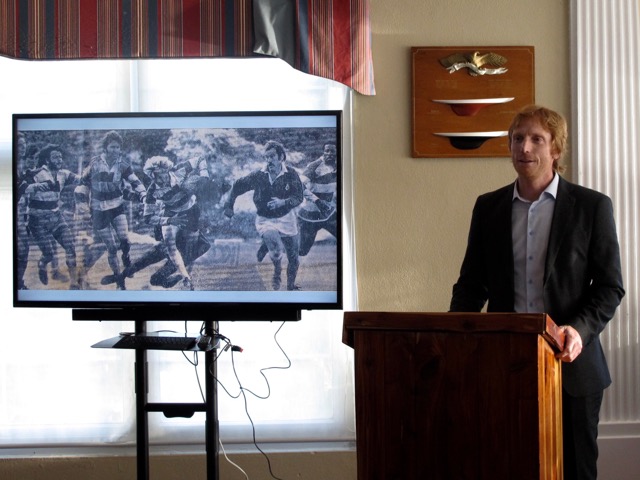 Simon giving eulogy for his father
His son Simon took on the onerous task of giving a eulogy and did an exceptional job in doing so. Simon kindly gave us permission to publish his comments which were as follows:-
For those that don't know me I am Simon, one of John's three children.
It is my pleasure to welcome you all here this evening and to do my best, on behalf of the family, to speak in remembrance and celebration of John.
Among us this evening are people who connected with John at various stages and in different ways during his life. Thank you all for sharing this time with us.
Of John's family here now is Mary, John's beloved wife of over 45 years and children Rachel, Nicholas and myself. Also his cousin Simon, daughters-in-law Sarah and Marilyn, and his greatly adored grandchildren Eve and Lily.
Unable to attend, but gathering overseas are John's sisters Elizabeth, Margaret, Susan, brother Henk and special lifetime friends Keith and Judy Staples.
John was never one for ceremony. He preferred things simple and modest. So this evening in this casual way we come together to remember the man and his journey through life.
Remembrance and Celebration
John was born on 2nd March 1942 in Middlesbrough, England. He was birthed at home and considerably premature and they thought he would not make it through the first night. He did of course and then grew to become well over 6 foot tall.
Olive, John's mother was from a long time Yorkshire family. John's father, Cornelis, was a Dutchman and when he was young the family moved to the Netherlands where they lived in the Hague. Some years later they returned and Yorkshire remained a deep love of his always.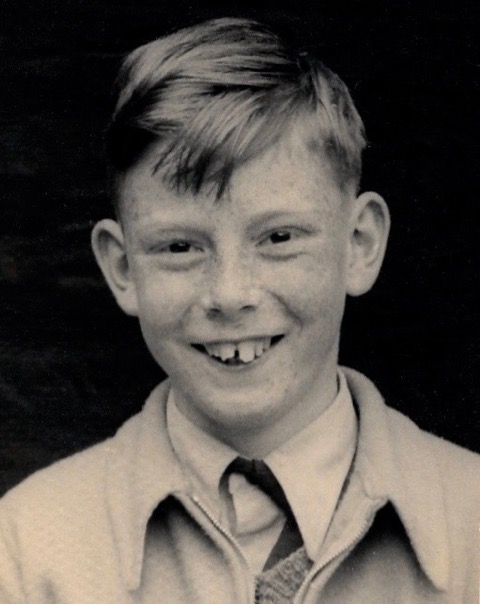 Of his childhood years he spoke fondly. He was good at all sports but rugby and cricket were his main interests. His mother's washing line was always sagging low as she kept up with a steady flow of muddy team kit. John adored his 3 younger sisters. He was the man of the house at an early age because his father was often at sea for extended periods.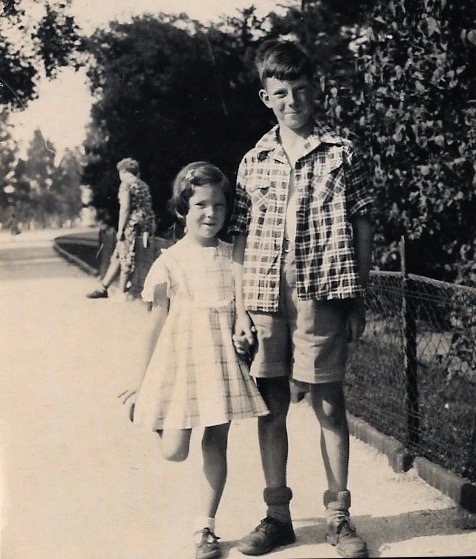 John with his sister Elizabeth taken in Rotterdam
during the English school holidays
Service in the Royal Air Force followed school. This took John to Asia and adventures on active service in the Gurkha Signals Unit during the Borneo Confrontation. More than 20 years later a service medal arrived in the post. The mail in Bermuda has always been a bit slow…
In 1967 John came to Bermuda to join the Police Service (as one of 12 new recruits).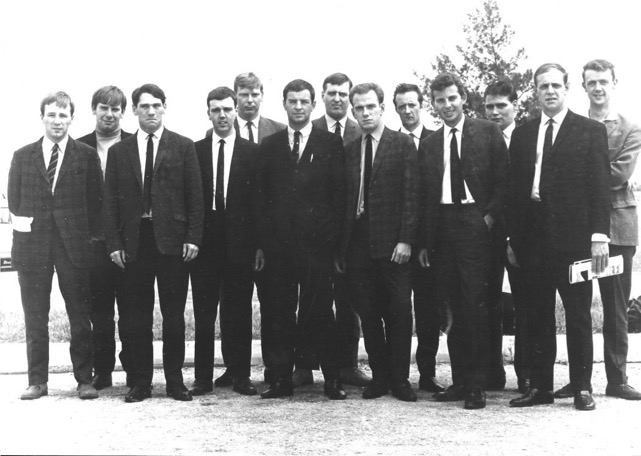 A motley crew of new recruits fresh off the plane - July 1967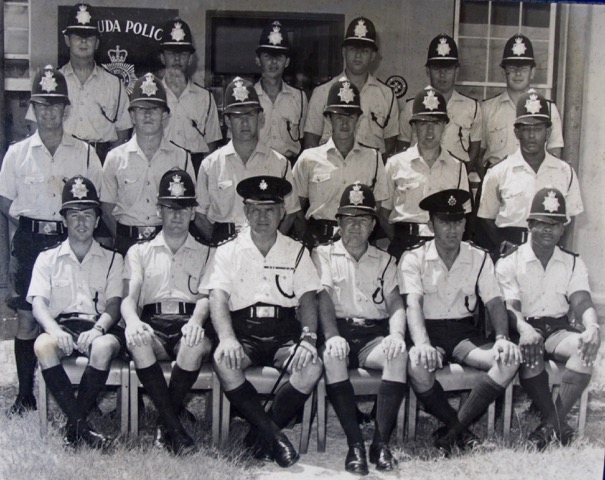 Smart Graduates of Basic Training Course #9
Top Row (l-r) John Van de Weg, Owen Marsh, Richard "Dick" Saunders,
Brian Hanney, James "Jimmy" Costello, Peter Irwin
Middle Row - John Balsdon, Malcolm Hall, Ian Ganson,
Joseph "Ronnie" Boggan, Cyril Plant, Hubert Swan
Seated - Ian Andrews, Sgt. Barrie Meade, Chief Insp. Roy Chandler,
Sgt John Cafferky, Sgt Mike Kelly, and Edward Edwards
And it was here that John met his wife Mary. As chance would have it she had seen him at the flagpole on Front Street on her first full day on the island. He was memorable that day. He was in uniform and sporting a large bandage across his broken nose. He had broken it playing rugby the afternoon before – but unwilling to leave the after-match party until the very late hours – he had missed the deadline to report sick and had to work that day.
No doubt John knew right away that he could never do better than Mary. Their 46 years of marriage started in 1970.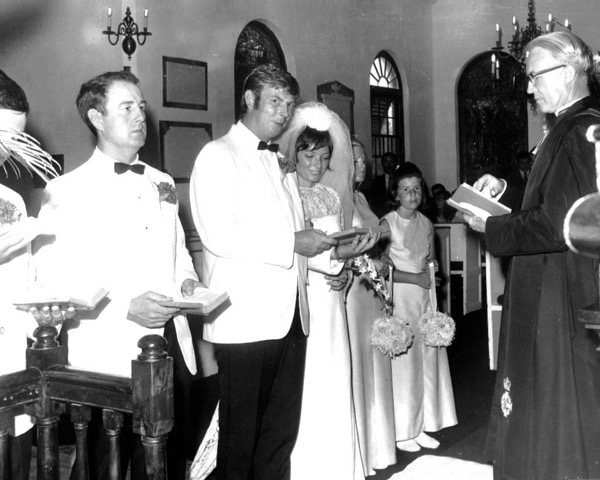 John and Mary are married at Christchurch,
Warwick
on 4th July 1970
(l-r) Best Man Bob Fancourt, John, Mary, Maid of Honour Dale Martin,
Flower Girl Janie, and Rev. Buchanan
"Vanders" is how he was known to his colleagues in the Police. He was exceptionally popular and respected. In 30 years in the Service he reinvented himself multiple times from policeman to trainer, prosecutor and then computer specialist. Not content to retire, John continued on to work with the Department of Public Prosecutions.
During his career he made many friendships and helped a lot of people in different ways. John would certainly be pleased to see so many of his friends and former colleagues here today.
John was very well known as a sportsman, playing cricket and rugby for Police. He particularly loved rugby. He was proud to have Captained the Police team as they accumulated significant amounts of silverware in the early 1970s. His fellow "faded blues" recount that he was a powerful player with drive and ability. He was motivational and ferocious on the field and comfortably laid back off it. To John the after-match party was as important as the game itself.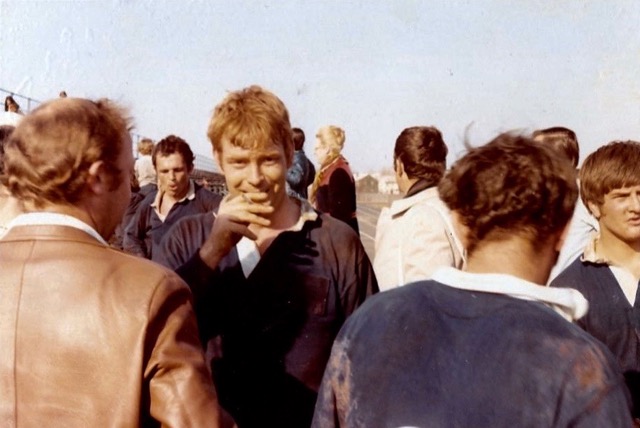 Vanders was famous for his half-time "pep talks" and a quick drag!
In 1976 things changed for John when a flu vaccination triggered a severe illness. It was little understood then and it changed his life dramatically at age 34 and caused complications from then on.
Such a thing might have made many people cynical and bitter. But not John. He had the determination and good humoured resolve to fight back from each set-back and enjoy good times with his wife, children and friends. These characteristics were remarked on by everyone who knew him.
But he could not have done it without his wife Mary at his side. Mary and John dealt with all challenges – and continued over the next 38 years to make a great life for the family.
John was a first class father and husband. He was an energetic dad and the back garden was regularly the scene of cricket games that continued into darkness. With his walking stick as a bat he made sure his boys could bowl a good line and length.
He coordinated high action and memorable birthday parties. He loved long summer afternoons on the Police Beach with his young family. He tried never to miss anything and was there for all of Rachel's ballet and music recitals and covered many miles patrolling the touchline when his sons played rugby. He was incredibly proud of his children. When he became a grandfather to Eve and Lily he was over the moon.
After busy days he often would sit outside puffing his pipe in the cool evenings. He tried painting for a time and was pretty good. He gave them away to friends when asked. He even sold a few paintings once when Mary arranged for some to be on display in Triminghams. He was amused by that.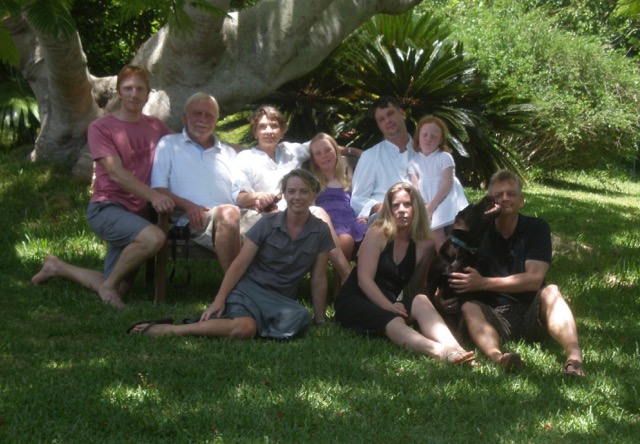 John with Family and Friends
(l-r) Back row - Simon, John, Mary, grand daughter Eve, Nicholas, grand daughter Lily
Front Row - Rachel, Simon's wife Sarah, and family friend
Jeffrey Lawrence with Fig the chocolate labrador
John's retirement was shorter than hoped for. But in just a few years he and Mary managed to get a lot done. They travelled in Europe, visited Alaska, the Grand Canyon and of course Yorkshire. They met up with old friends or made friends on the way.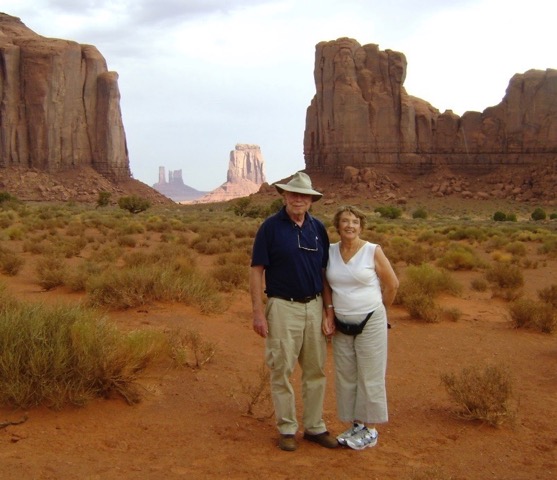 John and Mary in Monument Valley, Navaho Tribal Park,
Arizona/Utah, while on tour of the US Canyonlands
John had great support from good friends all along. His regular lunches with and visits from Ron Beech, Rex Osborne, Peter Duffy, Dave Garland, Steve Dunleavy, Dave Carruthers and others were great for lively conversations on events past and present.
Until just 3 days before he passed away John had been attempting yet another come back. Right up to the end he would still greet visitors with a shake of his big hand and want to talk about how they were doing.
John will be sorely missed. He was a big strong man with a kind and gentle soul. He was admired and respected by many. He retained his sense of humour and positive outlook despite significant struggles and inspired others to the same. He was a wonderful father and husband and a loyal friend.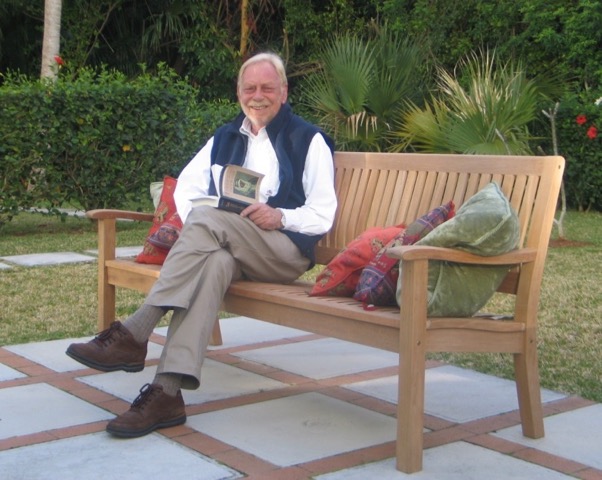 John relaxes with a book in his garden on the bench
presented to him on retirement from the DPP's Office
Thank you all for coming and celebrating John's life with us.