Inspector John Leonard "Johnny" Williams
Bermuda Police 1965 – 1986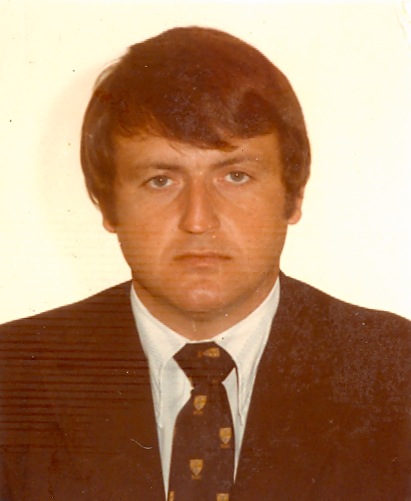 Johnny Williams
This eulogy to Johnny Williams was given by his good friend Bill Butterworth at his funeral service held at Holy Trinity Cathedral, Hamilton, on 29th September 2011, to a packed audience of family, friends and wellwishers.
"It is my privilege and honor to stand here today to acknowledge and pay tribute to the life of John Williams. To Kathy he was a loving husband, to Haley a devoted father, to Holgar a proud father in law and to Dylan Jack a doting grandpa. To Ella, Tilley and Ben a much loved son, brother and uncle. Our deepest sympathy, condolences and prayers go out to you.
To celebrate and remember John's life in Bermuda we welcome family and friends from overseas, John's sister Tilley, Kathy's sisters Helena and Theresa, John's friend and business partner Marsh Parker and his girlfriend Collette, former colleague Paul Hendricks, childhood friend Vic Davis with his wife Liz, Former teachers captain Colin Davis and former Police Rugby Player Paul Nethery have all made the trip to Bermuda.
Dozens of messages and phone calls have been received from around the world reflecting how well he was loved, respected and so highly regarded. Acknowledgements and messages from the Rugby World continue to pour in including The Presidents of USA RU, Canada Rugby and many of the Caribbean Unions John worked so closely with.
It would be amiss not to mention notes received from Tom and Helen Gallagher in Northern Ireland. Their friendship goes back 45 years. John gave Helen away on her wedding day in 1966 and in 1976 Tom returned the favor by giving Kathy away when she married John. Tom and Helen are also Hayley's godparents
I'm sure some of you are aware that Tom has been very seriously ill and John & Kathy, followed on by Maurice & Bron Pett, John & Ann Price and Patrick O'Riordan all made special trips to Northern Ireland to see Tom. Tom thankfully has made a bit of pull back but is still quite ill. I am told the other day feeling very sad at having heard the news about John and a little maudlin said to his wife, "Helen why didn't God take me instead?" Helen with a true Belfast comeback said, "Cos your too damn miserable and a pain in the backside."
But I digress. John lead a rich and full life and the threads of his life weaved and crossed over through his family, his friends, the police, rugby world and his business enterprises and partners and his music.
John Leonard Williams was born in Swansea, Wales on 20th January 1944, to Eleanor and John Leonard Williams. The family, including younger sister Tilly, was known as "Williams the Shop of Black Pill". John …or Buster, as he was then referred to by his Dad, attended Dynevor Grammar School for Boys. Around the age of 15 years John's musical interests began to emerge and he was involved with his schoolmate, Vic Davis, in a music group called the Tracers.
At the age of 16 John left Swansea to join the Metropolitan Police cadets. He served as a police cadet and constable in the Metropolitan Police from 1960 to 1965. His time in the Met however did not stall his musical career. John continued and made recordings of the songs of Duane Eddie and Lonnie Donnegan The recording studio was the bathroom of his Islington Police Station House, which provided first class acoustics.
Then on a wet and rainy night outside the Elephant & Castle John decided it was time for foreign shores and somewhere warm. John joined the Bermuda Police from the London Metropolitan Police on 2nd October 1965, and served with distinction until 4th April 1986 when he left with the rank of Inspector. John received a number of commendations and was involved in most of the major drugs cases of the seventies and early eighties.
Working on the front line in one of the most stressful jobs in the police force John spent the majority of his service in Narcotics. Initially working under Harold Moniz and Paul Field, alongside Norrell Hull, Reese Bartley, Campbell Simons, Howard D'Olivera, Ray Sousa, Fred Beach, Patrick Hamlett, Dennis Brookes, Moby Pett, and others.
John was a good all round police officer, good on the street and well respected by his men. Norrell Hull described him this way, "John was a policeman par-excellence " and "even as a senior supervisor he commanded respect without being hard". He valued unity and inclusiveness.
That inclusiveness extended to the social side of John and the house at Devils Hole. "Sweyns Eye" has fond memories for all of us. In the early seventies, we drank beer, dived for calico clams and ventured round Harrington Sound in whatever boat John had.
In 1976 John met and married the beautiful Kathleen Farrell transforming for the better the house and probably the behavior. In January 1978 John and Kathy were blessed with the arrival of their pride and joy - Hayley. This was only to be ever equaled by her marriage to Holgar and the birth of Dylan. John was such a proud father and Grandpa.
The hospitality of John & Kathy has always been second to none; friends, visiting families, rugby players, police, and business friends - all were made welcome. They were hosted with good food, plenty of libations, but if it was beer you wanted you always got Becks, a hold-over from a sponsorship once provided to rugby by Willie Frith about 25 years ago. And of course there was the guitar; John on the strings and probably Gallagher providing the vocals.
However not to be out done, Kathy had her very own party pieces. With John on the strings Kathy would sing "Peggy Sue" or "Things You Remember" or "Ev'ry night I sit here by my window", and Kathy would belt off the last word chorus response at the very top of her voice. Obviously we never had too many children around on those days to be woken up.
The pontoon boat, the New Years Day swim breakfast, trips to Rabbit Island, and a thousand Cocktail cruises all happened at or left from "Sweyns Eye". To honor John, Danny Moore and the boys took out his boat last weekend caught a boat load of fish, dropped one back for John and had a cook-up at "Sweyns Eye".
But it wasn't just about partying it was lifelong friendships that were built there. In the absence of families in Bermuda we created our own extended family, sharing holidays, … Christmases, Easters, the Police Beach and Ports Island - always together.
To Jennifer, Kirsten, William, Christopher, Stephen, Lauren and Jonathan it was Uncle John and Auntie Kathy.
When entertaining or being entertained John always liked to be busy either with the music, changing the CD's or playing his guitar. During parties or at dinner John could, on occasions, become bored and fidgety. He could ask a question and before the answer was fully given his eyes would glass over and he was thinking about something else - not deliberately rude it's just the way he was; his mind was always working.
I think it was at times like this when his "Lenny Bruce" side would appear, and for shock effect he would come out with some of most outrageously rude comments that elicited a sharp "John" from Kathy and the rest of the room or table would explode into a chorus "ahhhh Williams get out of the gutter" ... and if anyone laughed there was a follow-up warning from Kathy stating, " ignore him…don't encourage him"!
John loved his guitar and over the years he became an accomplished player. However, he severely tested us all in the early years when his frequent party piece was Lonny Donnegan's, "Does your Chewing Gum lose it flavor on the bed post over night". It just would not cut it and the case had to stay closed, and invitations excluded the guitar until his repertoire increased!
But if music was his love then Country was his passion. I know John believed in higher beings. I know this because I have heard him in response to a statement made or some action say "God Bless You"! But also among these higher beings were …… Johnny, Hank, Willie and Waylan.
In 1984 Derek Hurdle, having just completed a Rugby suspension, and having missed the Teachers Tour signed up with the Police RFC and travelled with them to Nashville, Tennessee on a John Williams organized rugby tour. Derek says he had no idea at first why the Police were touring Nashville until Williams got his hooks into him in Nashville and dragged him to the Cheyenne Club to see Hank Williams play, followed by visits to Country and Western outfitters to buy boots, belts and shirts.
So as Derek said "I never knew till then they had Cowboys in Wales."
One of the highlights of the tour was a rainy day when lead by Williams accompanied by Moby Pett, Tom Gallagher and the rest of the team they found a bar advertising hundreds of beers from all around the world. The inevitable occurred and every new round of beers ordered had to be a beer from different country. John and the team had an open invitation to return anytime!
John was an avid rugby enthusiast whose career in Bermuda started in 1965 and never ever ended. His arrival on the island saw him playing in the front row with Alex Forbes and Jack Rouse with big Dave Lunn in the second row. Alex tells me that John was a good player but after a number of years both John and Jack Rouse got delusions of grandeur and deserted him in the front row to play in backs and back row. Johns playing career ended in 1971, … he was Captain and Coach that year but by the end of the season, unfortunately, knee injuries forced him to retire.
However I am informed that a Cameo appearance was made on the Tour of Austin. The opposition were informed and fed the line all the previous night that John had been a Welsh International. At the start of the match the next day the opposition promptly kicked the ball towards John, and their forwards bore down on him. John wisely sidestepped both the ball and the charging forwards, stepped off the field and was promptly substituted.
Johns involvement in rugby encompasses being a player, captain, coach, tour organizer, secretary, chairman, correspondent, equipment provider, and team sponsor. John linked the generations from the 1960's thru to 2011 of police and local rugby players. From Alex "Punchy" Forbes through to Sean Field, Jonathan Cassidy and Bobby Hurdle and others.
While most of us took up golf John stayed active and engaged with local and Caribbean Rugby.
John probably holds the record for the number of rugby tours taken. An early tour in the 70's, headed by John as Manager took us to Boston. The usual pre-flight and on-flight celebrations saw the team singing and serenading the rest of the plane all the way to Boston. John, aware of his managerial status and responsibilities, got permission from the stewardess to use the microphone. He promptly apologized for any disruption we had caused, was booed loudly be the team, quickly found a bucket and walked around the cabin taking a collection from the team to tip the crew!
His rugby involvement was not just with Police. When Mariners Rugby Club were a struggling, team he volunteered to coach them and did so for a number seasons with some success.
His rugby column in one of the local weekend papers under the nom de plume 'Stradey" always provided an accurate account of matches and an insight into the politics and behind-the-scenes machinations of the sport.
John served as Captain, Coach, Secretary and Chairman of the Bermuda Police Rugby Club throughout his years.
Beyond club level, John also served on The Bermuda Rugby Football Union, as;
Vice President 1993 - 1996.
President 1996 – 2000.
In 1994 the Bermuda RFU was scheduled to play the USA. The International Rugby Board assigned a Japanese referee. John and then President of the BRFU, Peter Borland, called the IRB asked if the referee spoke English. The response was, 'No but he can sing, "She'll be coming round the mountain".' The said Japanese referee arrived a day early and John was sent to the Princess to meet him along with Peter Borland. Peter was delayed and arrived some time later to find John and the Japanese referee nodding and apparently deep in conversation. Peter rushed over, stuck out his hand, "Hi I'm Peter Borland.."
Williams looks to Peter with a shake of his head and a wry smile and said " Not happening" … and the polite nodding continued.
However Peter reports that late at night, following the After-the-Match Dinner and a few beveys, John … never one to let his lack of Asian languages slow him down, was seen in a corner in deep conversation with the referee. In fact they were both talking at the same time.
I personally believe John was probably teaching him the words to a Willie Nelson song!
John was Secretary of the West Indies Rugby Union from 1998-2002. He did a huge amount of work getting the various islands (including Bermuda) to agree on certain rugby matters, which was no mean feat. Those familiar with the Caribbean will be aware of the political pitfalls.
John was also manager of the West Indies team that competed in the world famous Hong Kong 7's. Bobby Hurdle remembers after the Caribbean 7s Championships when the selection board announced the West Indies squad that would play in Hong Kong 7's there were four Bermuda players selected out of a squad of 12 - Bobby Hurdle, Danny and Josh McGavern and Jonathan Cassidy. Bobby Hurdle said "JW was so proud and beaming that you would have thought it was his four sons that had been selected."
If the Police and Rugby played a large part in his life, then from 1985 through today so did his business ventures. Whether he was selling rugby shirts, or trying to sell jeans out of heel sew quik, setting up new business or selling those large 4 inch square wrist watches, he loved being in business, making a deal and making a pitch. But always along the way he made friends.
His move into the private sector was something I always admired about John. Like Paul Field before him, to venture out and take that risk and go out on their own is a step not a lot of people are willing to take.
John opened Orient Trader, importing and distributing tourist souvenir items. At some point during this early period he struck up a business relationship with John Casling and I believe they were in a joint venture for a while, remaining firm friends ever since that day. As most of you know John Casling also sadly passed away recently.
Can you imagine the scene! Casling 's up there waiting outside the Pearl Gates for Williams. He's wearing a white suit standing by a white stretched limo. Casling sees John and comes forward. "JW… listen I got a great deal lined up, I met a guy who has the inside track…". And off they go.
However back to Orient Trader, John began importing and distributing bathroom products and later when he and his long time friend, Peter Nelson, found there was a synergy between their companies they merged and Specialty Products is what remained plus a friendship with Peter and Collette.
24 years ago John started Heel Sew Quik and he brought Darren Booth out from Lancashire. Darren married Suzanne Decouto who later bought and now operates Heel Sew Quik. Darren admits the reason the shop is always crammed with such a variety of things to sell is a hold over from working with John.
This was followed by Café Continental with Helmut Koban where John liked to played "Mine Host" - organising Café Continental – Live Rugby and sending all those emails out to the rugby crowd.
I was talking to Marsh, John's partner in their international business ventures, and he said that one of his most memorable moments with John was when they had to go to a business meeting and the transportation was a Helicopter… something John had a fear of flying in. In order to persuade him to get on board Marsh needed, a cooler of cold beer, a seat in the back, head phones playing Willie Nelson and the pilots assurance that they were never flying more than 50 feet off the ground.
In business as in the Police John believed in inclusiveness and willingness to share the bounty. In 1994 we went to Philadelphia to inspect and examine the operation and possibility of opening Dollar Stores in Bermuda, a long time before Market Place brought them in. The trip ended in some bar in an industrial area near the Holland Tunnel, New Jersey. When he and I walked in with jackets and ties on, the place went silent, you could hear a pin drop. They didn't know whether we were FBI, DEA, or two mafia hit men!
The Dollar Store never happened for us but John had been there offering the opportunity.
John asked Maurice Pett to travel with him to Georgia in the 90's for a meeting to promote a gauge to measure how full cylinders like propane tanks were. The meeting took only an hour and half and but the trip took four days!
It would be remiss of me when talking about business not to mention how proudly John spoke of Holgar and his achievements with Buzz. I suspect there is something of John in Holger because I think he gets that same glazed over expression when you're talking about anything but business.
We all have our special memories and reasons for remembering John:-
for Kathy and Hayley they loved him dearly;
for Tilly he was her brother and today this service is being held on her birthday;
for me … he was a very good mate … he died on my birthday … and I'll never forget him.
Join us after this service at the PRC to tell your stories and remembrances, and as John would say at the end of his emails - Stay Well."
Editor's note
This eulogy to our friend and former colleague Johnny Williams was kindly provided to us by Bill Butterworth. In fact, I had spoken with Johnny on 28th September last year, almost exactly one year before his untimely passing and sent him a follow-up email encouraging him to write an article for our "Then and Now" column about his time in the Bermuda Police. Johnny never got around to doing so, but Bill has done a superb job with this eulogy.
_________________________________________________________________
The following poem was written by Vic Davies, a close friend of Johnnny since school days, as a tribute after hearing of his sudden passing. It was read at John's funeral service by Gareth Davies, and there was nary a dry eye in the Cathedral.
He told me to tell you the time has come,
He's gone to that place in the sky,
Suddenly snatched from the ones that he loved,
It's never the right time to die.
A husband, a father, a brother, a son,
Respected as all 'till the end,
And I am so proud, like the rest of the world,
I can call John Williams… "my friend".
He told me to tell you the time has come,
His number's been stripped from his back,
He was having such pleasure enjoying each day,
With his number one grandson Dylan Jack.
His passion for rugby was never in doubt,
As a player he always looked up.
The last thing he told me few weeks ago …..
"This year Wales will win the World Cup"
He told you to tell me the time has come
But no one can understand why,
Why Johnny has left us, the guy we all loved,
There's never a right time to die.
Hayley and Holger you've lost a great dad,
He'll never be coming back,
He's gone up to visit that place in the sky
And be with his father Jack.
He told me to tell you the time has come
To leave the great love of his life,
Kathy you must be ever so proud
To be John's best friend, and his wife.
Miss Ellie he loved you but now he is gone.
You'll always be his number one
And Mother, forever, you're entitled to be,
Ever so proud of your son.
He told me to tell you the time has come,
To tell all his friends from the Mumbles,
He's lived hard and played hard and enjoyed his full life
That Williams "don't have any grumbles".
A casual dresser he always looked smart
And to his favourite colour, I think,
I'd always make comment whenever we met
"Williams … you look pretty in PINK!!"
He told me to tell you that HIS time has come
Goodbye my best friend, goodbye,
He's up there with Elvis and Johnny Cash
Singing to us from on high.
From Wales and Bermuda and all over the World,
His friends say they all share the pain,
That LEGEND named Williams will forever live on
But they'll never see Johnny again
He told me to tell you the time had come
Wonderful memories, good times and good fun
But John will be with us no more.
Alas he has left us the man we all loved
Again we ask God - but for why
Please look after our mentor, our hero, our friend
There's never a right time to die.
Vic Davies: September 2011