We recently came into possession of these three photos from someone who's not sure who is in them! The person who provided them was Christine Muspratt who received them in the mail many years ago from none other than "Chief (Oliver) Trott" who was in charge of Central CID when they were taken.
We said you may have to be a little long in the tooth to be able to identify everyone but we were very confident it could be done. We also asked if anyone could provide us with the location where they were taken, the year they were taken, and what was the celebration? So far we have not been able to discover the reason for this celebration - maybe it was a weekly event - nor the year it was taken, although we are sure the location is Central CID.
Based on information we have received, and my own recollection, I believe the list below the first photo is accurate, and includes one name that puzzled some - it is Roy Dudden who was a civilian, a football referee, and a good friend of the Police at that time.
Initially we thought it likely that just four of these officers are still with us - two here in Bermuda, one in Canada, and one in the US. We know that Arthur Bean and John Barnett are alive and very well and both still here in Bermuda, Dave Parsons is living in Canada, while John Mulholland is living somewhere out in California and is re-married. Neither Dave nor John have easy access to computers or the internet but we have spoken to some of their family members who are still here in Bermuda in hopes of catching up on what they are up to these days. And Davie Kerr informs us that both Ron Wallace and Crawford "Crow" Rae were both living in Scotland a few years ago and we have not heard hide nor hair of them! Any information on Ron and "Crow" would be much appreciated.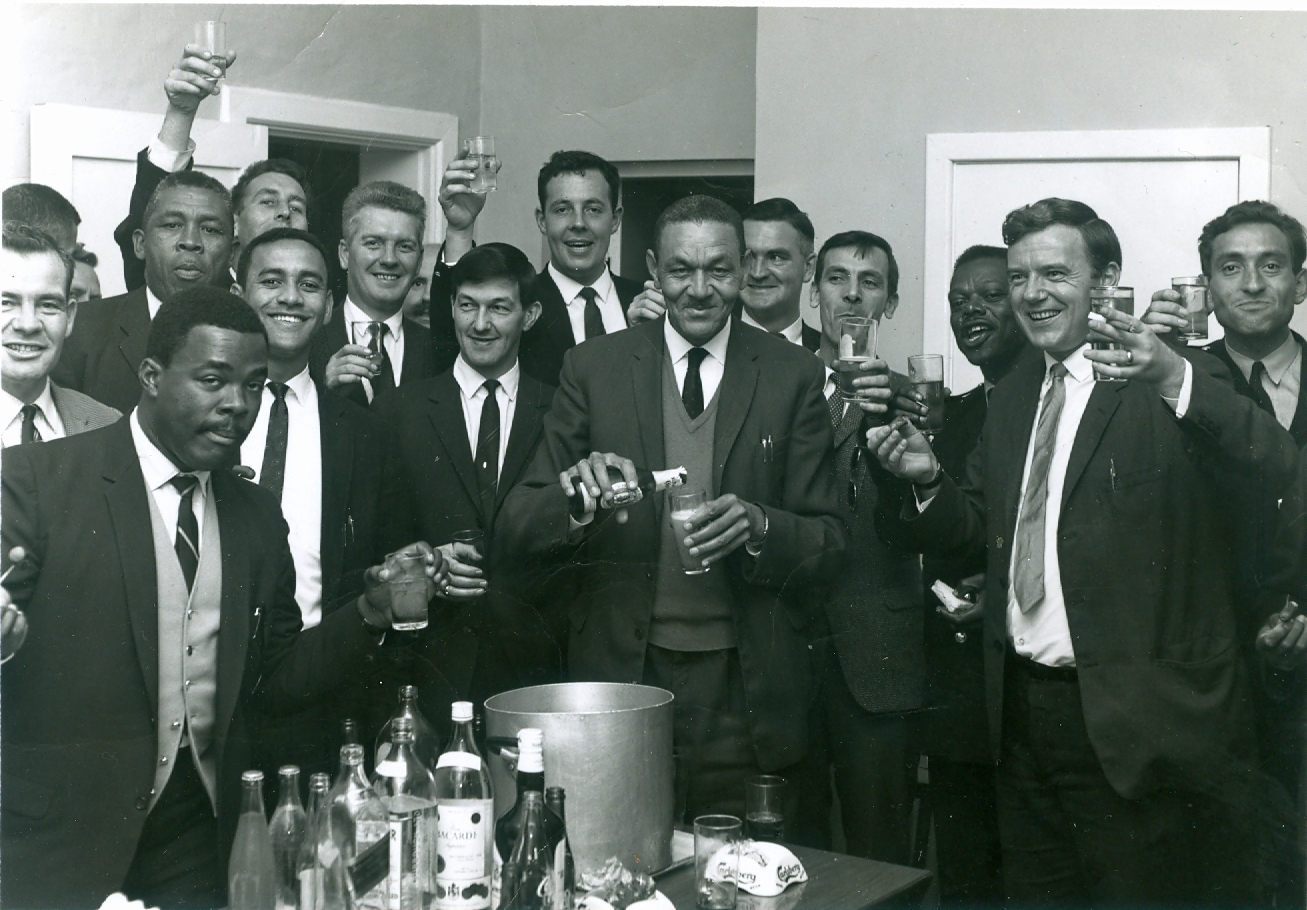 CID Party in Central CID circa 1962
(l-r) Brinley Jones, eyebrows behind Brin belong to Jeff Sanders, Sinclair Bean, Lenny Edwards (front row),
Sean Sheehan (raising his glass), Arthur Bean, Jimmy Moir, Dave Parsons' unmistakable moustache,
Roy Duddon, Ron Wallace, "Chief (Oliver) Trott", Mike Palmer, Tom Cassin, Hubert Simmons,
John Mulholland, and John Barnett.
Missing from this photo but visible in Photo 2 is the distinguished white hair and light sweater with elbow pads of Floyd "Happy" Duerden emptying the bottle!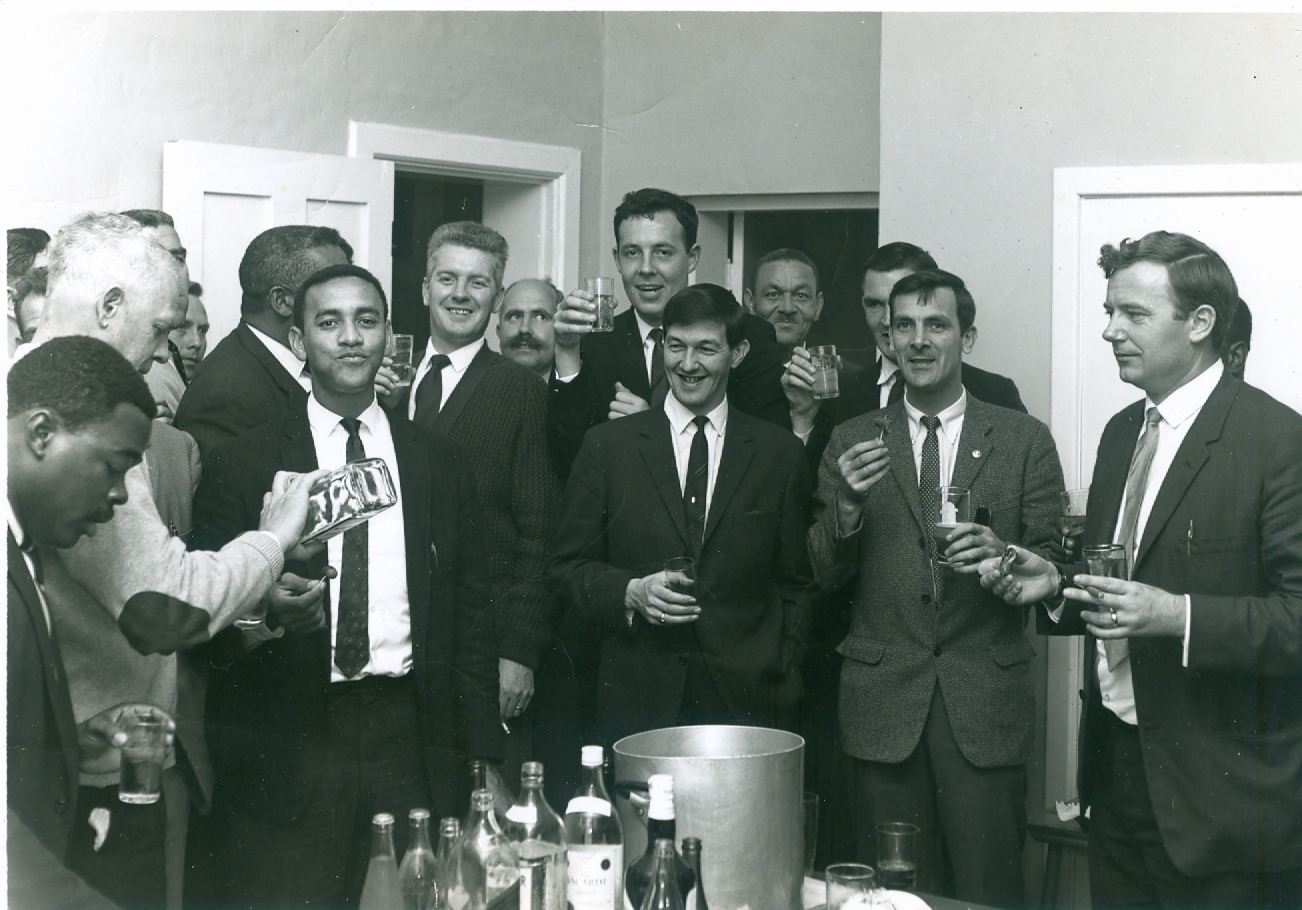 Photo 2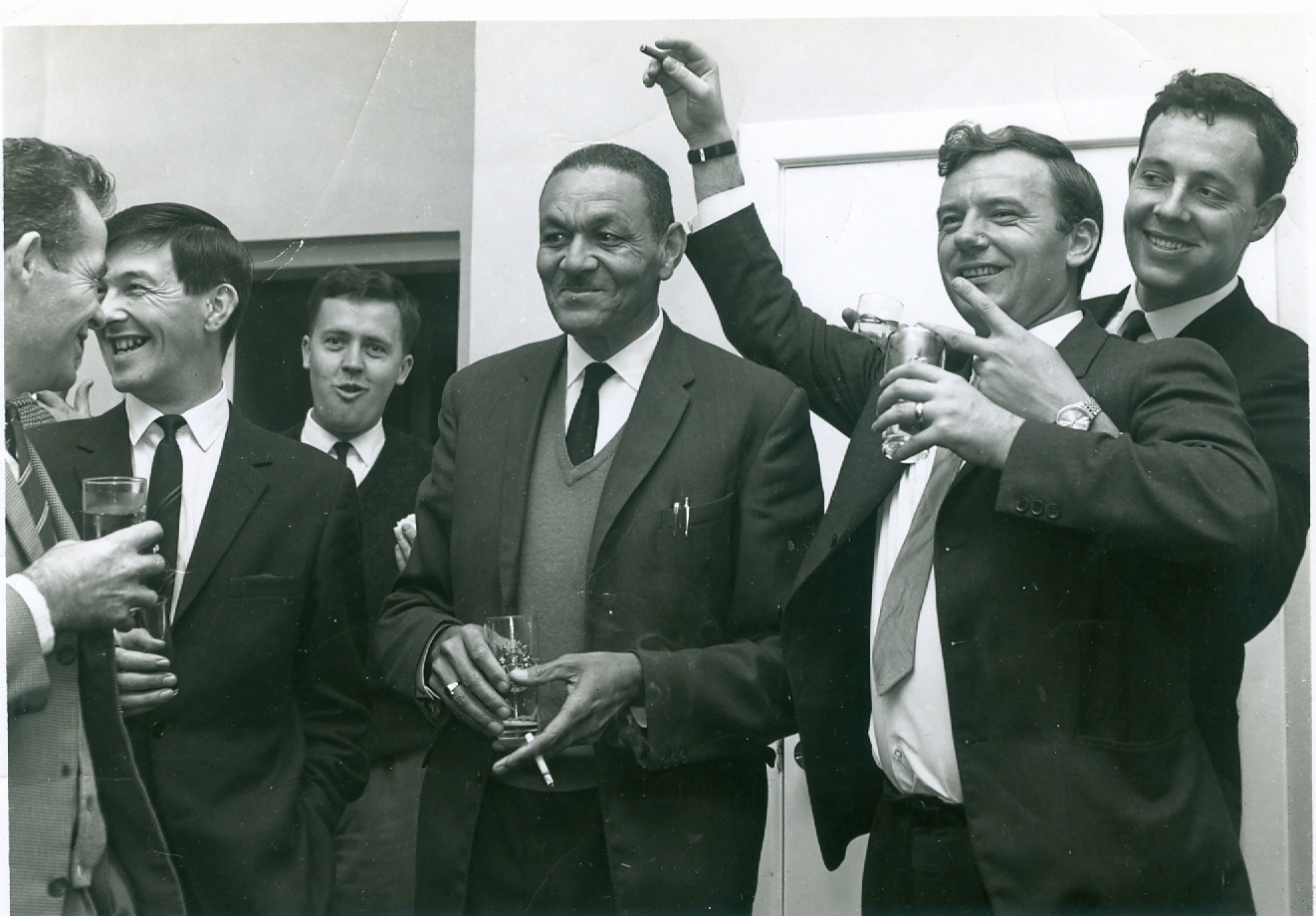 Photo 3