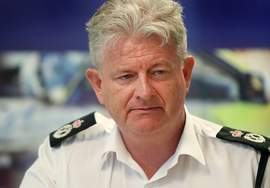 Commissioner Stephen Corbishley
The Royal Gazette reported on 14th November 2020, that Commissioner of Police, Stephen Corbishley, tested positive for the coronavirus:-
"The Commissioner of Police has contracted the coronavirus after a trip overseas, it was revealed today.
A police spokesman said Stephen Corbishley tested positive after returning to Bermuda earlier this week.
He added Mr Corbishley took a pre-travel test just before he came back to the island, which was clear.
But he will now have to be quarantined for the next two weeks after an arrival test showed the presence of the coronavirus.
CLICK HERE for the rest of the article.
We wish Commissioner Corbishley a speedy recovery