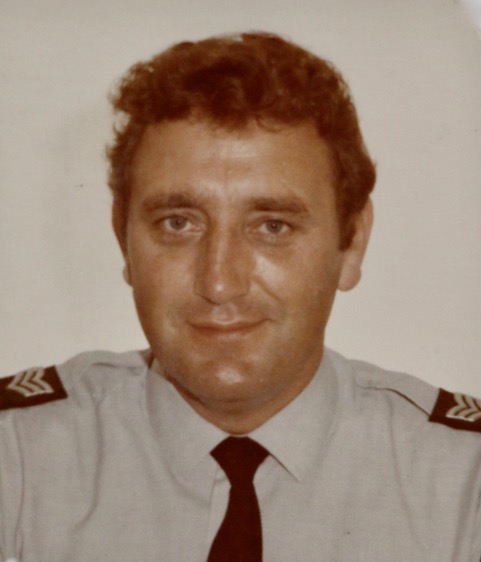 Sgt. Thomas "Mike" Kelly
We recently reported on the sad death of our old colleague and friend, retired Sgt Mike Kelly, who passed away last month at the age of 87. Mike had served in the Coldstream Guards prior to joining the Bermuda Police and gained a reputation as an exceptionally smart officer who often led our Police parades on special occasions.
Today's Royal Gazette (13th October 2020) published a very nice article about Mike with comments from two of our colleagues who both came from Yorkshire, as did Mike, and they all worked together on radar during the early days of "speed traps" on our roads.
Under the headline, Thomas "Mike" Kelly (1933-2020) the article read as follows:-
"A pioneer traffic police officer from the first days of radar speed traps on the roads has died.
Former Sergeant Thomas "Mike" Kelly, who died last month, aged 87, earned the nickname "Yorkie" along with two members of his team, all of whom originally came from Yorkshire, England.
Mr Kelly's colleagues, Dave Garland and Michael Rickards, said the island's roads could use a return to the get-tough policing of yesteryear.
Roger Sherratt, a former chief inspector who runs the Bermuda Ex-Police Association, said Mr Kelly earned notoriety for an early incident as a police officer.
Mr Sherratt said: "I saw him one day on Pitts Bay Road dressed as a painter, with an easel, like he was painting. He was actually operating the radar."
Mr Garland added: "A woman saw him and it ended up in The Royal Gazette. There was a headline: 'Radar operator poses as painter'."
Mr Kelly hailed from Redcar, a coastal town in North Yorkshire.
He served in the British Army's prestigious Coldstream Guards from 1952 to 1954 and joined the Bermuda Police Service in 1956.
Mr Garland, from Beverley and Mr Richards, from Goole, also in Yorkshire, were the constables charged in the "chase car" sent to pull over road users caught by Mr Kelly's equipment.
He said the speed radar was much bulkier and heavier than modern versions and had a "massive" battery.
Mr Garland added: "Everybody going over 50kph had to be booked. I wish we did it now.
"Radar did a great job — it stopped a lot of people speeding. Road traffic accidents were reduced — they went down by about 30 per cent when it came in.
"The idea was that if you book people speeding, you're saving lives."
He added: "Mike was a great guy. Cool and calm, easy to work with. He had a funny sense of humour, and you never heard Mike raise his voice."
CLICK HERE to read the rest of the Royal Gazette article.
Editors note - We have been advised that there will not be a funeral service for Mike at his request. The family will be holding a small private service.