Bernews reports on Bermuda's Coast Guard Patrol being on high alert during this year's Cup Match holiday weekend in what must be the first ever Cup Match weekend without Cup Match! Despite the pandemic still having some restrictions on the size of social gatherings, the Island enjoyed a relatively calm Cup Match with the Coast Guard patrols checking out more than 3,000 boats during the first two days of the holiday.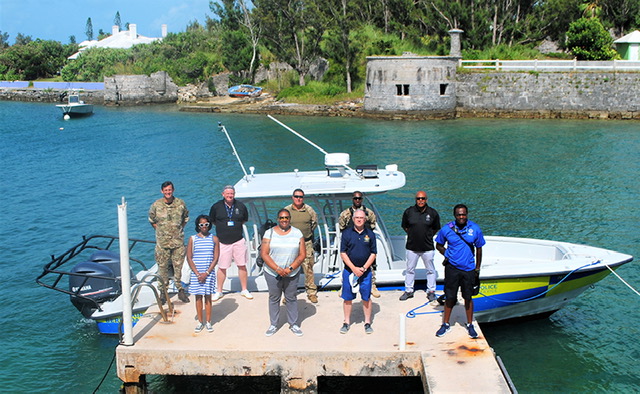 Where was this photograph taken?
Danette Ming, the Acting Permanent Secretary at national security,
Minister of National Security Renee Ming and Coast Guard commander
Inspector Dave Greenidge, Lt Col Ben Beasley, the RBR CO,
Stephen Corbishley, the Police Commissioner, Sgt Maj Jeffrey Patterson,
an RBR Coast Guard soldier and Cal Smith, the Commissioner's staff officer.
Bernews reports, "Soldiers attached to the Coast Guard joined forces with police to carry out patrols around the island, including the traditional raft-up at Mangrove Bay, the former site of the Non-Mariners' Race.
RBR soldier Private Keeshun Best, 27, said yesterday, "It's been great – hot, but no major trouble to speak of."
He added that people out in boats appreciated the patrols and the sense of security they provided.
CLICK HERE for the full article on Bernews.