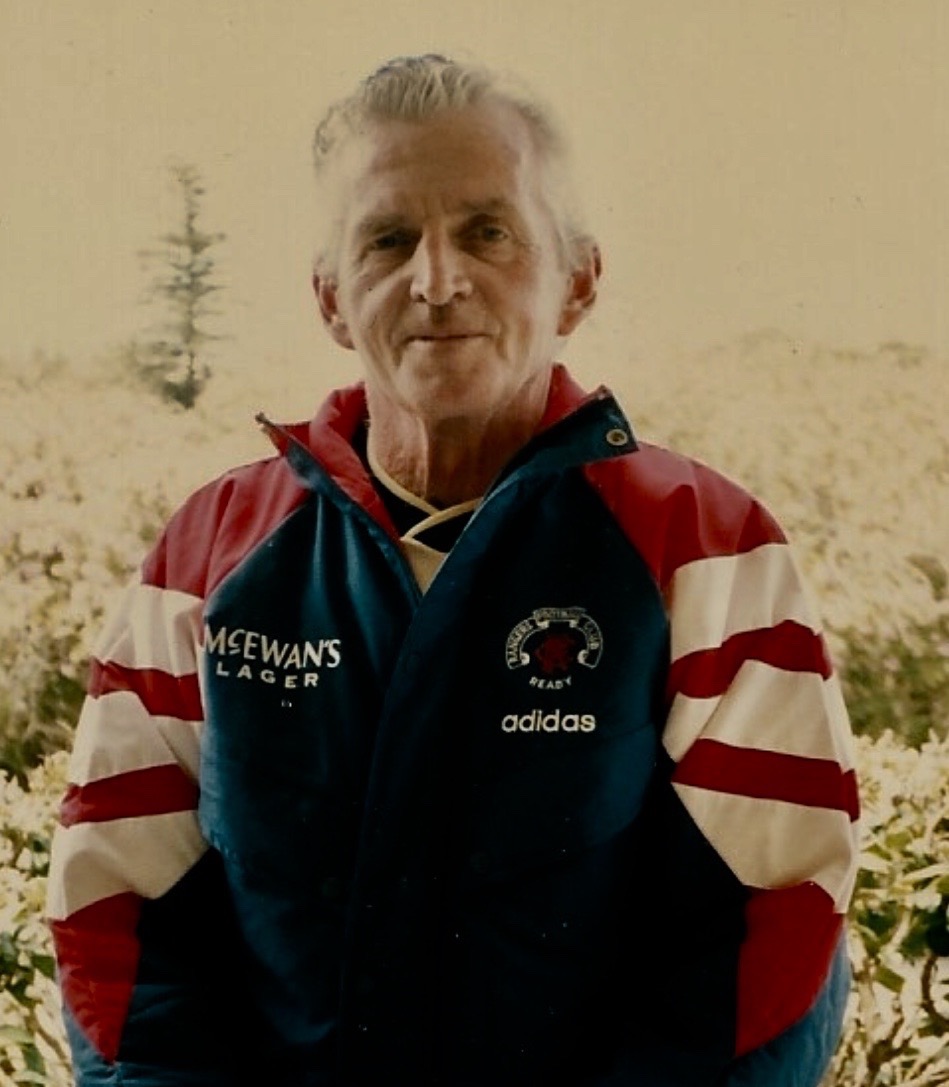 Former P.C. Frank Thompson
9th July 2019
We were saddened to hear news of the passing of former P.C. Frank Thompson who died here in Bermuda a few days ago.
Frank Hollindale Thompson was born and raised in Glasgow, Scotland, the son of Charles Forbes and Jane Agnew Highlands Thompson (Dowie). After leaving school at the age of 16 Frank joined his grandfather as an engineer in the Shipyard, and when he was 18 he joined the Scots Guards, serving abroad in Germany for a while. Frank was always immaculate in uniform and he was chosen to perform guard duties at Windsor Castle where a familiar sight to the gurads was Her Majesty, Queen Elizabeth, walking her corgis in the mornings.
After his two years National Service in the army, Frank applied for and was accepted in the Bermuda Police. He attended the Police Training College at Hendon, and arrived on Island on 16th October 1959, where he served in Central Division. He would have been one of the first new constables to live in the Police Barracks at Prospect. New recruits had previously been housed at either the Police Barracks on Victoria Street behind the present City Hall Car Park, or at Admiralty House in Spanish Point.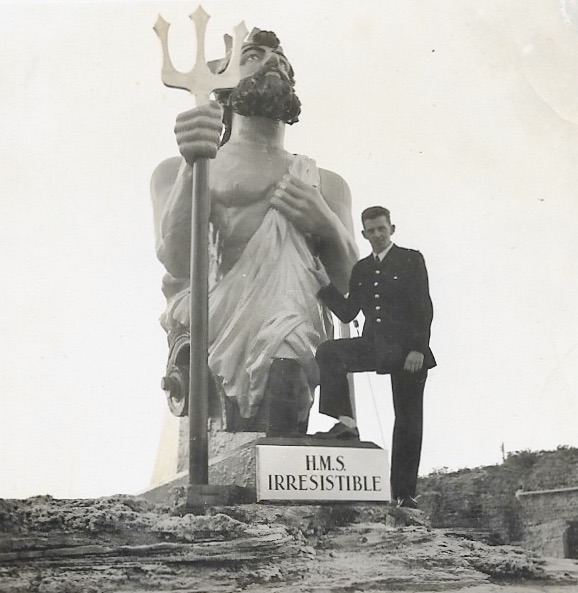 Young P.C. Frank Thompson next to H.M.S. Irresistible
figurehead at Admiralty Park
Several colleagues remember him as always being very smartly attired in uniform and being excellent at drill. He was very proud of having served in the Scots Guards, but he was rather shocked much later in life, following the outbreak of the Falklands Islands War when he received a letter from Government House recalling him for active duty in the Scots Guards. His daughter, Kim, says that although he was by then in his 40's he was ready to go and serve, and remembers her dad as a brave and courageous person who loved his country of Scotland. Nevertheless, he was not required to head for the Falklands!
Frank showed his bravery when he was involved in a serious altercation, along with several police officers, when they arrested Polly Smith, a former boxing champion, after Smith had been seen setting fire to a flag on Front Street. Smith was approached a short time later on Court Street by several police officers, including P.C. Frank Thompson and Sgt Arthur Rose, at which time he brandished a sheath knife and slashed at the officers. Both P.C. Thompson and Sgt Rose sustained stab wounds but they were able to disarm and arrest Smith who was later convicted of causing damage to the flag and for attacking the officers.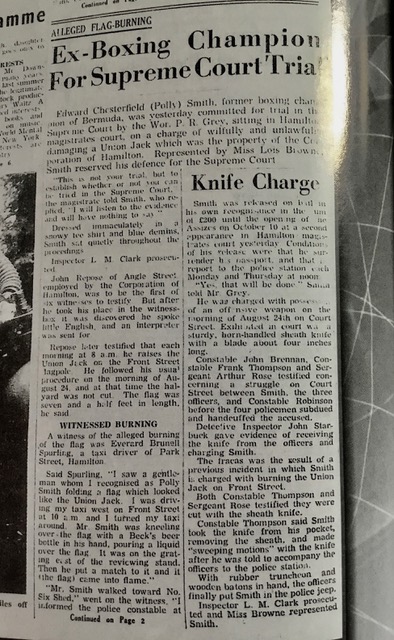 Royal Gazette article from 6th September 1960 reporting
on the flag burning and the arrest of Polly Smith.
Frank met his future wife, Patsy Repose, when he stopped her on her auxiliary cycle making an "illegal" turn on Church Street, and gave her a "warning"! The two were married in April 1961, with a group of Frank's fellow officers in the wedding party. You can view Frank and Patsy with the young police officers all dressed in their white tuxedos in our "Who, Where and When" column at http://expobermuda.com/index.php/who-when-where/767-wearing-white-tuxedos-for-weddings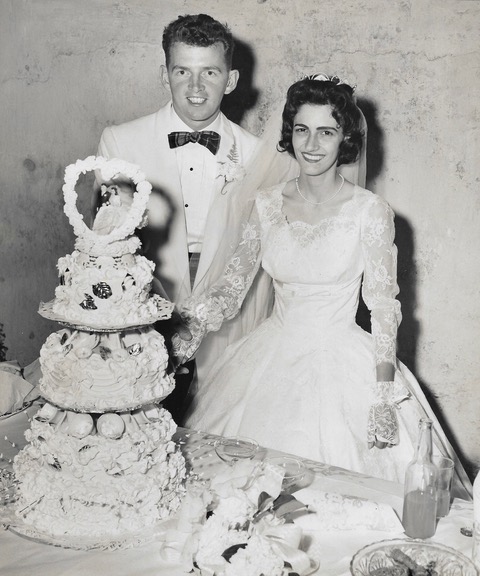 Frank and his bride Patsy (nee Repose)
cutting the cake at their wedding in April 1961
Shortly after their marriage Frank left the Police Force and worked for a while as an engine room engineer on the Queen of Bermuda on her weekly runs between New York and Bermuda. He later joined BELCO where he worked for many years in the engineering department.
Frank and Patsy had three children, Kim, Kendall , and Kyle, and a special son, Bryan. Sadly, Patsy passed away suddenly in March 2008. We offer our sincere condolences to Frank's family including his grandson, Kieran Swann, who is a serving member of the Bermuda Police Service. We will post funeral details as soon as they are announced.
17th July 2019
The funeral for Frank will be held at Christ Church, Warwick, on Friday 19th July 2019 at 5pm. An official obituary for Frank was published in the Royal Gazette on 17th July 2019 and can be viewed at
https://www.legacy.com/obituaries/theroyalgazette/obituary.aspx?n=frank-hollindale-thompson&pid=193345809&fhid=12136