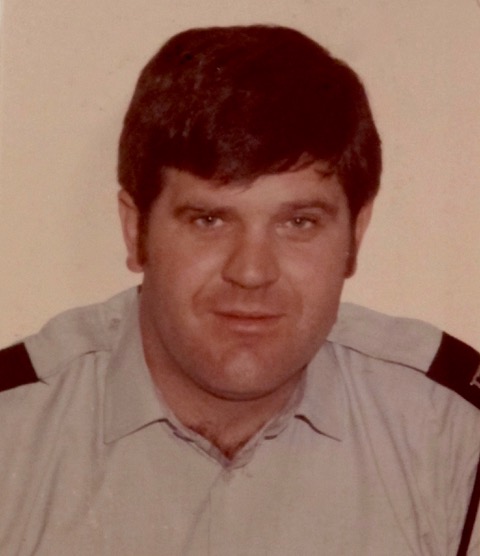 P.C. Mike Parris served from 1966-1979
4th July
REPORT ON MIKE'S FUNERAL
I received the following report directly from John "Coco" Eve about Mike Parris's funeral while I was on vacation abroad and out of contact with internet (cruising through the Norwegian fiords). Sincere apologies for the delay in posting John's first hand account. It was great to hear that we were well represented.
Coco wrote to say:-
"I arrived early at the crematorium and met Harold, Joan and Mike. Harold and Joan were attending the earlier funeral of one of Joan's friends.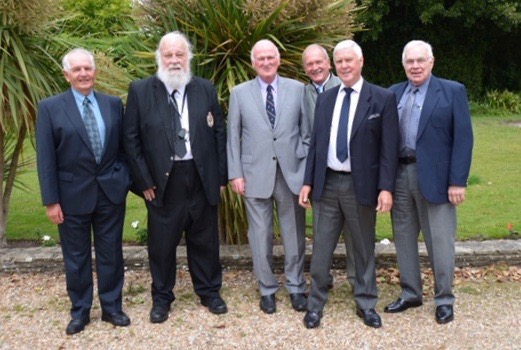 Attendees at Mike Parris's funeral
(l-r) Howard Parris, Nick Hall, John "Coco" Eve, Tony "Bumper" Laughton, Dale Thornton,
and Mike Jent. Roger "Shoes" Needham attended but had to leave after the Service.
I thought at one time that Mike Jent and myself would be the only ex-Bermuda bobbies attending, however we were joined by Nick Hall, Dale Thornton, Tony "Bumper" Laughton and Roger "Shoes" Needham. Shoes had to leave immediately after the humanist service and that is the reason he is not on the photos.The tribute to Mike was read by his best friend called Ken who described him as being 6'8" tall and that Mike had met his partner, Deidre, at the local rambling club. This brought puzzled expressions from the Bermuda contingent! (Editors note - although Big Mike had been a stalwart member of our Police Tug o' War team, he was not exactly a "keep fit fanatic"!
At the reception I went up to Ken and asked him about this. he explained that he and his wife had known Mike from his time at the London School of Dance and had later been reacquainted when Mike became gatekeeper at Arundel Castle. He stated that following the death of Mike's wife Denise he had persuaded Mike to join the walking club run by his wife and also featuring her best friend, Deidre. When I explained to him that the only walking the big un would ever be seen to do was through the doors of a bar he had no answer. I informed Howard who stated his brother was not capable of walking far after the death of Denise.
The Bermuda contingent had a good time telling stories of Mike and progressing into many stories of time on a wonderful Island.
All the Best,
John
7th July 2019
EDITORS NOTE - Mike Caulkett It was in late May of this year that we first heard Mike Parris was seriousy ill in hospital, and at that time we were liaising with our old friend, Mike Caulkett, seeking more information about "Big Mike" and his situation. "Cool Cat" lives not too far from "Big Mike" and the two of them got together back in 1998 with another old friend, Tom Barnes to reminisce about the good old days in Bermuda. The photo below is of the three of them at that time, and this happens to be the last photo we have of "Big Mike" and also of Tom Barnes who sadly passed away in October 2015. We first published this photo in an article about Mike Caulkett in our "Then and Now" column which you can viewe at http://expobermuda.com/index.php/tan/239-mikecaulkett
It might be somewhat confusing when we refer to Mike Parris as "Big Mike" because, as you can see from the photo, Mike Caulkett is not far behind in the height department!
"Cool Cat" had every intention of attending "Big Mike's funeral, but unfortunately, he was taken ill just a few days after "Big Mike" passed away, and was diagnosed with cancer in his ureter (the tube running between the kidney and the bladder). Mike required surgery and the removal of the cancer and one of his kidneys, and he had a setback caused by an infection. He was not in condition to attend the funeral, but we have just heard from Mike that he is now making good progress, and if he receives positive news from his consultant in a few weeks he should be well on the way to making a good recovery. We wish him all the best.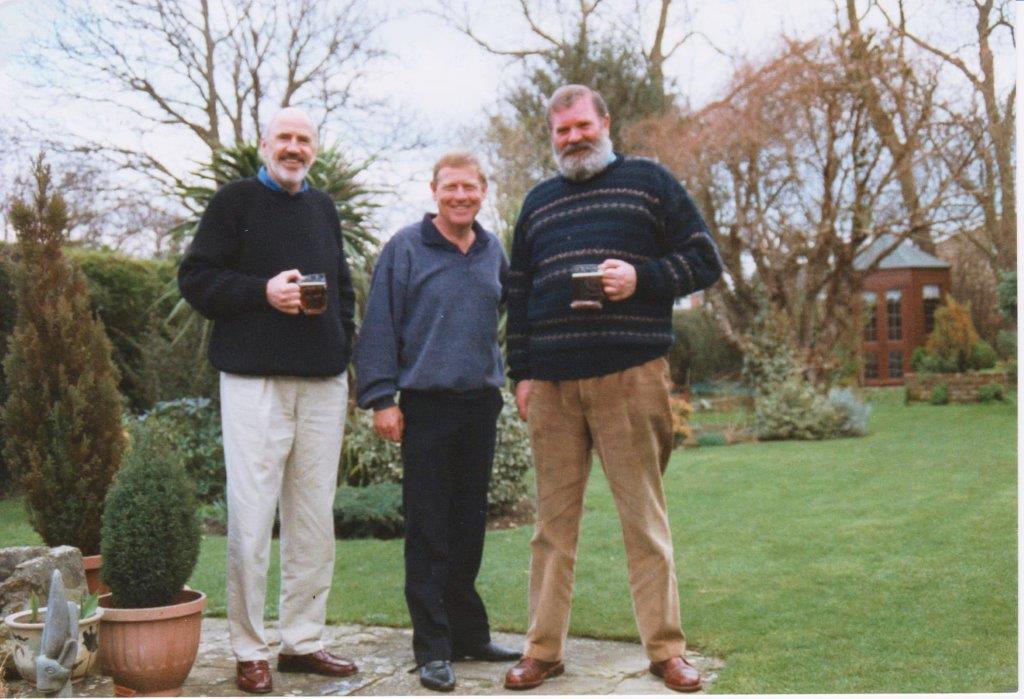 "Two Tall Mikes and One Short Tom"!
Mike "Cool Cat" Caulkett, Tom Barnes, and "Big Mike" Parris get together in Sussex - 1998
UPDATE RE FUNERAL FOR 'BIG MIKE'
We have literally just received news from Jill Caulkett who has been contacted by Mike Parris's brother, Howard, who has advised that the funeral service for "Big Mike" will be held at the Worthing Crematorium at 12 noon on 20th June 2019 followed by a reception afterwards at Findon Manor.
Update re Mike Parris funeral etc.
We have been actively trying to obtain information about Mike Parris's funeral arrangements etc. but this is proving to be rather complicated to say the least. Mike Caulkett has been in touch with Worthing Hospital where we understand Mike's body is still located. We know that Mike's partner, Deidre, is apparently the person who is dealing with any arrangements but has so far not been forthcoming in this regard. Mike Caulkett has been able to make positive contact with Mike Parris's brother Howard who is checking on the situation and will hopefully advise of any progress. We are also still in touch with Judy Parris (Mike's first wife) but she too is having difficulty obtaining any information.
As soon as we hear anything definite we will provide you with an update.
24th May 2019
Following our enquiries about the condition of Big Mike Parris, who was reported to be seriously ill in Worthing Hospital, Sussex, as reported on our ExPo website just yesterday (see article at http://expobermuda.com/index.php/latest-news/757-concerns-about-big-mike-parris we have received the sad news from his former wife, Judy Parris, that Mike passed away peacefully this evening in hospital.
We understand that the hospital are trying to contact his partner Deidre to advise her of his passing. Mike was certainly one of our great characters during his service in the Bermuda Police Force from July 1966 - March 1979, and we offer our sincere condolences to Mike's brother Howard, sister-in-law Joan, niece and nephew Graham and Heather, to Judy, to his partner Deidre, and to his other relatives and friends.
Judy kindly sent us this photo a couple of days ago of Mike and a pair of models taken by the Department of Tourism when Mike was working here as a constable. Knowing of Mike's legendary dry sense of humour we thought it was an ideal photo to be featured in this otherwise sad notice.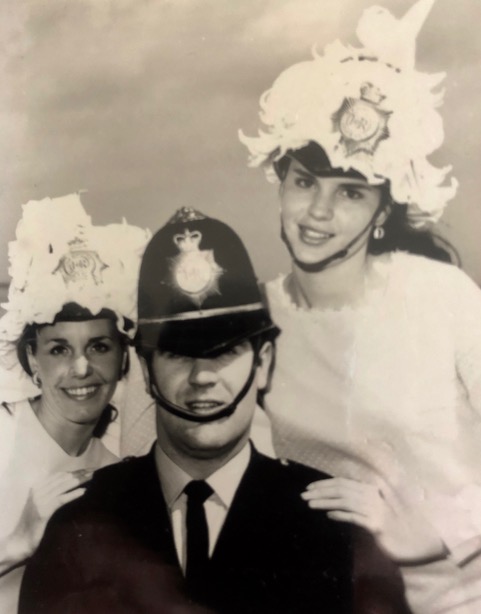 "Big Mike" Parris enjoying the company of two "angelic" young
ladies during a photo shoot for the Department of Tourism. They appear
to be
wearing "bobby helmet" fascinators made of Bermuda lillies!
Mike was born and raised in Yorkshire, and he served with the York City Police from 1963- 1966 prior to joining the Bermuda Police in July 1966. He began his service in Central Division (Hamilton) for 2 years then went on to work in Operations (Traffic), Central CID, Central Parishes, on the Mobile Reserve, in the Murder Room, and latterly in Prosecutions. He married his first wife Judy in July 1972.
Mike perhaps had two claims to fame while here in Bermuda. One of our tallest police officers at 6' 6", he was a key member of our legendary Police Tug o' War team that was never beaten in competition. You can read more about the Tug o' War team on our website at http://expobermuda.com/index.php/lia/91-policetugowar Mike has also been given "credit" for taking to heart the Bermudian traditon of giving nicknames, and he created some outragous nicknames for his fellow police officers during his time in Bermuda.
You can view our extensive list of nicknames at http://expobermuda.com/index.php/lia/166-nicknames which includes some of his howlers, along with his own two nicknames which were "Big Mike" and 'Yard of Lard"!
He and Judy left Bermuda and settled in the UK after he left the Island in March 1979.
Mike was a most unforgettable character and one who will always be fondly remembered by all who knew him and served with him.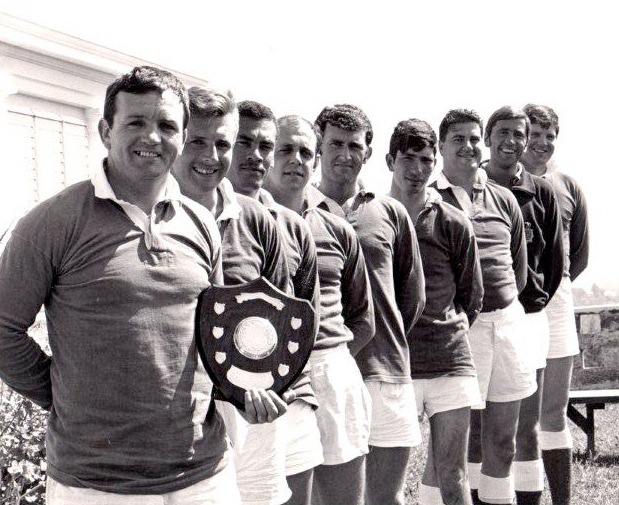 Victorious Bermuda Police Team - 1969 Agricultural Show Tug o' War Champions
(l-r) Pat McBride, Davie Kerr, Gary Perinchief, Owen Marsh, Barrie Mancell,
Ray Sousa, Keith Pratt, Mike Caulkett and "Big Mike" Parris
26th May 2019
We just received the following information from Dave Barber who wrote to us after receiving the sad report of Mike's passing.
Retired Inspector Dave Barber
TRIBUTE FROM DAVE BARBER
Very sad to hear of Mike's passing, he was a man of many talents, not only in sports but in the field of music. Mike used to play in the very popular Somers Isle jazz band and he once told me about his musical training with the local Salvation Army Band in Yorkshire.
On the sporting scene he was a member of The Somerset Police club #1 darts team who dominated The West End Darts League for many years. he was also one of the regular players in the "All Stars" cricket team who regularly played visiting Royal Navy ships and other local club teams in the Western area. He was a very good bowler and it was a sight to be seen when Mike was bowling from one end with his gentle pace and John "Coco" Eve was racing down snorting and breathing fire from the other end.
Mike in his role as a Prosecutor at magistrates Court met Robin McMillan a Crown Counsel when he first arrived in Bermuda. He brought Robin who was a keen follower of cricket to play occasional games. Robin was a diminutive person and it was a sight to see the pair of them together having a few pints at the Star of India after the games.
I could say lots more and interesting stories about Mike but am sure everyone who was a friend could do the same. Mike was not a keen flyer but when it came to his departure from Bermuda it was arranged through the kindness of the Resident Naval Officer "R.N.O." for Mike to make his final departure from Bermuda on a Royal Navy frigate. He travelled in the Chiefs Mess with his payment being a barrell of beer for the mess consumption, "Duty Free" of course!
Mike was indeed a "gentle giant" and it was a pleasure to have known him as a friend & Colleague.
R.I.P. Mike
Dave Barber
Editors note - Many thanks to Dave for submitting this most fitting tribute to Mike.
28th May 2019
In his tribute above, Dave Barber mentions our good friend from North Staffordshire, John "Coco" Eve, and no sooner had we published Dave's comments than we received the following tribute to Big Mike from "Coco" of fiery red hair fame! You can read more about "Coco" in our "Then and Now" column at http://expobermuda.com/index.php/tan/370-john-coco-eve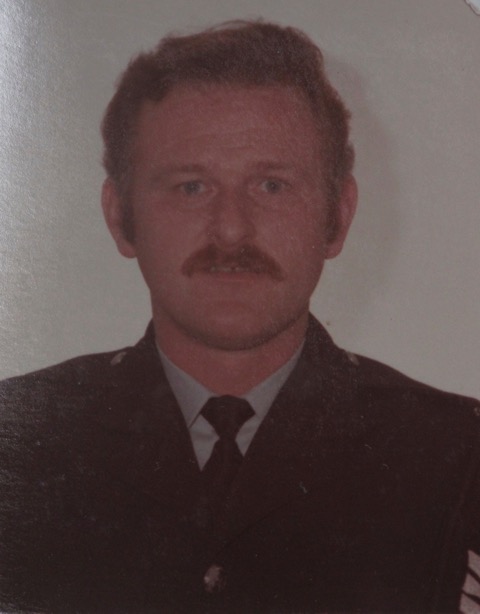 Retired Sergeant John "Coco" Eve
Mike (Parris) was a good friend who I would speak to on the phone at least once a year. A couple of months ago he told me of his illness and that the doctor told him he could live another year or even two but he sounded frail and I suppose I wasn't too surprised when he was admitted to hospital .
I believe I could write a book about the big un! He was a character and a half. Of all the socialising in his company I can only remember him buying a round on a couple of occasions and that was when Pat McBride and myself were with him in the U.K.All friends and acquaintances will remember that you had to either play darts, dominoes, cut a deck of cards at the PRC, play snooker or table tennis at Elbow Beach Staff Club, dominoes,cribbage or the pin ball machines at the Mariners Club - and probably a few I have forgotten about.
DB has mentioned a few of the west end memories.I remember being lined up at dockyard with other friends to see him off.The big un got presented with a bucket before sailing (in case of rough seas) A big slice of fun disappeared on that frigate.
Going back to him actually buying a drink for someone else. In the summer of 1969 quite a number of constables ended their first Bermuda contracts and returned to the U.K. or West Indies for a lengthy rest before most returned for a second contract. Whilst over in the UK about ten of us attended the wedding of P.C. Kevin McCarthy (six or seven of us in Bermuda summer uniform.) Memory becomes a little foggy here but there was a first reception somewhere near Stratford, Manchester, where the wedding took place followed by a second reception in Wigan.
After this we attended a casino and night club in Wigan.The next day we left for Manchester, an evening at a club where a very obnoxious comedian named Bernard Manning was the star turn and eventually Mike, Pat and yours truly went to our lodgings in the Palace Hotel.The next morning we were having breakfast with six halves of bitter on the table in front of us (the place was too posh for pints) when the strains of brass band music was heard in the distance. Big Un immediately jumped up, scoffed his beer and disappeared out of the hotel.
Pat and myself found him a short time later standing by the Salvation Army Band. At the end of the concert we returned to the hotel, settled the bill and left for the Eve residence in Leek via a friend's pub by Rudyard Lake where the pub ceiling was about 6'4" in height. (Editors note - according to our Police Register, Mike measure 6'6" when he arrived in Bermuda). On entering my parents house, dad was switching between horse race meetings on bbc and itv and on the phone to his bookie. Mike joined him and began to place bets also. That night the two guests slept in my parents caravan which was in a field at the bottom of Ladderedge (now part of Westwood Golf Course).
The next day an indignant Parris appeared at the house. Apparantly 6'6" does not fit very easily on a caravan bed and Mike had to open a window and stick his feet out, only to be awoken early in the morning by a cow taking a fancy to them!
Too many stories about a character with many strings to his bow. The man had a love of many types of music. One day in my room in Parker block we were listening to Artur Rubinstein performing Chopin's Ballade no.4. Mike turned to me and said words to the effect, "I've never seen so many bloody notes on a piece of sheet music in my life." It would appear he had attempted at one time to play the piece.
Too many of our crowd are passing on and most of them were true characters. Mike appears at the top of the list.
My apologies for spelling mistakes and not remembering names of fellow guests at the wedding. If I had to make a guess I would include Big Joe, Abey, Cyril, and Cookie.
All the best to all my old mates in Bermuda and those scattered around the globe.
Coco
Editors note - I know I've seen a photo of Kevin McCarthy's wedding with his bride and the group of Bermuda police officers all wearing shorts which was published on the front page of a national English newspaper. If anyone has a copy of theis photo we would be delighted to receive it.
31st May 2019
We have also received the following from a fellow Yorkshireman, "Big Joe" Dave Needham who served here from 1966 - 1970 and was a good friend of Mike Parris.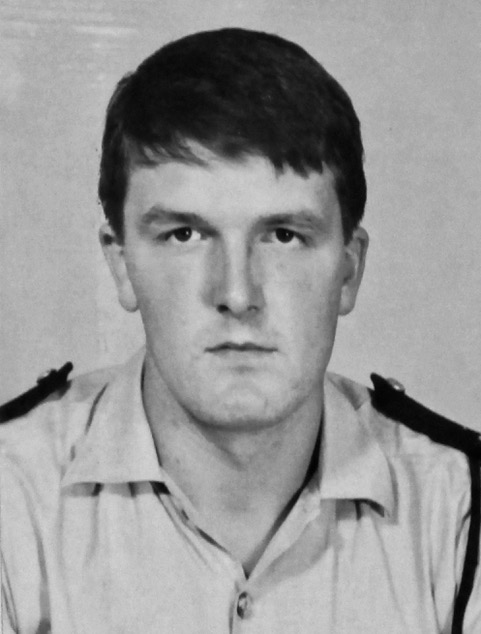 Former P.C. Dave Needham
It is nearly fifty years since I left those beautiful shores yet I do remember Mike and my day of British nobility!
"Oddjob" (Pat McBride hated that moniker ) was our "manservant", armed each with a picture of a stately mansion befitting a Lord's residence we wooed two American damsels. If Mike were here he would agree the ruse was so successful it ended with a bang!
It was nice to read Dave Barber's and Coco's words about Mike. I certainly remember Kevin and Esme McCarthy's wedding in our full Bermuda police uniform, truncheons raised, we formed an arched honour guard outside the church. It made the front page of the Sunday papers in the U.K.
The same Sunday we all traipsed over to Cyril Plant's parents pub, in Salford, the same pub used in the long running series Coronation Street. We ensconced ourselves in the snug bar, which entertained two charming elderly ladies. They were immediately in awe of Mike, his very presence and charm. In talking to the ladies one of them said she lived nearby to which Mike replied, "I know we passed your house it was the one with the mucky windows."
Only he could say that and get away with it. I seem to remember he was endeared to them even more.
Mike Parris I doubt his like will ever cross my path again.
A Big Un and a Good Un
Warmly Big Joe.