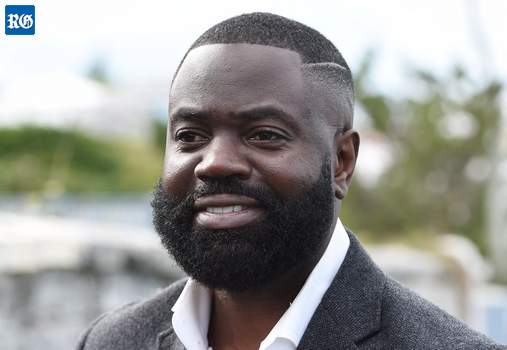 Dwayne Caines appointed Secretary and Chief Operatiing Officer of the COH
(Photo courtesy the Royal Gazette)
The Royal Gazette reported on 27th March 2019, that Dwayne Caines, presently Head of Public Relations for the Bermuda Police Service has been chosen to be the new Secretary and Chief Operating Officer for the City of Hamilton (You can read the full article at http://www.royalgazette.com/news/article/20190326/police-pr-man-gets-city-of-hamilton-top-job
Mayor Gosling, said: "This is a demanding position, one that requires a strong command of the law, broad communication skills and effective leadership and management abilities.
"We interviewed a number of qualified candidates for this role but it was Dwayne's vast experience and previous responsibilities that ultimately clinched our decision.
"His work on the strategic planning process at the Bermuda Police Service as well as his secondment to a government ministry speaks volumes to his capabilities and his references conveyed a very high regard for his team-building skills, accessibility and his positive effect on department morale."
Mr Caines said: "I am humbled and honoured to serve the people of Bermuda in this demanding and exciting role.
"It is an opportunity for me to use my leadership and strategic management skills to effectively move the city forward.
"I am also looking forward to meeting with the city stakeholders to get a better understanding of their needs, ideologies and perspectives to make Hamilton more efficient, dynamic and inclusive."
Commissioner of Police Stephen Corbishley said: "(Dwayne) has given 18 years of public service with the BPS and possesses exceptional understanding of the needs of communities across Bermuda.
"I am confident he will do the same for the City of Hamilton.
Editors personal note –
I would like to sincerely congratulate Dwayne on his appointment to the Corporation of Hamilton. As some of you will know, I retired from the BPS in 1992 to take the same position as Secretary of the COH where I spent 12 happy years working for the Mayor and Members and the people of the City of Hamilton.
I have also had the pleasure of liaising closely with Dwayne as President of ExPo for most of the past 10 years, and I know that he has all of the requisite skills, enthusiasm and more, to do a first class job in his new position.