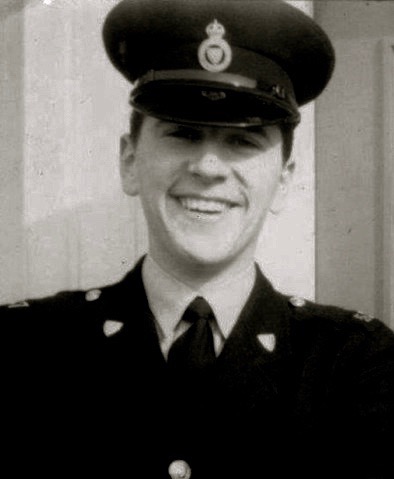 Young P.C. Mike Caulkett
After reading the reference to "Dark and Stormy" in the recent tribute to Alistair "Shakey" Johnson we have received this great comment from our old friend Mike Caulkett who served here in the Bermuda Police from November 1964 - April 1970.
"Beer is my tipple of choice but I do occasionally enjoy a rum and coke, particularly when feeling nostalgic for Bermuda, so always have a bottle of Cockspur or Mount Gay in the cupboard. I have on many occasions in the past tried to buy a bottle of Goslings "Black Seal" but without success.
After reading most of what has been written about Shakey where there were mentions of the Dark and Stormy I thought I would buy a bottle of some sort of dark rum to enjoy with Ginger beer over Christmas. (Poor man's Dark and Stormy).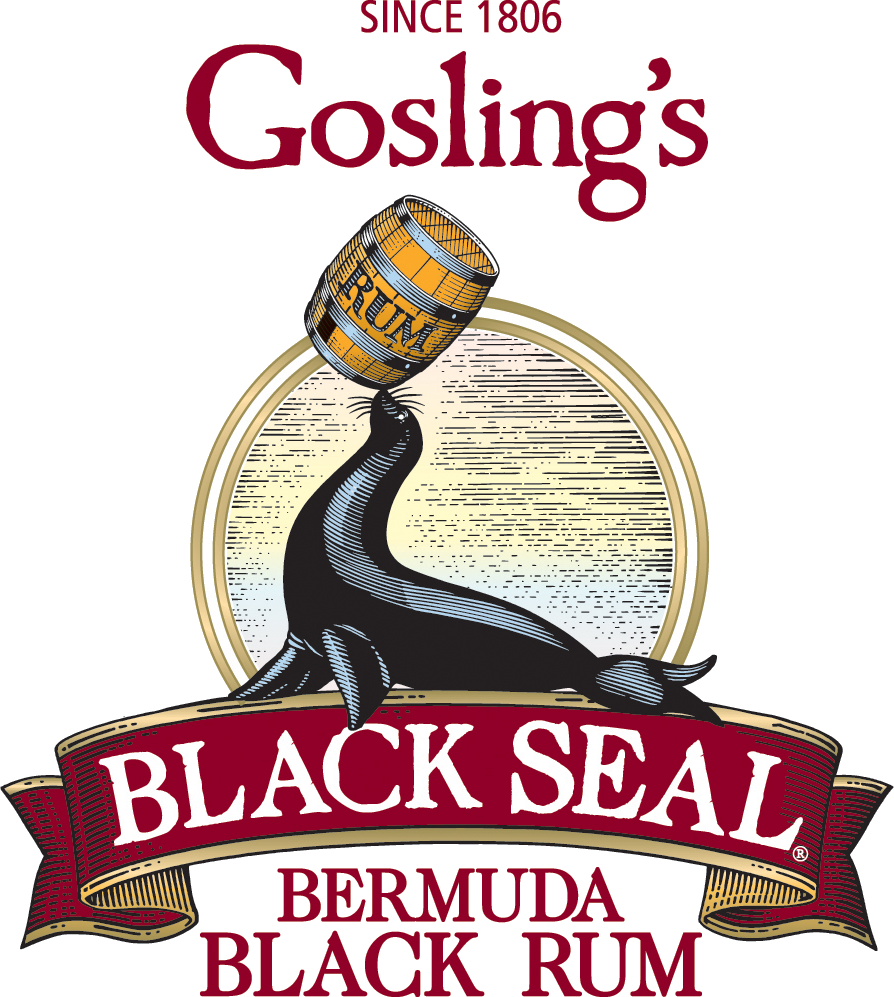 Gosling's Black Seal official logo
However, earlier today Jill and I were shopping in the fairly new Waitrose supermarket in Haywards Heath when I went off to find a bottle of dark rum. What did I find but a bottle of Gosling's 'Black Seal' Bermuda Black Rum with the original label, silly I know, but I can't tell you how pleased I was to find the genuine article mainly for the memories that it evokes. I also bought some ginger beer and when we got home and had unloaded the shopping Jill said I should have one which I did, two in fact. Lovely."
Editors note - Those of us who live here in Bermuda so often take it for granted that we can weather the storm with an occasional "Dark and Stormy"! I'm happy to report that Gosling's is still a highly successful business which is still operating from Bermuda and that Gosling's is now selling their rums, especially "Black Seal" in the U.S., Canada, the U.K. and elsewhere around the world.
It would be interesting to hear just how far and wide it travels so if you find it in your home town or country, please let us know. For example, does it travel as far as Australia?
Editors note - Would you believe it. No sooner had we published this article than we received the following email from our good friend and colleague Ray Sousa who now lives with his family in Australia. As always, Ray in a mine of useful information and still has a remarkable memory about his early life here in Bermuda.
Black Seal Rum
Yes Roger you can get Black Seal Rum [BSR] in specialist stores in Western Australia. There is such a shop 15 minutes from our home. A 750 ml [26 ounce ] bottle cost $65.
A night clubbing daughter came across it a few years ago when a bartender won a national cocktail mixing competition using BSR. The word quickly spread with more businesses carrying it, giving competition to Australia's better known Bundy Rum.
As you might know rum was currency during early European settlement of Australia. To a lesser degree this also applies to Bermuda.
BSR was part of my Bermudian heritage. When babies were teething, rum was applied to their gums to kill the pain. Poppy powder, and petals were also used, but that is another story. If a baby had trouble sleeping BSR was added to their milk, possibly the reason some of us took so long to learn to walk; and even now walk with a stagger!
For flu and colds, warm BSR mixed with honey and lemon would cure us overnight; but you end up with hell of a hangover. It was also used for cooking, baking pumpkin pie and of course Bermuda fruit cake. Old timers would soak the fruit in rum in large candy bottles from September, but were lucky to find the bottles half full at Christmas due to raids from children.
BSR was the currency for getting help in building homes, in particular concrete pours. The standard request would be, "I need a hand with a concrete pour [foundations, floors, water tanks etc]. The reply would be, "Get…………" followed by , "there will be a 'Polly' [large bottle of BSR ]". " Man in that case you can have both hands, even my soul", the volunteer would sincerely state. Helping with a concrete pour, and drinking rum with men was part of the passage from boyhood to manhood.</span></p> <p><span style="font-size: 12pt;">In time Cockspur became the drink of white working men, Bacardi white rich men, and BSR the black men's drink. Some would be offended if offered the wrong rum. Of course beer was also popular with all.
Collection of empty rum bottles for recycling, particularly the 'Pollies' 'was a cash cow. It helped fund Scout trips to Canada in 1967 and Jamaica in '69.
Rummies had bush social areas where they would meet to drink. As a cop I agreed to leave them alone provided they behaved themselves and put empty bottles into large hessian bags. I would collect the bottles and cash them in.
At Kingston airport I noted that there was a delay in authorities processing the Scouts. As I investigated I saw samples of Captain Morgan rum was being given. Some Scouts were upset because I stopped them from tasting the rum. The boys who did taste it felt it was weak compared to BSR!
Rum Swizzle should also be mentioned. As a 13 year old bar porter at Castle Harbour Hotel, one of my duties was to make up large batches of Rum Swizzle using BSR. We were supposed to taste each batch to make sure they were the same. The truth is after 3 batches they all tasted the same. Then there was the atom bomb effect. You would walk outside, see a flash of bright light, your head would explode, and you would come to flat on your back-side on the ground!
Going by memory BSR and coke cost the same as plain coke. 20 years ago when a daughter got married in Australia, we decided to serve rum swizzle using BSR. Our reception manager claimed Australians would not drink it because it was too strong. No-one could drink just one glass and we quickly ran out.
Some people might still remember a definition of Bermuda, "50,000 drunks on a Rock". It must be remembered that at times liquor was cheaper than food, and one of the best pain killers on the Island. Sadly, heavy drinking also caused a number of social problems. When I joined the Police Force in 1966, attempts were made to civilize me and introduce me to scotch and whiskeys. This only made me a lover of all liquor. A down side of married live, responsible living, and being with Emergency Services is the restrictions put on my drinking desires. Having said that whenever I am able to have a dark and stormy, straight rum, rum and coke, or even rum in my coffee I appreciate this is a bit of heaven on earth.