The information in this article about the tragic death of a man killed by a train in Bermuda was recently sent to us by former P.C. Terry Bawden who served in the Bermuda Police from 1962 - 1966. (see article about Terry in our "Then and Now" column at http://expobermuda.com/index.php/tan/509-terry-bawden
Following his arrival on Island, Terry worked in Eastern Division where he met and fell in love with a young lady by the name of Joanne Osmond who was born and raised in St. George's. The two were married in 1965, but in 1966 they left Bermuda and went to live in England where Terry joined the Surrey Constabulary retiring as an Inspector in 1996. Both are now fully retired and still living in Surrey close to their children and grandchildren.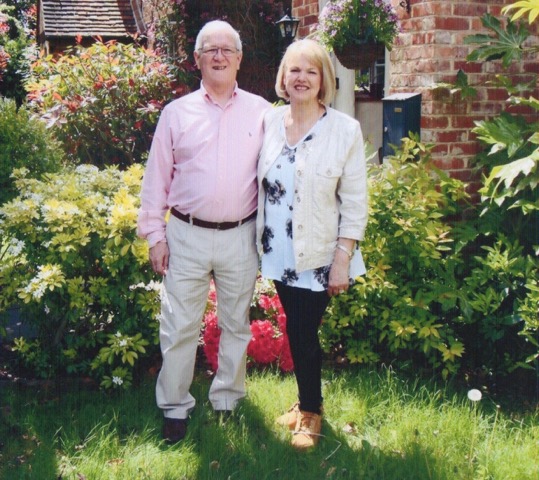 Terry and Joanne Bawden at their home in Surrey
The train accident claimed the life of Joanne's paternal grandfather, Arthur James Osmond, who was employed as a Jail Warden at St. George's Prison, when he met his untimely death. Arthur was born on December 13th 1881, at Christchurch in Hampshire, England, and at the age of 18 he enlisted in the Royal Marine Artillery. In the 1901 UK Census, Arthur Osmond was shown as a gunner in the Royal Marine Artillery and was then residing in barracks at Milton, Portsmouth, Hampshire, which happens to be just a short distance from where Terry lived until the age of 15.
In 1912, Arthur married Edith Jane Emerson at West Ham in Essex where they lived for some years and had two sons, Ernest born in 1913, and Harold born in 1919 - the latter being Joanne's father.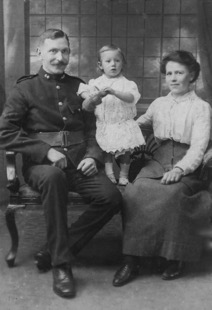 Arthur and Edith Osmond with one of their sons
Sometime later Arthur and his family emigrated to Bermuda where Arthur
took up the position of prison officer at St. George's Jail and the family took up residence in St. Gerorge's.
On 26th June 1944, Arthur was in his garden working with a wheelbarrow, his garden being very close to the then operational railway, when he apparently misjudged distances and went onto the railway line where he was struck by a passing train and killed instantly. It was reported that the front door step of Mr. Osmond's house was just 18 inches from the train line. Health and Safety regulations appear to have been non-existent in 1944.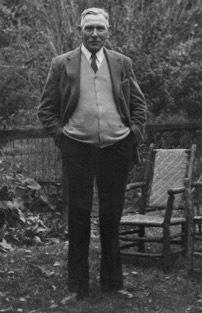 Arthur James Osmond relaxing in his garden at Wellington, St. George's
Terry sent us two newspaper clippings from the Royal Gazette which he has kindly typed up for ease of reading. He was astounded at the graphic nature of the scene of the accident as reported in the Royal Gazette.
Whilst living in St. George's, Arthur had risen to the rank of Chief Jailer and was obviously well liked as his funeral was very well attended, including members of the Bermuda War Veteran's Association, Masonic Lodges, Senior Police Officers and Prison Officers. He was interred at St. George's Cemetery.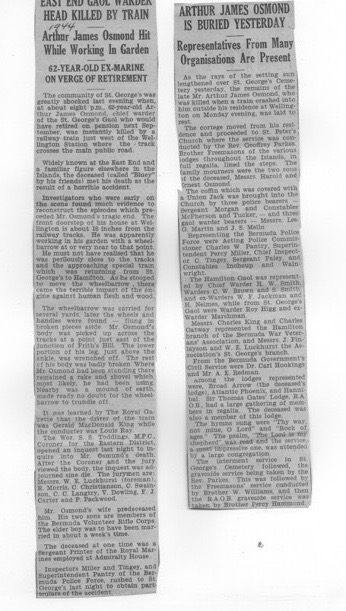 Extracts from two Royal Gazette articles
EAST END GAOL WARDER KILLED BY TRAIN

Arthur James Osmond Hit while working in garden
62 YEAR OLD EX MARINE ON VERGE OF RETIREMENT
The community of St. George's was greatly shocked last evening when at about 8 pm, 62 year old Arthur James Osmond, Chief Warder of the St. George's Gaol who would have retired on pensions next September, was instantly killed by a railway train just west of the Wellington Station where the track crosses the main public road.
Widely known at the east end and a familiar figure elsewhere in the Islands, the deceased (called 'Bluey' by his friends) met his death as the result of a horrible accident.
Investigators, who were early on the scene, found much evidence to reconstruct the episodes which preceded Mr. Osmond's tragic end. The front doorstep of his house at Wellington is about 18 inches from the railway tracks. He was apparently working in his garden with a wheelbarrow at or very near to that point.
He must not have realized that he was perilously close to the tracks and the approaching special train which was returning from St George's to Hamilton. As he stooped to move the wheelbarrow, there came the terrible impact of the engine against human flesh and wood.
The wheelbarrow was carried for several yards , later the wheels and handles were found flung in broken pieces aside. Mr. Osmond's was picked up across the tracks at a point just east of the junction with Frith's Hill. The lower portion of his leg, just above the ankle, was wrenched off. The rest of his body was badly broken. Where Mr. Osmond had been standing, there remained a rake and shovel, which most likely he had been using. Nearby was a mound of earth made ready no doubt for the wheelbarrow to trundle off.
It was learned by The Royal Gazette that the driver of the train was Gerald MacDonald King whilst the conductor was Louis Ray.
The Wor. S.S. Toddings, M.P.C. Coroner for the Eastern District opened an inquest last night to inquire into Mr. Osmond's death. After the Coroner and Jury viewed the body, the inquest was adjourned sine die.
Mr. Osmond's Wife predeceased him. His two sons are members of The Bermuda Volunteer Rifle Corps. The elder boy was to have been married in about a weeks time.
The deceased at one time was a Sergeant Printer of the Royal Marines employed at Admiralty House.
Inspectors Miller and Tingey and Superintendent Pantry of The Bermuda Police Force, rushed to St George's last night to obtain particulars of the accident.
(This article was copied from a clipping in The Royal Gazette dated 27th June 1944)
ARTHUR JAMES OSMOND IS BURIED YESTERDAY
--------------------------------------
Representatives from Many Organisations are Present
As the rays of the setting sun lengthened over St. George's Cemetary yesterday, the remains of Mr. Arthur James Osmond, who was killed when a train crashed into him outside his residence at Wellington on Monday evening, was laid to rest.
The cortege moved from his residence and proceeded to St' Peter's Church where the service was conducted by the Rev. Geoffrey Parkes. Brother freemasons of the various lodges throughout the islands in full regalia, lined the steps. The family mourners were the two sons of the deceased, Messrs. Harold and Ernest Osmond.
The coffin, which was covered with a Union Jack, was brought into the church by three Police bearers, Sergeant Morgan and Constables McPherson and Tucker, and three Gaol Warders Messrs. Lee, Martin and Mello.
Representing The Bermuda Police were Acting Commissioner Charles W. Pantry, Superintendent Percy Miller. Chief Inspector C. Tingey, Sergeant Paley and Constables Inchcup and Wainwright.
The Hamilton Gaol was represented by Chief Warder H. W. Smith Warders C. W. Brown and Ex-Warders, W.F. Jackman and H. Nelmes, while from St George's Gaol were Warden Roy Higg and Ex-Warder Marshman.
Messres. Charles King and Charles Oatway represented the Hamilton Branch of The Bermuda War Veterans Association, and Messrs. J. Findlayson and W.E. Luckhurst the Associations St. George's Branch.
From The Bermuda Governments Civil Service were Dr. Carl Hookings and Mr. A.E. Redman.
Among the lodges represented were, Broad Arrow (the deceased's lodge) Atlantic Phoenix and Hannibal. Sir Thomas Gates Lodge, R.A.O.B. had a large gathering of members in regalia (the deceased was also a member of this lodge).
The interment service in St. George's Cemetary followed, the graveside service being taken by the Rev. Parkes. This was followed by the Freemasons service conducted by Brother W. Williams and then, the R.A.O.B. graveside service was taken by Brother Percy Hammond.
(Second clipping from Royal Gazette date unknown.)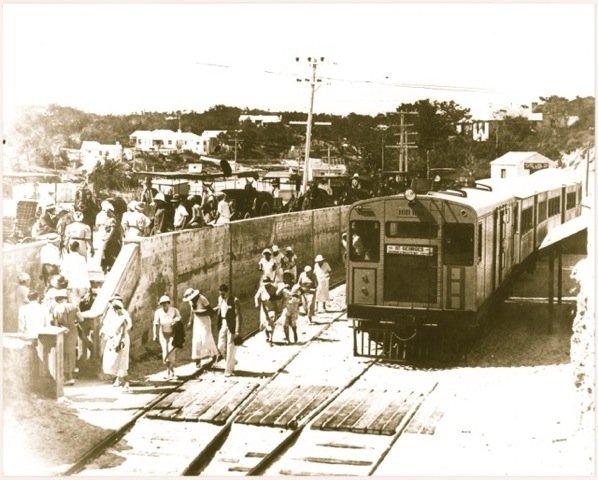 Railway Station at Bailey's Bay
In the days before motor cars were permitted on Bermuda's roads we had a single track railway line running from one end of the Island to the other - 21.7 miles of track, with trains carrying both passengers and freight. It was a familiar sight to see trains wending their way along Front Street, and they were very popular with tourists who loved the spectacular scenic views as much of the track hugged the shorelines. Operated by the Bermuda Railway Company it seemed ideal as a means of getting around the Island, but it was said to be the world's most expensive railway to build and extremely expensive to maintain with its dozens of wooden and steel elevated bridges. In fact it was commonly referred to as the "Rattle and Shake"!
Police officers on duty in uniform were allowed to ride on trains for free when carrying out their duties or travelling to and from home to the police station; clearly a much more comfortable option than riding a pedal cycle or walking, or riding in a horse and carriage.
Unfortunately for shareholders in the Bermuda Train Company, as the Second World War ended motor vehicles were finally permitted on Bermuda's roads and this rapidly resulted in greatly reduced passenger use at a time when maintenance of the system was proving to be exhorbitantly expensive. The first train journey had been on October 1st 1931, and the last journey was on May 1st 1948. It was once estimated that construction and purchase of the system cost a total of Bda $40 million (adjusted for inflation as of 2008) or almost $2 million per mile - a staggering sum. The stock was eventually sold off to British Guiana (now Guyana) and continued to operate until the 1950's.
One lasting benefit for the Island, however, is that most of the old railway paths are now designated as the Bermuda Railway Trail and they are popular with both residents and visitors for walking, hiking, and riding pedal cycles.
It is believed that the tragic death of Arthur Osmond was not the only fatality involving a train in Bermuda, and we will research how many there were during the 17 years that trains traversed the Island.