Maybe the stars were correctly aligned on Monday 21st August 2017, or the dramatic solar eclipse earler in the day wielded its influence, but by coincidence we had arranged for a Get Together at the Officers Mess for those surviving members of our Police Drama Group still on Isand, to meet with Kate (Byrne) Shaw and her husband Darren who had just arrived for a very special visit.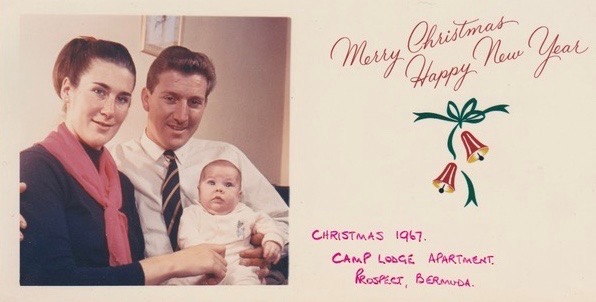 Denis and Iva Byrne with their daughter, Kate
Kate was born here 50 years ago, the daughter of Denis Byrne, who served in the Bermuda Police from 1963 - 1969, and his wife Iva who came to Bermuda as a nurse in the Emergency Department at King Edward Hospital. But what is the connection between Kate and our Police Drama Group? Well, her father, Denis, was very actively involved as Stage Manager for most of the plays performed by our group and he had meticulously kept all manner of photographs and press clippings of our productions.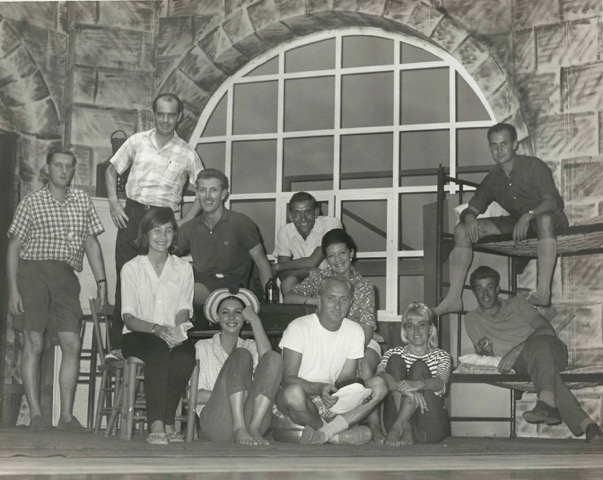 Backstage Crew for Seagulls Over Sorrento
(l-r) Dick Pearman (Assistant Stage Manager), Bill "Spider" MacKenzie (Odd Job Man)
Lynnette Saunders (Prompt), Denis Byrne (Stage Manager), Louise Pearman (Wardrobe),
John Barnett (Properties), Kay Forster (Lighting), J.A.D. "White" Froud, (Set Construction),
Sandra Barnett (Properties), Derek Jenkinson (Assistant Stage Manager), and Robin Henagulph (Sound)
Denis passed away in England in February 2017 (see article at http://expobermuda.com/index.php/latest-news/553-dennis-byrne-seriously-ill), and Kate subsequently made the decision to come out to Bermuda to celebrate her 50th birthday in the country of her birth, and to scatter her father's ashes at Admiralty Cove, a location which had been one of his most cherished memories of Bermuda. For those not familiar with the history of Admiralty Park, Admiralty House had been occupied for many years by the British Army until the Army withdrew from Bermuda in 1959, leaving their military headquarters and housing at Prospect, along with Admiralty House and grounds. The Bermuda Police took them over, and for some years Admiralty House was used as single men's quarters, with the dock frequented by young police officers and nurses - a mutually beneficial arrangement!
Several weeks before this Get Together I had been discussing with Colin "Dusty" Hind the possibility of writing an article about the history of our Police Drama Group, Dusty having been a co-founder of the group back in 1963 along with fellow young police constable Ron Shelley who went on to a distinguished career in show business in New York. It seemed like a perfect opportunity to round up those members of our drama group who are still on Island and hold a Get Together with Kate and her husband, Darren, who also happened to be celebrating their 25th wedding anniversary this year.
Earlier in the day I took Kate and Darren on a tour of the Island which she had left at the tender age of two, and we started with a visit to Gibbs Hill Lighthouse to view Bermuda in all its glory on a magnificent afternoon. We passed Horseshoe Bay which was packed with tourists (by Bermuda standards!), then drove along the South Shore Road passed Elbow Beach Hotel where our good friend David Long - now living in Florida with his wife Penny - had informed us that that was where he and Denis attended a road accident at which a young nurse by the name of Iva also attended in an ambulance. It was love at first sight for Denis and Iva, and the two were married at St. Therea's Cathedral in 1967. We also visited the Police Recreation Club and the residences on Mary Victoria Road, Southcourt Avenue, and at Camp Lodge where the Byrnes had lived following their marriage.
The highlight of our tour was visiting Admiralty Cove in Spanish Point where Kate scattered her father's ashes at the end of the dock, and wrote his name in sand at the waters edge on the beach.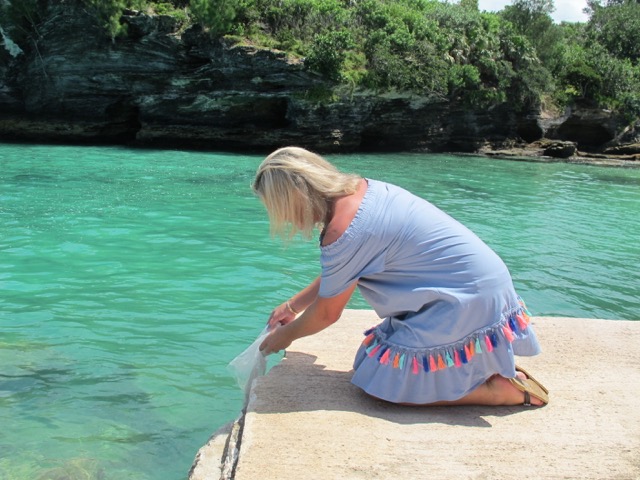 Kate scatters her father's ashes off the dock at Admiralty Cove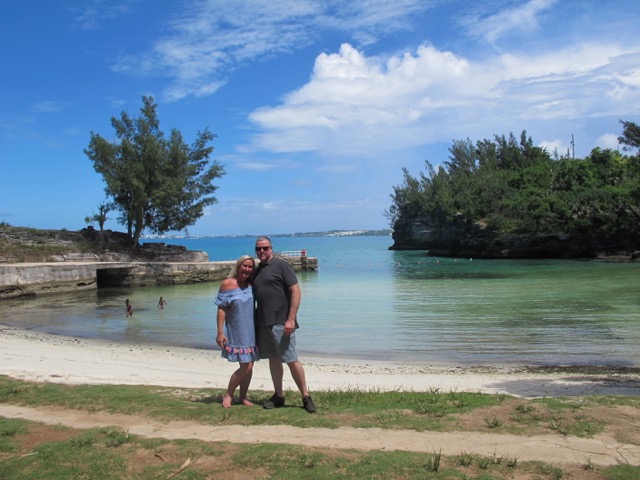 Kate (Byrne) Shaw and husband Darren on the beach at Admiralty Park
For those familiar with Admiralty House and gardens during the 1960's, you will now see a
couple
of large casuarina trees next to the dock where the figure of Neptune used to stand.
The cliffs across the bay are also now covered in casuarina trees making it all but impossible
to dive off the top of the cliffs as youngsters used to do. But the cave just around
the
corner where we used to hold "bottle parties" is still there. Admiralty House itself was
knocked
down many years ago, and the grounds are now designated as a public park.
Our Get Together at the Officers Mess was a great success as several of those in attendance brought along photos, press cuttings and programmes of our drama group productions, including Kate who unveiled a suitcase of memorabila collected by her father. In attendance were Kate and Darren, "Dusty" Hind, John and Sandra Barnett, Robin and Nadine Henagulph. Anna (Mulholland) Summers, Roger and Marian Sherratt, George Rose, Kay (Forster) Steele, and Dick and Jennifer Johnson. Dick had played rugby with Denis in the Police Team, while Robin, also a rugby player, had been Best Man at Denis and Iva's wedding.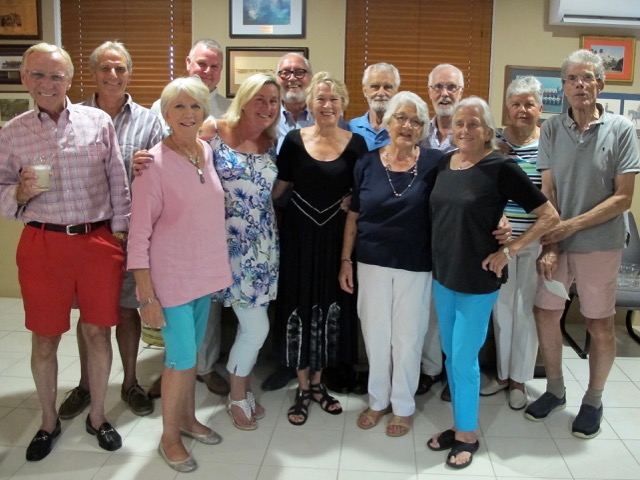 Dramatic Group at Officers Mess
Back Row (l-r) Colin "Dusty" Hind, George Rose, Darren Shaw, John Barnett,
Dick Johnson, Roger Sherratt, Jennifer Johnson, Robin Henagulph
Front Row - Anna (Mulholland) Summers, Kate Shaw,
Sandra Barnett, Kay Steele and Nadine Henagulph
Many thanks to Pete Stableford who took on bar duties and also prodced an excellent powerpoint show of photos from our drama group productions along with family photos supplied by Iva.
The end result is that Dusty and I now have no excuse for not writing the History of the Police Drama Group to bring back cherished memories of a magic time for all those involved.
I met with Kate and Darren towards the end of their trip and it was clear they had a fabulous time from start to finish and I gather Kate filled cyberspace with images of their visit that were shared with family and friends on Facebook. Never have so many selfies being taken by so few!
As mentioned earlier, David Long and Denis worked together as partners in our Traffic Department for several years and during that time David and his wife Penny (nee Stevens) became close friends of Denis and Iva who were divorced just over 25 years ago. The Longs were very disappointed at not being able to attend our gathering but Penny wrote the following tribute to their old friend Denis which was read out by Roger to those present:-
Tribute to Denis Byrne
May 5, 1

940 - February 16, 2017
First, David and I would like to thank Roger. It is with his lifetime dedication to the Ex-Police Association that has made today possible. Thank you all for agreeing to meet with Katie and her husband Darren to reminisce down memory lane remembering Iva, Denis and Katie's time spent in Bermuda.
Kate has returned for the first time to Bermuda, her birthplace, to scatter Denis' ashes at Admiralty Cove. I am sure many of you spent countless leisure hours visiting, swimming and picnicking there. A fitting place for sure as in "those days" it was exclusively reserved for Police and Nurses to enjoy.
Denis was in the Metropolitan Police before coming out to Bermuda in 1963. He and David were partners in Traffic for most of his time in Bermuda. David has many fond memories of their time spent together. Actually, it was during a night on duty that the two encountered Iva, the Emergency Nurse at an accident they attended.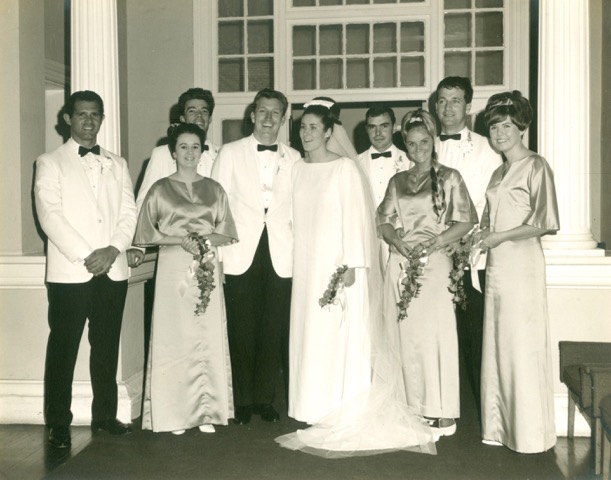 Wedding Day for Denis and Iva Byrne - 1967
(l-r) Jack Rouse, Judy Stacey, Robin Henagulph (Best Man), Dennis
and Iva, Mike Jent, Vivienne and Nicholas Hall, and Linda Clarkson
Denis and Iva were later married in 1967 at St. Theresa's Cathedral, and their first daughter Katie was born on the Island. They lived at Camp Lodge, Prospect, where many young married couples started their lives together.
Dennis had a love for sport and was part of the Police Rugby Club and travelled with Renegades Rugby Football Club on a tour to the U.S. in 1964.
Editors note - The Renegades Rugby Tour group, including players from the Police and B.A.A. teams made history as the first Bermuda rugby team to tour overseas. For more information and photos see our "Who, Where and When" column at http://expobermuda.com/index.php/who-when-where/563-historic-rugby-tour
On his return to England he joined Trust House Forte Rugby Club and was Club Captain. He later re-lived his rugby playing days through his grandson Sam, attending his games at Katie's local club and later as an armchair supporter!
His love for theatre was nurtured by being part of the Police Drama Group which most of you here today will remember him as Stage Manager for many of the productions, and also for the BMDS. His thespian passion continued over his lifetime as an avid theatre goer.
On returning to England in 1969, Denis held many security positions such as with the Lilywhites Group and Trust House Forte Group, and he later started up his own Private Investigations company until he retired. He was also Chief Security Liaison Officer at Farnborough Airshows in 1974 and 1976. During his career he found time to co write two books. The first 'Retail Security, a Management Function' first published in 1977, and 'Store Detectives Handbook' published in 1983. Denis lectured regularly on security matters including at the American Embassy.
Denis was a loving father to his three girls Katie, Rachel and Lucy, and proud grandfather of four: Sam. Ella, Maisie and Grace. To all that knew Denis I trust today will be a treasure of memories for his daughter Katie.
P.S. We are very jealous of this special gathering. Love to you all.
Penny and David Long
Here are a few of the photos Kate brought back to Bermuda:-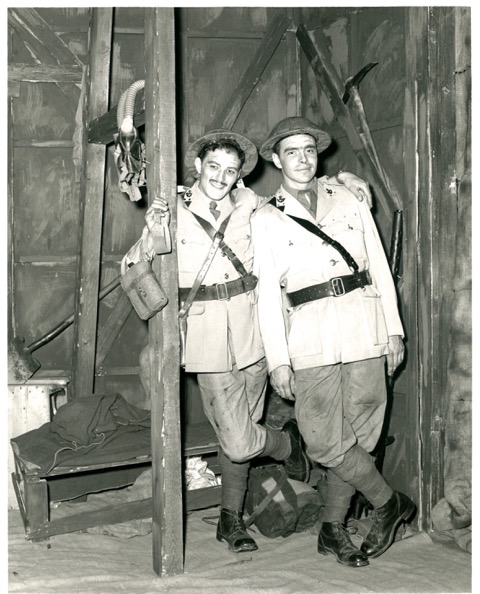 George Rose (2nd Lieut. Hibbert) and Mike Jent (2nd Lieut. Trotter)
in Journey's End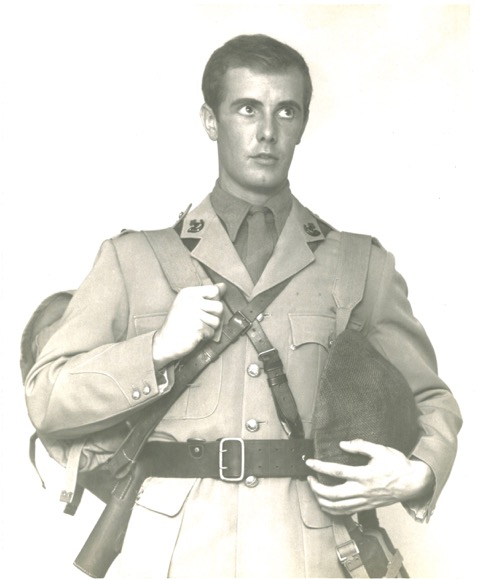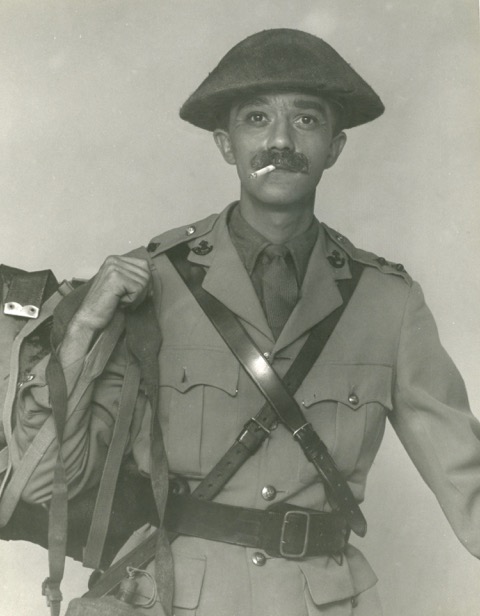 Roger Sherratt (2nd Lieut Raleigh) David Long (Lieut. Osborne)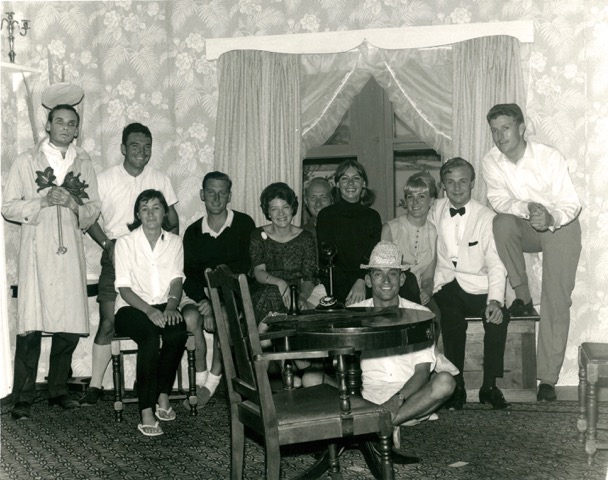 Drama Group Party (one of many!) circa 1964
(l-r) Bernie Burrell, Andy Bermingham, Lynnette Saunders, Dick Pearman,
Kay Forster, Whitey Froud, Louise Pearman, John Barnett (under the table!),
Sandra Barnett, Colin "Dusty" Hind, and Denis Byrne
Editors note - I would like to add a special thank you to Iva for kindly sending me lots of photos for the slideshow including this one of her with her three daughters, two of whom have now seen more photos of Bermuda than most would see in a lifetime despite never having set foot on the Island!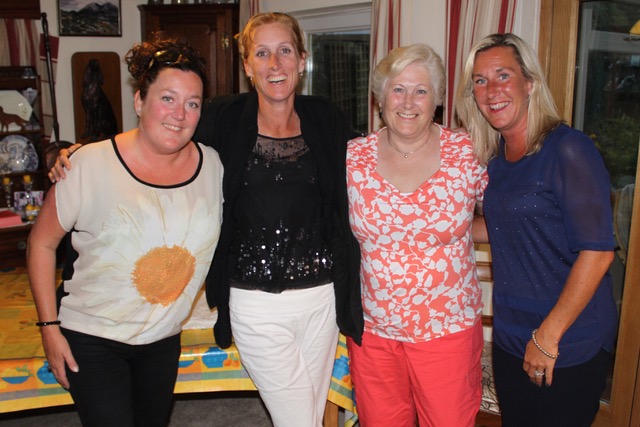 Iva with her trio of daughters
(l-r) Rachel, Lucy, Iva and Kate