A Rare Get Together of Former Commissioners
It's not often that BPS retired Commissioners get together, but in late July 2011 four former COP's were invited to meet with Commissioner Michael DeSilva at his new office in the Veritas Building on Court Street and they were also given a personally conducted tour of the brand new Hamilton Police Station.
The four retired Commissioners were Frederick "Penny" Bean, Clive Donald, Senator The Hon. Jonathan Smith, and George Jackson, who between them have over 120 years experience in the Bermuda Police Service.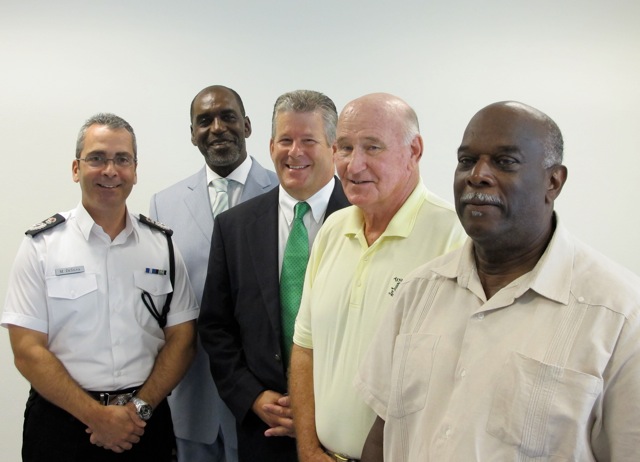 Commissioner Michael DeSilva with Retired Commissioners George Jackson,
Jonathan Smith, Clive Donald, and Frederick Bean
Frederick "Penny" Bean joined the Bermuda Police in 1956 as a young constable. "Penny" was born and raised in Sandy's Parish and has the distinction of being the first ever born Bermudian to be promoted through the ranks from constable to Commissioner – a position he held from 1980 until his retirement 9 years later. He still keeps active doing community service, working with senior citizens and with the sick and shut in.   "Penny" started his career working out of the old Hamilton Police Station (situated where the Government Administration Building is now located) and he can recall being asked to do security detail on 4pm – 12 midnight shift at the Hamilton Jail next door to the Police Station.
"Penny" worked in many departments and he was the first Inspector in charge of the new Narcotics Department back in 1965 at a time when cannabis was Bermuda's major drug problem.   He recalls working in CID under the legendary cricket player "Bo" Swainson (the first man to score a century in Cup Match) and also under Chief Inspector Oliver Trott, and our oldest retiree Inspector Milton Murray Marsh aged 102.
Clive Donald was born and raised in Cumberland, England, and he served in the Military Police in the British Army for 2 years and also served as a constable in the West Riding Constabulary before joining the Bermuda Police in 1959.   A very active and outstanding sportsman, Clive was Bermuda squash champion for several years and also made a name for himself as an excellent cricketer and footballer, representing the Island at international level in football. He earned the nickname "Fury" for his fierce competitive spirit in his chosen sports. He spent most of his service in CID and is considered to be one of the finest detectives in the history of the BPS. He still plays golf and works as a volunteer with Meals on Wheels.
Senator The Hon. Jonathan Smith is currently the Junior Minister of National Security, and along with the Minister of Justice, The Hon Wayne Perinchief, MP, also a retired Assistant COP, these two experienced former police officers liaise closely with Commissioner DeSilva on matters relating to law and order.
Jonathan was the third born Bermudian to rise through the ranks of the BPS to become Commissioner. He joined the service in 1979 and served in almost every department before his appointment as Commissioner-Designate in 2000 and then as COP from 2001 to 2005. Jonathan was also active in sports and played for Police teams at football, softball and tennis. Since his retirement from the BPS Jonathan has kept active as part owner of several businesses including an off-site document/file storing company. He is the owner/publisher of "TenTen" publications and the author of "In the Hour of Victory" a World War II book published in 2011. Jonathan was appointed as a Progressive Labour Party Senator in April of this year.
George Jackson was born in Bequia, an island in St. Vincent and the Grenadines, and he came to Bermuda as a young constable in 1973.   George spent most of his police career in CID and Narcotics, rising through the ranks to become Commissioner in 2005 until his retirement in December 2009, at which time he was succeeded by our present COP, Michael DeSilva. He is the first and only Bermuda Commissioner of Police from the West Indies.   George was very active in police sporting activities, representing the BPS in softball, darts and cricket. He fondly recalls playing in a Central Counties Cup game for the Police team in which he and Adrian King scored a record 10th wicket partnership of 127 runs against Devonshire Recreation Club to seize the coveted Central Counties Cup from DRC. He was also the winner of the annual BPS "Athlete of the Year" award in 1973-1974. Since his retirement in 2010 George has kept active working for a private security company, while still pursuing his hobbies of fishing and gardening.
Ironically, Commissioner DeSilva has served under all four of the retired Commissioners and he was clearly delighted to escort them across to the new Hamilton Police Station for a conducted tour of the facility.   As they started their tour "Penny" Bean vividly recalled that the Police were promised a new Police Station 50 years ago when he was a young constable, and that the move from the old Hamilton Police Station to the building lower down on Parliament Street was always described as a purely 'temporary' move.   There was a consensus amongst all of the retired Commissioners that the new Hamilton Police Station was a long time coming, and that the new facility is first class; a far cry from the damp, termite infested buildings that all four had worked in during their service!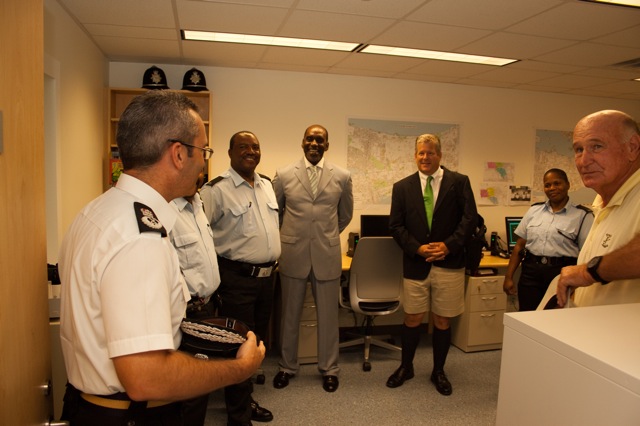 Commissioner DeSilva provides a personal tour of the
new Hamilton Police Station to the retired Commissioners
While visiting the new Police Station it was noted that the four former COP's, along with Commissioner Michael DeSilva, represented the ethnic diversity of the Bermuda Police Service. Penny Bean was the first black Bermudian COP; Clive Donald was the first officer from the U.K. to rise through the ranks from Constable to Commissioner (the first person from abroad being the Late L.M. "Nobby" Clark); Jonathan Smith was the first white born Bermudian to reach the rank of Commissioner; George Jackson was the first person from the West Indies to become Commissioner, and our present COP, Michael DeSilva is the first person of Portuguese heritage to rise to the rank of Commissioner.
This was a very worthwhile meeting that was much appreciated by all concerned.