Welcome to the official website of the Bermuda Ex-Police Officer's Association, now known as "Bermie Ex-Po". Our intention is to provide former and retired members of the Bermuda Police Service with a means of keeping in touch with each other, to record our collective history, and to encourage you to sit down and write about your own personal experiences so they can be recorded for posterity.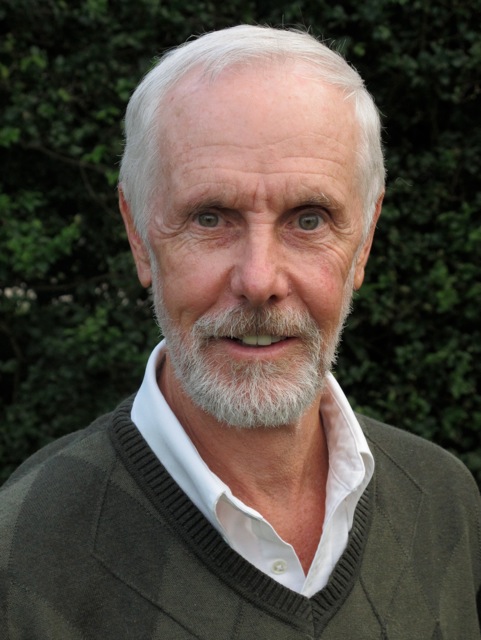 Our Committee (CLICK HERE for details) is determined to ensure that "Bermie Ex-Po" is inclusive for all those who have served in the BPS, and through our website we try to bring us all closer together, whether you are still living here in Bermuda or you are many thousands of miles away.
I feel sure that as you leaf through its pages, our website will hold many fond memories for you, and will hopefully encourage you to let us hear from you. Please feel free to let us have your comments ansd suggestions via our website email address at This email address is being protected from spambots. You need JavaScript enabled to view it.
MESSAGE FROM OUR EXPO PRESIDENT - FEB 2021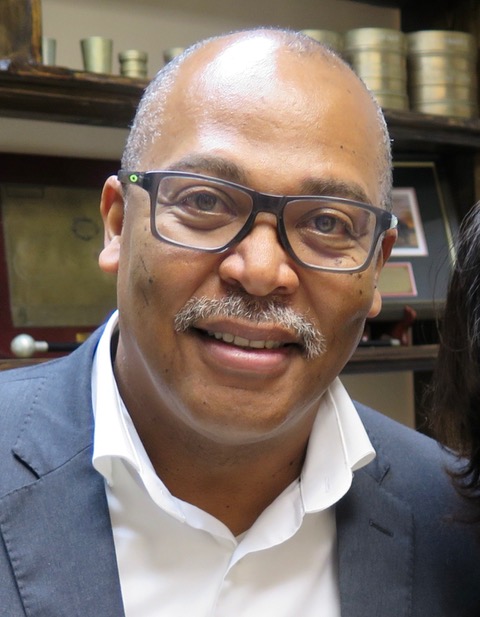 ExPo President Cal Smith
We have just posted a Covid-19 Update to all of our members
from
our
ExPo President, Cal Smith. CLICK HERE
to view Cal's message
FEATURE ARTICLES
Then and Now -

This is designed specifically for former and retired members of the Bermuda Police to tell their own stories about life in the BPS. It is open to anyone who has served for any length of time, no matter how short, and provides you with an opportunity to relate your personal history. We are keen to illustrate your story with photos if you can provide them.
CLICK HERE to view our latest "Then and Now" article on Robert "Bob" Stewart who served here from 1959 – 1966 in Central Division and Scenes of Crime. Bob was an outstanding footballer who played for the Police team and the BFA National Squad where he had the unenviable task of marking two world class players, Stanley Matthews and Tom Finney when they visited the Island with touring teams. Bob left the Police to pursue his studies and went on to a highly successful career working for the Shell Company of Bermuda where he rose to become Chief Executive. Bob has written two books on the economy of Bermuda and is acknowledged as an expert on the Island's economy.
CLICK HERE to view our "Then and Now" article on Steve Rollin who was one of the 69 men and women who joined the Bermuda Police 50 years ago this year.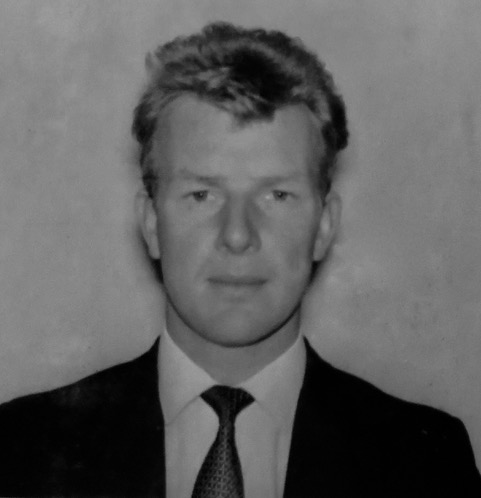 Robert "Bob" Stewart
__________________________________________________________
Hall of Fame - This section is intended to honour the memories of former colleagues who are no longer with us. They are usually kindly submitted by family and friends, and we urge the families of our former colleagues to assist us in including their loved ones in our Hall of Fame. CLICK HERE for our latest article on Inspector Martin Joseph "Joe" Colton who joined the Bermuda Police in 1955 and served until his retirement in 1978. In addition to being a great character Joe had "Police" in his genes! His father and his two brothers all served at the same time in the Police in Dublin, and within 2 years of arriving in Bermuda he married a policewoman, Margaret Lester-Card. We are indebted to his family for submitting this article.
CLICK HERE
for our latest article about Sgt Edward Angus "Ted" Burton who, whilst serving in the Bermuda Police from 1951-1967 developed a passion for studying the history of the Bermuda Police and as a young P.C. wrote and published our first ever comprehensive history entitled "Policing in Bermuda from the Earliest Times"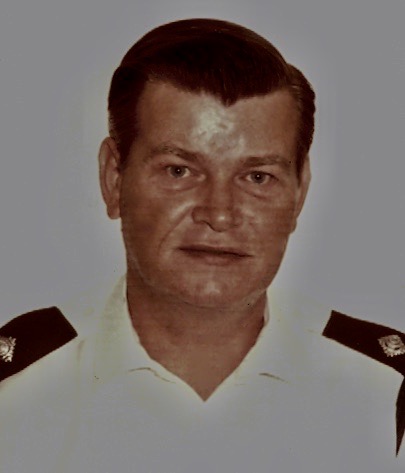 Insp. Martin Joseph "Joe" Colton
CLICK HERE for his Hall of Fame article
_______________________________________________________________________
Interesting Articles - This column features interesting articles written on a wide range of subjects related to the Bermuda Police Service or personal stories. We are delighted to receive articles from anyone who wishes to put pen to paper, and will assist with editing where necessary. You can submit articles and photos by email at This email address is being protected from spambots. You need JavaScript enabled to view it.
Our latest article is about a unique visit to Bermuda by the Royal Canadian Mounted Police horse riding team in 1968 at the invitation of the Bermuda Horse and Pony Association, during which they out on a superb display at BAA Field as did ojur PoliceMotor Cycle Display Team CLICK HERE to view the article. You can CLICK HERE for
the second in a series of "Profiles in Excellence" highlighting the careers of outstanding serving police officers who are a credit to the Bermuda Police Service. This article is about Inspector Alex Rollin, ther son of one of our colleagues retired Insoector Steve Rollin.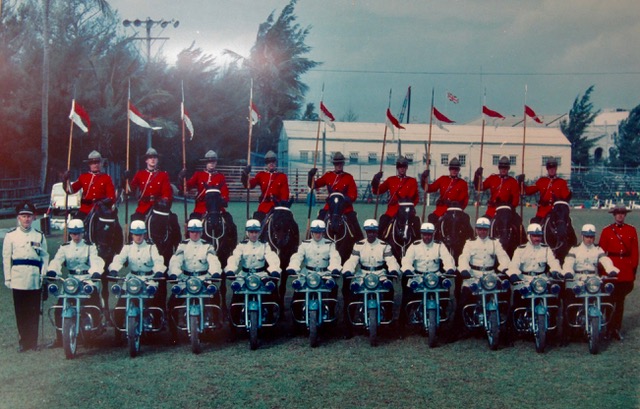 RCMP's visit to Bermuda in 1968
____________________________________________________________________________________
Who, Where and When - This column features photographs submitted to us by former colleagues in which we challenge you to tell us who is in the photograph, when was it taken, and where was it taken? We usually give you a couple of weeks to figure out the answers and we then publish the correct results - if known - based on our collective memories. Please either email your answers to us or type in your comments in the "Comments" section below the enlarged photo. CLICK HERE for our latest photo that we're calling a Right Royal Walk! We want to know who is in it, including those 3 guys standing behind the hedge, along with where and when and why it was taken. CLICK HERE for our dapper group of extremely smart young men dressed in their tuxedos who were responsible for organising one of the most enduring social events in the history of the Bermuda Police.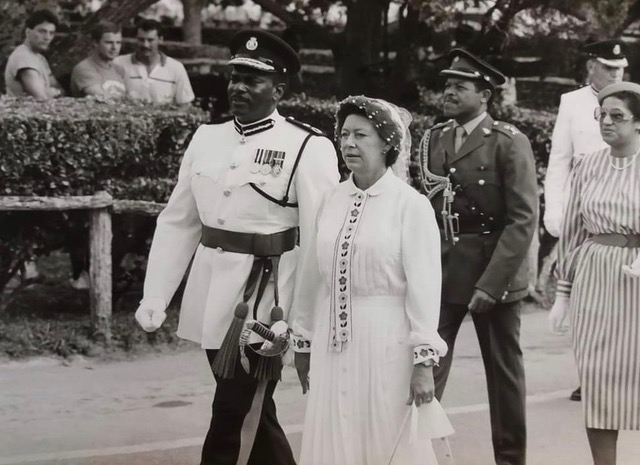 CLICK HERE to view "The Tuxedo Brigade"
___________________________________________________________________________________
Latest News and Press Releases - You will see the headings for both of these columns here on our home page, Latest News usually contains local news, often related to the BPS, that we believe will be of interest. Press Releases have usually been mainly about Police-related matters but as of now I will try to keep you up-to-date on the cornonavirus crisis locally by referring you to articles in our local media wherever possible.
On behalf of the Bermie Ex-Po Committee we wish all the very best to you and your families, and we trust that our website will provide you with an opportunity to think of good times as you stroll down memory lane.